Whole-house water filters remove a broad range of contaminants from the merely unpleasant to the downright dangerous. But only in rare circumstances do they turn black.
It could be normal, and chances are it is. But it could also signal an issue with your well, septic tank or filtration system.
So, let's examine why whole-house filters turn black and how to diagnose and treat the problem. The last thing you want to do is drink dirty water.
Why Is My Whole-House Water Filter Black?
These common contaminants turn can water filters black:
Mineral Deposits
Iron oxide is an essential nutrient. But high concentrations in well water spell trouble.
Trapped iron particles rust when exposed to oxygen, leaving behind black, brown or orange residue on your filter. Manganese, a similar mineral essential for the nervous system, produces black slime.
If your iron filter for well water is doing its job, it will turn black from catching these particles.
Black Sediment
Water can contain any number of sediments from the soil surrounding your well. In volcanic areas, for example, you may have black sand in the water table. Smoky quartz, a common mineral found in dirt throughout the US, can cause black specks in your sediment filter — it's normal.
But if black sediment occurs suddenly, it could indicate that your well was infiltrated by water from other sources. Heavy rain, for example, may introduce new contaminants into your well from bacteria to black sand.
Organic Matter
Organic matter such as silt and algae aren't uncommon in well water. But too much can collect in your plumbing system and decompose over time, turning black. Eventually, deposits will release black material into your water that ends up in the filter.
Organic matter isn't necessarily harmful, but it can harbor parasites. And if the source is a leaky septic system, it could contain E. coli bacteria.
Carbon Particles
Granular activated carbon is black. So, if you have a multi-stage filtration system, a cracked or clogged carbon cartridge could be to blame for loose carbon particles in your filter.
Mold
Mold in water filters is rare, but it happens. Causes include high humidity and not changing your sediment cartridge regularly.
Backwashing systems like water softeners or whole-house carbon filters are not immune. Flush them regularly to discourage microbial growth.
Troubleshooting a Black Whole-House Water Filter
Fixing a black water filter is easier said than done without doing some detective work.
Check Your Filtration System
If you have a single-tank carbon filter and see black granular particles in your water, a faulty O-ring could be the culprit. Remove the head and inspect the gasket. Some manufacturers recommend replacing these periodically to prevent seepage.
If your sediment filter is black, replace the cartridge. If the problem recurs, the issue is solid matter like iron particles. If it doesn't, it's probably mold.
Carbon cartridges in multi-stage systems are tougher to diagnose. Disposable, you can't take them apart. But if tiny particles of black stuff are floating in your water, a cracked or clogged cartridge could be the issue.
Check the floor beneath the filter for carbon particles or water drips and examine the cartridge housings for damage. Look carefully. When cartridges are under pressure, water flowing through the system can force carbon particles through hairline cracks that are nearly invisible once pressure is relieved.
Examine Your Plumbing System, Appliances and Water Heater
Black particles from any source accumulate in pipes, water heaters, pressure tanks and appliances like washing machines. A quick check of your filter element or the bottom of your washer tub may reveal what the substance is.
Old pipes with red corrosion can also release rust into your water stream that collects in the filter. Replacing a worn pipe or flushing your plumbing system to remove old residue may be all it takes to restore your water quality.
Get Your Water Tested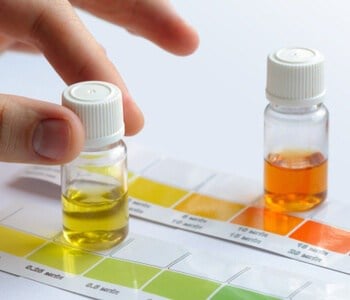 A water test can identify or rule out problem contaminants and differentiate between contamination and the granular component of a carbon filter.
If a sample of unfiltered water shows E. coli, for example, the problem may be a cracked well casing or a faulty septic system. If it shows iron, the issue could be water pipe corrosion or iron particles in your soil. A negative water test points to a problem with the filter.
Testing your well annually is an essential part of your home water quality program. We recommend the Tap Score Essential Well Water Test because it checks for common contaminants that can turn a whole-house water filter black, including iron, manganese, and bacteria. Results come with objective recommendations for filtration gear.
Check Your Septic System
If a leaky septic tank is the source of black particles, you may see one or more of these telltale signs:
Dark green grass or shrubs growing over the septic tank
The smell of solid waste in your home or backyard
Slow drains and clogged water pipes
Standing water or spongy grass near the tank
If you notice any of these problems, switch to bottled water to avoid health problems and call a professional. Solutions for septic issues range from pumping to repair.
Have Your Well Inspected
Wells are complex systems. If any component from the well pump to the casing fails, the result could be black sediment in your water. Wells in drought-prone areas also produce dirt, silt and clay particles as they run dry. Muddy water is a bad sign.
Homeowners can troubleshoot most well issues, but contractors are better equipped to identify less obvious problems, such as a hairline crack in the casing. When your drinking water quality is at stake, a pro can diagnose and fix the problem faster.
Preventing a Black Whole-House Water Filter
When it comes to water filter problems, an ounce of prevention is worth a pound of cure. Here's what you can do to protect your water supply.
Keep Up with Maintenance
The root cause of most issues with a whole-house water filter is inadequate maintenance. Change the sediment filters and carbon cartridges every 6-9 months to keep multi-stage systems in tip-top shape.
Most whole-house filters are self-cleaning, but you should flush a backwashing water filtration system regularly to prevent mold growth.
Control Humidity
Mold breeds in humid environments, so water filters are best installed in climate-controlled areas. If your space isn't air-conditioned, try a dehumidifier.
Add KDF
Kinetic Fluxion Degradation (KDF) is special media added to carbon filters to manage contaminants like heavy metals. Bacteriostatic, it also controls mold and bacterial growth.
If you're buying a new water filter, it's worth splurging on models with KDF. KDF may also be added to some single-tank filter media if mold is a persistent problem. Check with the manufacturer.
Test Your Well Water Annually
The CDC recommends having your well water tested yearly for pH, nitrates, total dissolved solids and bacteria. Changes in your water quality may require updates to your well water treatment system.
Black Whole-House Water Filter — FAQs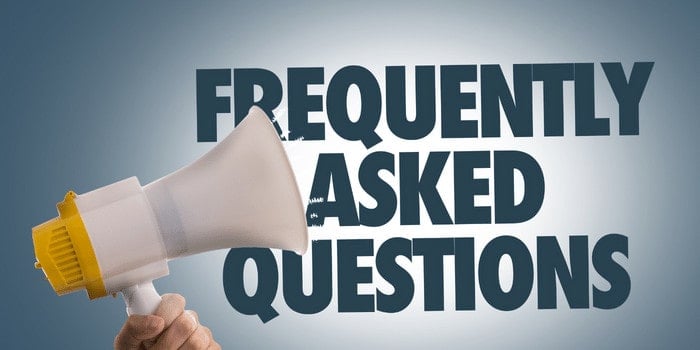 Can city water turn a water filter black?
Yes, but rarely. While most contaminants are regulated, outdated infrastructure like corroded water pipes can add iron particles to your water. And line repairs can churn up mud and bacteria that clog your sediment filter and turn it black. You should check with your municipal water system whenever there's a change in your water quality.
Do water softeners filter iron particles?
Some do, but most remove three parts per million (ppm) or less. An iron filter is usually a better solution.
Is black mold in a whole-house water filter hazardous?
Black mold can be dangerous for people with respiratory problems or allergies. If you think you have mold in a cartridge-type filter, remove it wearing a particle mask and seal it in a plastic bag.
You can treat backwashing filters and water softeners with bleach or a commercial cleaning solution depending on the model — check your owner's manual.
Can drinking granular carbon particles make me sick?
No. Doctors use activated carbon to treat poisonings. So-called carbon dust is safe for people and pets to drink.