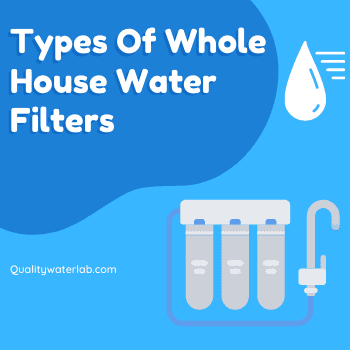 If your tap water isn't as clean as it should be, you may need a home filtration system. But not all filters are created equal.
Water purification technologies have come a long way in the last few decades, but there are few all-in-one solutions.
There are several types of whole-house water filters to choose from, so let's take a closer look at each.
We'll decipher the jargon, sort through the advertising claims and help you choose the best water filter for your unique needs.
Key Takeaways:
Activated Carbon Block Filters: Removes chlorine, sediment, chemicals, and organics.
Granular Activated Carbon Filter: Removes chlorine, taste, odor, and color.
Catalytic Activated Carbon Filter: Effectively purifies water while reducing pollutants and odors.
KDF Filter: Reduces chlorine, heavy metals, hydrogen sulfide, and iron.
Activated Alumina Filter: Removes fluoride, arsenic, and other dissolved solids.
Ion Exchange Filter: Softens hard water by exchanging calcium and magnesium ions with sodium ions.
Acid Neutralizing Filter: Neutralizes highly acidic water to safe levels.
Iron, Manganese, and Sulfur filter media: Removes dissolved iron, manganese, and sulfur from water.
UV Filter: Purifies water by killing bacteria, viruses, and other pathogens.
Reverse Osmosis Filter: Filters out a wide range of contaminants including arsenic, lead, and nitrates.
Ultrafiltration Filter: Removes bacteria, viruses, and other microorganisms from water.
Sediment Filter: Removes sediment, rust, and other large particles from water.
What Are Whole-House Water Filters?
Among the many different water treatment devices on the market, whole-house water filters are the most comprehensive. Plumbed into your main water line, they treat every drop as it enters your house.
Water from every tap in every room is fresh and crystal clear. You never have to wonder which faucet the kids are drinking from.
Whole-House Water Filters vs. Under Sink and Countertop Filters
Unlike a whole-house filtration system, undersink and countertop filters treat water from a single tap.
Installed in the cabinet beneath the kitchen sink, an under-sink water filter treats small volumes of cooking and drinking water.
A countertop water filter is similar, but it sits beside the sink and connects to your faucet through a hose. It's not a comprehensive water filtration system, but it can provide enough clean drinking water for a family.
Are All Whole-House Water Filters the Same?
No. Whole-house filters come in different styles, and they use a wide range of filtration media designed to reduce different contaminants.
What Are the Different Types of Whole-House Water Filters?
A whole-house filter can remove a single troublesome substance, such as sediment, or tackle a wide range of water contaminants, from heavy metals to industrial chemicals.
Multi-stage whole-house filters combine one or more of these types for optimal filtration.
Sediment Filter
Made of tightly wound string or fibrous paper, sediment filters remove the visible particles of dirt, silt, rust and other organic contaminants that make water look cloudy.
Sediment filters also protect the other filters in a multi-stage filtration system by removing debris that can impair their efficiency. Water softener resin and reverse osmosis membranes will last much longer if you remove the sediment first. Most whole-house water filters include one.
Granular Activated Carbon Filter
Granular activated carbon (GAC) filters are packed with fine carbon powder. Inexpensive, they're the most common type of carbon filter sold.
Popular in filtration pitchers and faucet filters, they remove chlorine taste and odor. Activated carbon made from coconut shells is the costliest but the most effective. You'll find it in premium whole-house filters.
Activated Carbon Block Filters
Block carbon filters are made of a single chunk of carbon. They have a greater surface area and can remove a higher percentage of contaminants.
Like GAC filters, they remove chlorine and other substances that can make your water taste bad but expect to pay more for them. They're ideal for a whole-house filter because they last longer and require less maintenance.
Catalytic Activated Carbon Filters
Catalytic carbon is chemically enhanced to remove both chlorine and chloramine, a less expensive disinfectant some water districts are using.
It removes more unpleasant tastes and odors than activated carbon plus hydrogen sulfide gas that can make water taste and smell like rotten eggs.
KDF Filters
Kinetic Degradation Fluxion, or KDF filters, rely on a redox reaction to neutralize stubborn contaminants. They remove chlorine, heavy metals and hydrogen sulfide.
Bacteriostatic, KDF is often added to other filter media to prevent the growth of mold, bacteria and algae within a filtration system.
Activated Alumina Filters
Activated alumina granules are the secret to removing arsenic and fluoride. Different than aluminum, it adds no toxic metal by-products to your water.
Ion Exchange Filters
Ion exchange filters remove contaminants through the ion exchange process. A salt-based water softener is a prime example.
The negatively charged resin attracts positively charged hard minerals, effectively sequestering them in the softening tank. During the regeneration cycle, brine solution from the salt reservoir breaks the electrical bonds, sending unwanted minerals down the drain while you enjoy softer water.
Salt-free water softeners don't rely on ion exchange, instead using Template Assisted Crystallization (TAC) technology to prevent limescale without removing minerals.
Acid Neutralizing Filters
Acidic water not only tastes bad, but it's also corrosive to plumbing and hard on water softeners. Acid neutralizing filters balance the pH of acidic water by adding alkalizing minerals like calcium.
Iron, Manganese and Sulfur Filters
If your tap water tastes like rotten eggs, hydrogen sulfide is likely to blame. Commonly found in wells with iron and manganese, all are tough to remove.
The most effective filters oxidize them with air, chlorine or potassium permanganate. We like air injection (AIO) filters because they work without chemical additives, relying solely on oxygen to neutralize contaminants.
UV Filters
Ultraviolet light is a powerful disinfectant. Added to a whole-house water filter, UV light filters kill bacteria, viruses and parasites, making water potable.
They're especially popular among well owners as a non-chemical disinfectant and city dwellers who get frequent boil orders for their drinking water supply.
Reverse Osmosis Filters
Reverse osmosis filters force water through a semi-permeable membrane using an electric or permeate pump. The gold standard for filtration, they remove 99 percent or more of dissolved solids from fluoride to nitrates plus bacteria, pharmaceuticals, chemicals and more.
But reverse osmosis is a slow filtration process, so RO filters are less common in multi-stage whole-house filters because they reduce water flow. High-performance models are available but are cost prohibitive. Most RO systems are undersink water filters.
RO systems also strip water of beneficial minerals, giving it a flat taste like distilled water. Some have an added alkalizing filter to restore calcium and other healthy minerals.
Ultrafiltration
Ultrafiltration systems are similar to RO filters, but they rely only on your home's water pressure to push water through a hollow fiber membrane.
Among the most effective water filters money can buy, they're more suitable as whole home systems than RO filters and remove similar harmful contaminants.
Water Filter Cartridges vs. Large Media Tanks
If you're scouting out whole-house water filters, you may have noticed there are two types.
Some consist of a series of filter cartridges that each play a specific role. In a multi-stage system, the first may remove sediment while the last reduces chemicals. It's an efficient way to optimize contaminant removal.
The only drawback is that filter media has different lifespans. An average sediment filter cartridge lasts 3-6 months while a carbon filter could last a year. Cartridges are easy to change, but the maintenance schedule on this type of whole-house water filter can be complex.
The other type of filtration system has only one large media tank. But that doesn't mean you can get multi-stage filtration. With few exceptions, adding different types of media to a tank in a specific order can achieve the same effect.
Single tank whole-house filters have an advantage. They're essentially set-them-and-forget-them systems that require no maintenance. The media can last for years — SpringWell and Pelican make whole-house water filter systems that can last a lifetime.
Predictably, cartridge-based water filters cost less to buy up front, but single-tank filtration systems can be a better long-term value because the filter media lasts longer.
Do I Need a Whole-House Water Filter?
The water treatment method you choose should be based on your goals. Why filter water if it doesn't solve your problem?
Countertop and undersink filters have advantages for some people, but most homeowners find whole-house systems are a better choice because they protect your entire home.
RO water filters, for example, can remove minerals from your drinking water, but your plumbing and appliances will still pay the price for hard water. Limescale buildup in your plumbing can reduce water flow and ruin appliances from your washing machine to your hot water heater, making whole-house treatment with a better option.
A countertop filter is an inexpensive choice for treating bad drinking water, but it's not designed to do what a whole-house filter can. You get what you pay for.
How Do I Choose a Whole-House Water Filter?
Once you've decided on a whole-house filtration system, narrow down the available models based on the type you prefer and the contaminants they eliminate. You can't remove arsenic from your water supply with a sediment filter, and you can't treat water hardness with an activated carbon filter.
It's also critical to test your water before purchasing equipment. Most water filters and water softeners have limitations based on water chemistry. A whole-house filtration system is an investment, so you want to get it right. Testing kills both birds with one stone.
Harmful Contaminants in Water
Unfiltered water is a gamble if you don't know it's clean. With any luck, a test will show that you don't need a water filter at all.
Still, most wells have some organic contaminants, but you may need little more than a sediment filter or an alkalizing filter to correct acidic water.
Meanwhile, city water contains chemical additives. So, if your water tastes bad, you may need a water filter to remove chlorine. If a test shows other contaminants you didn't expect, reverse osmosis or whole-house water systems with multiple filters may be the answer.
One of the benefits of a whole-house water filter system is that it protects you from the unknown.
Testing Your Water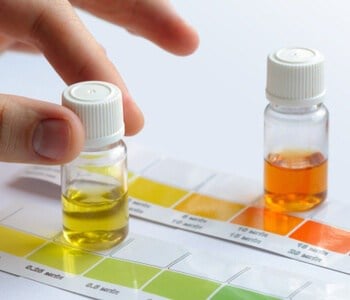 Having your water tested is easy but choosing which contaminants to test for can be challenging. Specialty testing for arsenic, for example, can add an extra $100, so why do it if you don't have to?
Your municipal water supply is tested at the source and treated, so it should be free of biological contaminants. Your annual water quality report breaks down your water chemistry and notes high level problematic substances, like heavy metals. The EPA regulates 90-plus potential toxins.
But city water has additives, so you'll want to test it for fluoride, chlorine and chloramines at minimum, plus carcinogenic disinfectant by-products, including trihalomethanes and bromides. Lead may also be an issue if you get water from aging underground service lines.
If you drink well water, you're responsible for its quality. No government agency monitors or tests private wells.
Depending on your geographical location and the contamination risks in your watershed, you may need a whole-house water filter to remove these hazardous substances from your water supply:
Lead
Arsenic
Mercury
Dirt
Rust
Silt
Nitrates
Herbicides
Pesticides
Volatile organic compounds
Industrial solvents
Microplastics and more
Both well and city water drinkers may want to test for emerging contaminants, like PFAS, a forever-chemical that was recently recognized as a health threat. Once ubiquitous in household products, such as non-stick pans, manufacturers never expected it would leach into the water supply.
Whole-house water filtration systems that don't remove target contaminants are useless, so a test will prevent you from making a worthless purchase. The process is simpler than ever.
Bring an unfiltered water sample to a local laboratory or purchase a DIY home test kit online. If this is the first time you've tested your water, a product like SimpleLab's TapScore is great option.
You can choose from well and city water test panels plus you can add additional tests as desired. It's the ultimate peace of mind.
You'll receive a kit in the mail that contains everything you need for testing and return shipping, including a prepaid label. Just fill the sample bottles and put it in the mail. A few weeks later, you'll get an easy-to-understand report, including recommendations for whole-house water filtration systems.
Companies like Pelican and SpringWell that specialize in water filtration also offer testing, but they sell equipment, so prepare for a sales presentation.
How Not to Test Your Water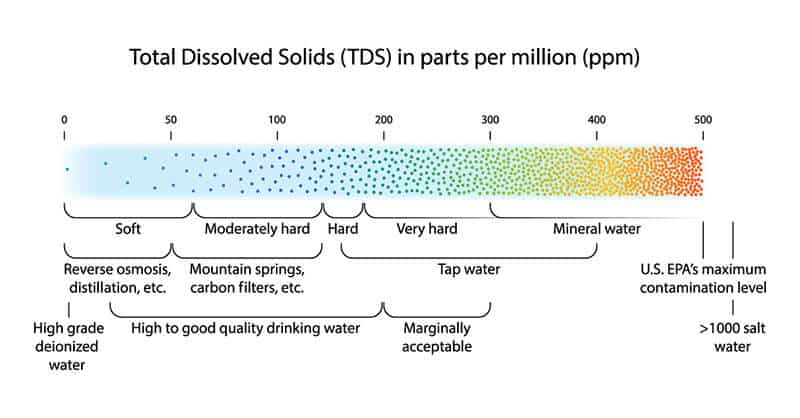 TDS (Total Dissolved Solids) meters are not a good way to test your water quality. Why? Because they measure only dissolved solids measured in parts per million. Most hazardous contaminants are measured in parts per billion — toxic quantities of negatively charged ions are barely detectable on a TDS meter.
Meters are best used for evaluating the performance of a whole-house water softener system. If you test a sample of filtered water and it shows too many dissolved minerals, the system may need maintenance.
TDS meters won't help you choose the best whole-house water filtration system.
How Much Does a Whole-House Water Filter Cost?
Depending on the type of water filter you need, the good news is that whole-house systems can be remarkably affordable. Sediment filters, for example, cost as little $30 if you can install it yourself.
A whole-house filter offering sediment filtration and activated carbon or activated carbon block filters to remove chemicals can run $400-$1500 depending on the type you choose.
RO filtration systems cost the most — a whole-house filter could set you back $800-$2500. Expect to pay $600-$1500 for water softeners or a multi-stage whole-house system. Professional installation adds $300-$1000 across the board.
The more a water filtration system does, the more you'll probably pay. But the quality of your drinking water matters. Filtered water is safer and tastes better.
Why Should You Use a Whole-House Filter Over Using Bottled Water?
Drinking water from bottles is a budget-buster and an ecological nightmare. Fewer than 25 percent are recycled. And despite the fancy packaging, some manufacturers use sub-par water filtration methods, so the end product may be no better than what comes from your tap.
Refilling reusable bottles with home-filtered water could save you thousands and keep tons of plastic out of landfills. It's just one of the many benefits of whole-house water filters.
Final Thoughts
If you're ready to take charge of your home water filtration, consider your options, but focus on whole-house filters. They're the best value for your hard-earned money.