Last Updated on January 23, 2023 by
Ava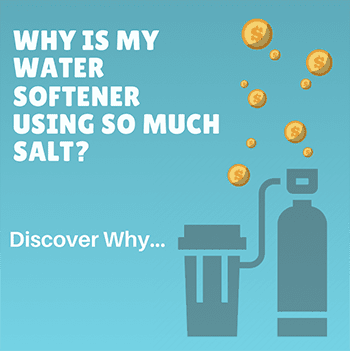 Conventional water softeners use salt to remove hard water minerals. The technology is simple.
Once programmed, they're typically worry-free. But occasionally, something goes awry.
If you're suddenly using more salt, don't wait to investigate because chances are, you have a problem.
Key Takeaways to remember:
Poor regeneration settings
Hard water in the incoming supply
Too many grains of hardness to remove in one cycle
A clogged or dirty resin bed
High iron content in the water supply
Insufficient brine tank size for your needs
Malfunctioning injector/drain valve
Low water pressure or flow rate issues
Poorly installed or maintained brine tank and plumbing connections.
Outdated or worn-out water softener system.
Excessive use of water by household members.
Leaks in the water softening system.
Broken or misaligned control valve head.
How Do Salt-based Water Softeners Work?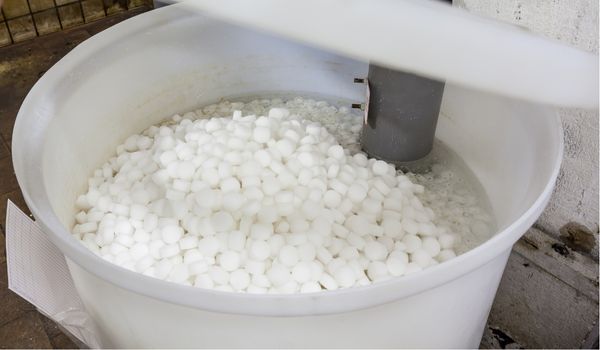 Conventional water softeners are two-tank systems. The first is packed with resin beads. The second is filled with salt.
As water flows through the first tank, the negatively charged resin traps positively charged hard mineral ions. Once saturated, briny water from the salt tank breaks the electrical bonds, "regenerating" the resin and sending minerals down the drain.
How Much Salt Use Is Too Much?
The amount of salt a softener uses depends on a range of factors from hardness to water usage — a good average is 400 pounds per year. Whether you use more or less depends on your circumstances, but it should be consistent. A 20-percent surge in use makes no sense unless something significant has changed.
Sometimes the problem is simple. Having house guests for a few weeks may temporarily increase salt consumption. Seasonal changes can also have an impact. If you're using soft water to wash your car or fill the kiddie pool, it adds up.
Why Your Softener May Be Using Too Much Salt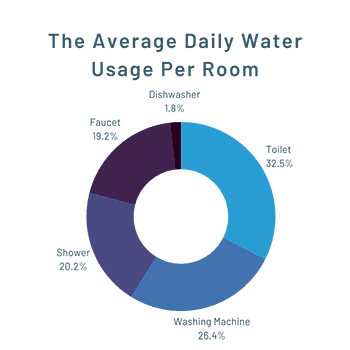 If you're confident that your water usage is stable, a mechanical or other system failure may be to blame. Before calling a plumber, it pays to rule out simple issues that you can address at home, such as:
1. Leaks — Small leaks in your plumbing system can waste a remarkable amount of water. Evaluate your plumbing from stem to stern for signs of drips, especially from outdoor spigots and pipes in the basement where they may go unnoticed.
Softeners rarely leak, but an overflowing brine tank could also be the culprit. Check around your water heater, toilet and tub for unusual moisture.
2. A Power Outage — Most water softeners have battery backups that save your settings if the power goes out. But if you've had an outage or the battery is dead, it's possible the hardness setting has reverted to the factory default, and the softener is regenerating more often than usual.
The good news is that resetting the control head is a breeze. Just follow the instructions in your owner's manual. A good rule is to replace non-lithium batteries in the spring and fall when you change the batteries in your smoke and carbon monoxide detectors.
3. Improper Programming — If your new water softener is guzzling pounds more salt than your old model, you may have programmed the control head incorrectly. Newer models regenerate based on hardness and water usage, so it's essential that the Grains per Gallon setting be accurate. If your hardness level is 10 GPG and the setting is 12 GPG, the softener will work overtime. Mistakes are easy to make, so verify the settings are correct before assuming the head is malfunctioning.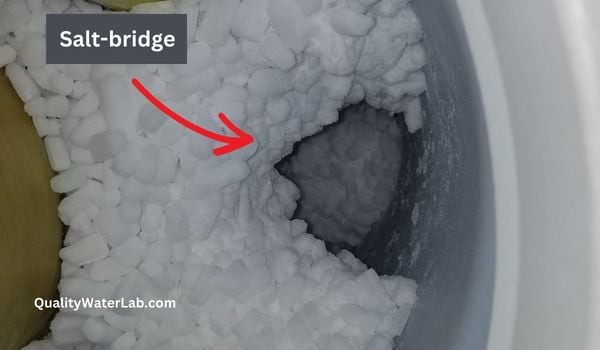 4. Clogged Brine Tank — Your water softener depends on a Venturi, or injector valve, to send salt water to the resin tank for regeneration. If it's partially clogged, your salt use could increase.
It seems counterintuitive. Shouldn't you use less salt if brine isn't being extracted from the tank? But when the valve doesn't create enough vacuum to pull out the recommended amount of water, the gallons left behind dilute the salt content in the tank, making the softener think it needs more.
Some manufacturers recommend cleaning the injector periodically with a soft toothbrush or replacing it entirely every few years to maintain peak efficiency.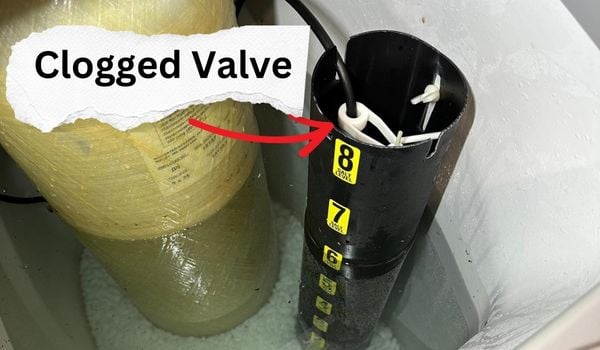 5. Control Valve Failure — Your softener's control valve regulates regeneration based on the flow of water. If it fails, it may inaccurately measure your water use, resulting in excessive regeneration.
Some valves also have a mechanical piston that moves back and forth to control water cycles. If the surrounding rings and seals are worn, it may be allowing too much water flow.
Control valves have a good track record for performance, but they're the most likely part of a water softener to fail. Some companies offer maintenance kits with replacement rings and seals, but if you can't diagnose the problem, call a pro. Replacing the head will set you back $300-$400, but it can add another decade to the life of your system.
6. Spent Resin — Softeners are self-cleaning, but eventually, the resin fails. Depending on the type, quality and quantity, it can last 3-20 years.
The harder your water, the more of a toll it takes. So, if you have very hard water, and it's been years since you've maintained your system, it might be time to replace the resin.
7. The Wrong Size System — An undersized water softener will constantly regenerate, driving up your utility and salt bills. But overdoing it is no solution. If the incoming water pressure is too low for an oversized softener, the effect is similar to that of a clogged Venturi valve. Like Goldilocks bed, a water softener should be "just right."
To find the best size softener for your home, multiply the number of residents by their average daily water use in gallons — 80 is a good average if you're not sure. Then multiply the result by the grains per gallon of hardness in your water. Using this formula, a four-person home with moderately hard water needs a 32,000-grain system.
8. Your Water Chemistry — The wrong water chemistry can be a disaster for a softener. Iron and tannins, for example, can ruin the resin while a low pH hampers its overall efficiency.
If you didn't test your water before your installing your unit, it's not too late. Prefilters can remove iron and tannins and an alkalizing filter can increase pH.
What's The Best Way to Save Money On Salt?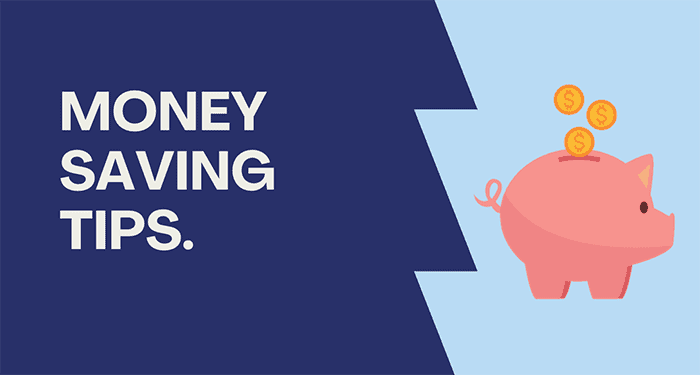 If your water softener is functioning normally, but it's still using too much salt, there are a few ways you can cut costs.
Buy in Bulk — The best deals on water softener salt are by the pallet. It takes space to store, but it could slash your salt bill by 40-percent. It also pays to be familiar with the types of salt that are compatible with your system so you can take advantage of deals.
Use the Bypass Valve — Most water softeners are equipped with a bypass valve, so you can use regular instead of softened water for outdoor tasks such as washing the car or watering the garden. Every gallon of water you save means less slat is required for regeneration.
Upgrade — If you purchased an older home with a water softener, it may not be as good as more advanced models. Old units regenerated on a timer whether they needed it or not. But modern softeners are smarter. They track your water usage and regenerate only when needed, saving salt and lowering your utility bills — see these top rated home water softeners.
Go Salt-Free — Salt-based water softeners were once the only game in town. But salt-free water conditioners can achieve similar results without the cost or environmental impact.
They don't remove hard minerals. Instead, they use Template Assisted Crystallization (TAC) technology to change their molecular structure, so they can't form limescale. You get most of the benefits without the maintenance hassles of salt. Going salt-free can pay for itself in as little as three years.
FAQ'S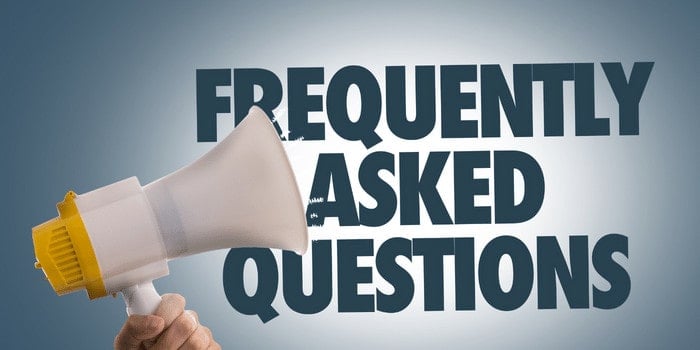 Q: How do I adjust my water softener to use less salt?
A: If you have a water softener, you may be using too much salt to keep your water soft. You can adjust your water softener to use less salt by making a few simple changes.
First, you will need to find the water softener's manual. This can usually be found online or in the softener's packaging. Once you have the manual, look for the section on salt dosage. Here, you will find the recommended salt dosage for your softener.
Next, you will need to adjust the water softeners settings'. This can usually be found on the machine itself, or in its manual. Once you have located this setting, reduce it to one third of the recommended salt dosage.
Q: How much salt should a water softener use per month?
A: About 25 pounds per month.
You may want to consult a water softener manual for your specific system, though. For example, a high-efficiency water softener may only need 15 pounds of salt per month.
Q: How long should a bag of salt last in a water softener?
A: A salt bag should last for roughly 30,000 gallons of water when used in a home water softener. Salt usage is dependent on the hardness of your area's water supply, the salt bag may be completely dissolved before 30,000 gallons of water have been treated.
If the water softener is not used regularly, a salt bag can last for an entire year. It is important to monitor the salt level in the brine tank and add more salt as needed. When the salt bag is nearly empty, it's a good idea to replace the salt in your water softener.
Final Thoughts
A gluttonous water softener is hard on the environment and worse on your wallet. Whether it needs to be maintained, repaired or replaced, you owe it to yourself to find a quick solution.