Too much iron in well water systems is a formidable problem. It wreaks havoc on your home, and like a canary in a coal mine, it signals trouble ahead. But like arsenic and fluoride, no ordinary water filtration system removes it, making it that much harder for homeowners to manage.
So, let's get you up to speed on how to remove iron from well water before it's too late. We'll take you through the process from testing your water to choosing the best iron filter.
[lwptoc skipHeadingLevel="h3,h4″]
How Does Iron Get into Well Water?
Iron is ubiquitous in the Earth's crust. When rain falls or snow melts on the land's surface, water seeps through iron-bearing soil and rock into your well or underground aquifer. Nearly all groundwater contains some iron. It's almost impossible to avoid entirely.
The Three Types of Iron Found in Well Water
There are three main types of iron found in well water.
Ferric Iron
Ferric, brown or red water iron, is insoluble. Fill a glass with water and wait ten minutes. If you see visible particles of rust at the bottom, you have ferric iron in your water supply.
Ferrous Iron
Ferrous, or clear water iron, is fully dissolved in water. You can't see it, but it's the primary food source for iron bacteria, oxygen-loving microorganisms that live in the shallow soils near wells. Ferrous iron can only be removed by oxidating it into ferric iron and then removing it with mechanical filtration.
Bacterial Iron
Bacterial iron is bacteria bound to iron minerals. Different than red water iron, it excretes a gelatinous orange slime that coats everything it touches. Check your check toilet tanks for it — it's a sure sign of bacterial iron.
Is It Safe to Drink Well Water with Iron?
With few exceptions, consuming iron-contaminated water won't hurt you. In fact, your body needs it for red blood cell production. But unless you're Popeye, you don't need it in your drinking water supply. You get plenty of it in your diet from iron-rich foods. Humans don't easily absorb iron from well water, so even people with hemochromatosis, the genetic tendency to store too much iron in the body, are at little risk.
Iron does, however, give water a metallic taste. And like hydrogen sulfide, it can cause a rotten egg smell. Neither is hazardous, but if you're reaching for sugary drinks because your drinking water tastes bad, it's not good for your health.
And while the presence of iron bacteria alone is rarely hazardous despite mild cases of gastroenteritis, bacterial iron in well water can support the growth of other harmful microorganisms.
How Does Iron in Water Damage Your Home?
Too much iron in well water has serious aesthetic and cosmetic consequences — and it can take a bite out of your budget, too. How much is too much? At levels above three parts per million (ppm), the effects of excessive iron start to show.
It can stain your toilet bowl and plumbing fixtures and permanently discolor the tile grout in your shower. And the same bacterial iron lining your toilet tank can build up in your pipes and retention tank, reducing household water pressure or worse — ruining appliances and driving up utility bills. Iron present in your washing machine can damage expensive clothing.
Can You Remove Soluble Iron from Well Water Naturally?
There's no way around it. If you want to remove iron from well water, you need an iron water filter. But some filtration systems are more "natural" than others.
Chemical-free iron filters use only air instead of chlorine or potassium permanganate to neutralize iron. In most cases, they're healthier for your home and provide better-tasting drinking water.
How Can You Treat a Well for Iron?
There are a dozen types of iron filters, but you need a thorough and accurate understanding of your water chemistry, which types of iron are present, and at what levels to choose the best model.
Low levels of ferric iron present in well water can be eliminated with a carbon or sediment filter while moderate and high concentrations require a dedicated iron removal system. But neither a sediment nor a carbon filter will remove dissolved ferrous iron.
The next step toward iron-free water is to do a water test.
How to Test for Iron in Well Water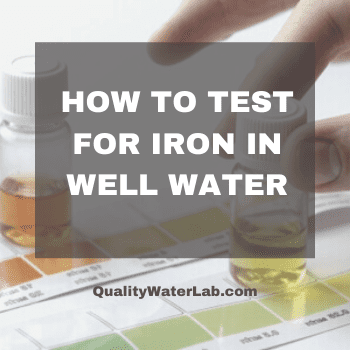 You can screen for ferric iron by letting water sit in a cup, but it's not enough. And ferrous iron is invisible. The concentration of iron also matters. Sediment and carbon filters will clog quickly if the levels are too high. Testing your water is the only way to measure ferrous iron and to know the total concentration of iron present in your well.
Knowing more about your water chemistry is also crucial because pH, hardness, tannins, and dissolved oxygen levels also affect how an iron filter works. Investing in the wrong equipment is a costly mistake that you want to avoid.
The good news is that doing a water test is as easy as taking a sample to a lab or buying a home well water test kit. Once you know the levels of iron present in your water, you'll be better prepared to choose the best iron filtration system.
Iron Removal Systems
Most iron filters rely on the oxidation method to remove iron from well water, but each does it a little differently. Based on your water chemistry and iron concentrations, one of these water treatment systems should do the trick.
Sediment Filter
Made of wound string or fibrous paper, sediment filters remove ferric iron particles as small as five microns. But they don't remove ferrous iron and iron bacteria will clog them in days.
Birm Filter
Birm filters use the oxygen dissolved in water to convert ferrous, or dissolved iron, into insoluble ferric iron. Aluminum-enhanced filtration media then traps the particles, and backwashing whisks them down the drain.
Birm filters are among the earliest iron removal filters. They're very effective, but your water must contain enough dissolved oxygen to initiate the oxidation reaction. Birm filters are not ideal for well water with tannins, hydrogen sulfide or a pH lower than 6.8. Newer technology offers the same benefits with fewer restrictions.
Manganese Greensand Filter
Like Birm filters, Manganese Greensand filters turn insoluble iron into ferric iron but without requiring oxygen. Instead, they rely on potassium permanganate to regenerate the filtration media — a highly effective but potentially hazardous chemical some people don't want in their houses.
Chlorine Filter
Chlorine is the oldest method of oxidizing ferrous iron. Used by treatment plants, it also disinfects water and kills bacterial iron. But chlorine injection systems require more maintenance than other iron filters and may leave water tasting like chemicals.
It's not ideal for every home, but it's a great option if you have also bacteria or parasites in your well. Installing a carbon postfilter can help get rid of the chlorine taste.
Ozone Filter
More potent than chlorine, ozone oxidizes ferrous iron up to 6 ppm. Used in industrial water treatment systems, the FDA isn't enthusiastic about them for residential use. Not only are they costly, but many homeowners have reported adverse reactions to the gas. There are safer choices.
Catalytic Carbon and Hydrogen Peroxide
Catalytic carbon filters convert ferrous iron into ferric iron using hydrogen peroxide. Among the most effective choices for stubborn iron problems, the cost of peroxide solution can be a turn-off. Plan to spend $300-$400 annually.
Katalox Filter
Katalox filters use an advanced, lightweight filtration media that oxidizes ferrous iron faster than both Manganese Greensand and Birm filters. Made of zeolite, a secret ingredient in Berkey filters, it's more efficient and requires less maintenance.
It has the fewest water chemistry restrictions of all filters and tackles the toughest iron problems. But it's costly, and it can't kill iron bacteria.
Water Softeners
Water softeners for well water remove hard minerals from water, including soluble iron, using an ion exchange process. Negatively charged resin beads trap positively charged mineral ions, containing them in a resin tank. Saltwater backwashing breaks the electrical bonds, regenerating the resin bed every few days.
But while water softeners excel at removing the calcium and magnesium that can clog pipes, corrode plumbing fixtures and reduce household water pressure, are they the best choice for removing iron? It depends.
Ferric iron is hard on water softeners, so you'll have to remove it with a sediment prefilter first. And most models can only remove iron up to 3 ppm at most — a moderate but not a high level. If you push the limits, you could irreversibly damage the water softener resin.
Still, if you need a water treatment method that removes hard minerals and can handle a little iron on the side, a water softener is worth considering as long as you're confident that your water test is accurate.
If levels are borderline, you can also add an iron filter before or after a water softener to optimize your home filtration system. Where it's installed depends on the type.
Don't, however, buy a salt-free water softener. Equipped with Template Assisted Crystallization (TAC) technology, they effectively prevent limescale but don't actually remove minerals. More aptly called a water conditioner, they're almost as effective as a salt-based water softener for hard water, but they won't solve your iron problem.
Air Injection Iron Filter (AIO)
Air injection filters convert ferrous iron into ferric iron using only a jet of air. Chemical-free, they have few restrictions and can tackle even the toughest iron problems.
Early systems were loud. You could hear the air injector clicking from another room. But newer models have solved that problem. So, for most homes, air injection iron filters are among the best well water iron removal filters money can buy.
The Role of Alkalinity (pH) in Iron Removal
Removing iron presents unique challenges, one of which is acidic water. Like a water softener, an iron filter works better with an alkaline pH above 7.
Low alkalinity is common, however, and it's not a deal-breaker. Adding an alkalizing prefilter raises the pH and will improve the efficiency of your iron filter.
Can I Add an Iron Filter to A Whole-Home Water Filter?
If you need to remove iron but a water test shows other contaminants in your water supply, don't worry. If you have the space, you can mix and match a water softener, iron filter and more for the broadest possible range of substance removal.
How to Treat Iron Bacteria
Many harmful organisms require iron to survive, some of which are more toxic than iron bacteria. So even if it isn't bothersome, this alone makes it worth the effort to remove iron from your drinking water supply. Sometimes, all you need to do to get rid of iron bacteria is to install a water treatment system.
But removing iron isn't always enough. Iron bacteria can hide anywhere in your well water system, from the casing to the retention tank. So, if you have a high concentration of bacterial iron, you may need a chlorine shock treatment to help get rid of it entirely.
You can do it yourself or hire a pro. But well water systems are complex, so if you haven't had a professional inspection in a while, it may be worth the money to avoid future issues.
Finding the Right Water Treatment System for Iron Removal
Once you've narrowed down the type of iron filter you need, your final step is to select from the many models on the market. It won't be easy. Start by considering your budget, but it pays to be investment minded.
We suggest sticking with a reputable company, like SpringWell, Pelican and Aquasana. They sell premium products with a proven track record for reliability, and you can depend on excellent service after the sale.
Filters certified by the National Sanitation Foundation (NSF) are a plus. NSF-certified products are independently tested and guaranteed to remove iron from well water as advertised.
Final Thoughts
Abundant in the Earth's crust, iron powers the globe. From the industrial revolution to your frying pans, life wouldn't be the same without it. So, here's to an iron-rich world but an iron-free water supply.