If what comes from your tap looks less like Perrier than tea, chances are that contaminants in your well are to blame for the brown water.
Unappetizing at best and dangerous for your health at worst, dirt, silt, rust and plant debris can hide other harmful contaminants like e. Coli bacteria.
Getting rid of brown well water should be a priority. We'll show you how.
Key Takeaways:
Brown water can be caused by sediment, iron bacteria, or rust and is it dangerous to consume.
Iron bacteria and sediment can cause an unpleasant taste or odor in the water.
An older plumbing system can lead to mineral buildup, causing dark spots and streaks.
Testing your well water regularly is key for identifying any issues early on.
How to get rid of brown well water.
Why Is My Well Water Brown?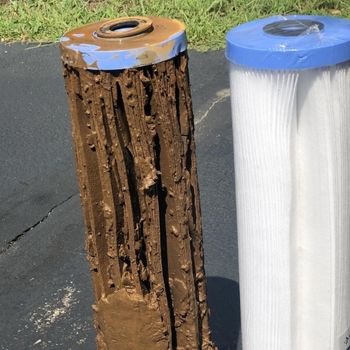 Getting rid of brown well water is easier said than done. Let's diagnose the problem.
Look for simple issues first.
If your water turns brown when you open the tap but then clears after a few minutes, particles of dirt and rust may be the only cause of your brown water woes. The solution may be as simple as sediment filtration. If you have a filter, make sure it's not clogged.
See our recommended well water filter systems
If your cold water is clear but the hot water is brown, there could be sediment build up in your water heater. Sometimes, there aren't enough particles to be noticeable in a glass of water, but they can accumulate over time. In this case, flushing out your tank may be all it takes to get rid of brown water.
It's also possible that your well is compromised. If sand, silt or mud is seeping through a cracked casing, there's nothing you can do to get rid of brown water until repairs are made.
You can inspect your own equipment, but we recommend calling a water drilling company. They have special gear and can inspect your system without contaminating it.
If it persists, the problem is likely your water chemistry.
The brown color may indicate:
#1 Iron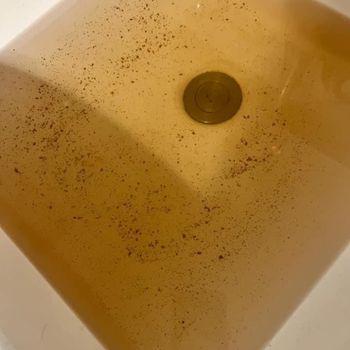 There are two types of iron found in water — ferrous, or dissolved iron and red water, or ferric iron. A common groundwater mineral, ferrous iron is invisible to the naked eye.
But ferric, or red water iron, is oxidized. It comes from iron bearing rock in soil and from rusty pipes. High levels can turn well water brown and leave reddish brown rust stains on your plumbing fixtures.
#2 Iron Bacteria
Iron bacteria are microorganisms that live in the soil. Naturally occurring, they cause slimy orange-brown stains in your tub and toilet. Their presence in well water can also point to manganese oxide contamination.
If Iron is your problem, see our top Iron filtration systems for wells
#3 Manganese
Manganese, a mineral often found with iron, can turn well water brown. If you have one, chances are you have the other. It's common in homes near mines. Manganese is used in the process of refining iron ore.
#4 Silt
Silt is dust-like sediment like what you might find along a riverbank. Almost muddy in texture, it seeps into well water through cracked casings or a damaged well screen. Silt may contain organic material and other plant-based debris.
#5 Tannins
Tannins are another type of organic material found in soil. Like iron, they're a common cause of brown well water and can wreak havoc on water softeners.
Is Brown Water Dangerous?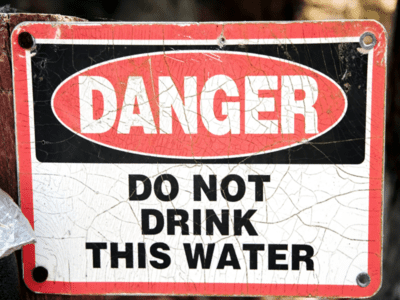 Depending on the cause, brown well water can be just a nuisance or downright dangerous.
Free-floating particles of rust are abrasive to skin and can damage hair, causing irritation and broken hair strands. Iron, manganese and iron bacteria can stain clothes, dishes and sink basins.
Brown well water is such a common problem that some homeowners think it's normal, but disease-causing bacteria, including e. Coli, can hide behind particles of silt and dislodged rust, evading even UV filters.
And while iron bacteria aren't harmful, they can signal the presence of other species that are. It's better to be safe than sorry. If you have brown water, it's a health risk.
Determine the Culprit – Test Your Well Water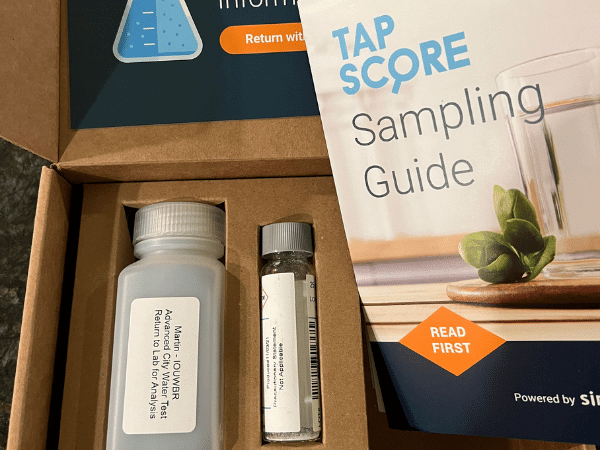 There is no government agency that monitors private wells. As a homeowner, you're responsible.
The only way to know what's in your water is to have it analyzed. The CDC recommends testing well water annually for:
Total dissolved solids
Nitrates
Coliform bacteria
pH
States recommend occasional tests for contaminants that are common in your location. Arsenic, for example, is common in the Northeast but comparatively rare in the Midwest.
You should also test a well:
If it was flooded
If the well casing was repaired or the water pump replaced
Anytime there's a noticeable change in water quality
If your drinking water supply was clear, but now it's brown, it's time to find out why.
Performing a DIY Well Water Test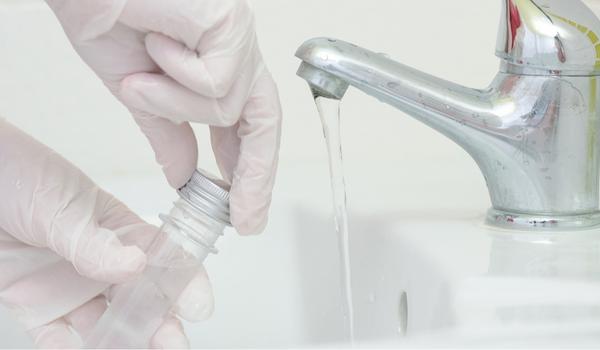 The good news for well owners is that performing a water test is easier than ever. Your local branch of the Cooperative Extension Service may offer free or reduced-cost testing. You can call a well drilling company for help or buy a DIY well water test kit. The process is simple.
We recommend using a certified water treatment laboratory for accuracy. They use the latest scientific testing methods, so you can trust the results. Brown water alone rarely suggests toxins, but some of the most harmful contaminants have no taste, color or odor.
If water chemistry wasn't your A-subject in school, and you need a hand understanding the test results, full-service companies, like SimpleLab, produce easy-to-understand reports that include objective equipment recommendations for a filter or water softener that will meet your needs.
If you've worked with a water treatment company in the past, they may be able to help, but beware of the hard sell. Resist the pressure to buy equipment you don't need.
We don't suggest using a TDS (Total Dissolved Solids) meter to test your water quality. They primarily measure water hardness ions measured in parts per million. Most hazardous well water contaminants are measured in parts per billion and will barely move the needle.
TDS meters are best used for monitoring the performance of a water softener system's dissolved solids — they won't help you diagnose dirty water.
Further reading: Do I need to filter well water?
Treatment: How to Get Rid of Brown Well Water?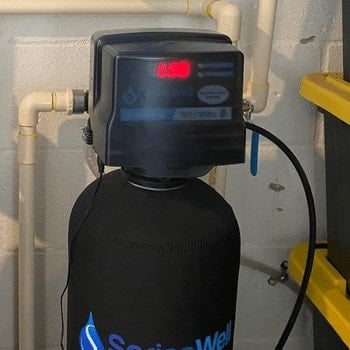 Depending on the cause, the fastest way to get rid of brown well water is to install a filter or water softener.
The most popular options include:
Air Injection Filters
If high levels of iron are to blame for brown well water, you could replace your rusty pipes, but how practical is that? An air injection filter oxidizes iron, turning ferrous iron into particles of solid iron, so it can be captured in a filtration tank. A self-cleaning system, it sends iron minerals down the drain, leaving you with clean well water.
Greensand Filters
Another way to remove iron is with Greensand filters. Like an air injection oxidization filter, it turns white iron into solid iron and traps it in a manganese-impregnated media bed where it can be swept down the drain.
Ion Exchange Filters
The best example of an ion exchange filter is a salt based water softener. A dual-tank system, negatively charged hard mineral ions are trapped by positively charged resin. Salt water then flows through the media bed, breaking the chemical bonds. You get softer water, and the minerals are flushed away.
But not all water softeners are created equal. Salt-free systems use Template Assisted Crystallization (TAC) technology to prevent the limescale buildup that can clog your water pipes and ruin a costly water heater. But only an ion exchange water softener actually removes hard minerals.
The right whole house water softener can also help if you have hard minerals and low to moderate iron present in your water. While iron laced water can ruin some types of softening resin, others can remove iron up to 12 parts per million, saving you the expense of adding an air injection system.
Sediment Filters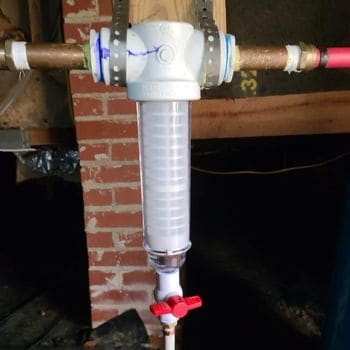 Mechanical filters made of pleated paper or wound string, sediment filters sift out dirt, rust, sand and silt, not only keeping it out of your water, but also protecting the other filters in a multi-stage carbon or reverse osmosis system. Most well water filters come with sediment filters.
The ion exchange resin in a water softener system is also vulnerable. Adding a sediment filter will lengthen its service life.
Reverse Osmosis Filters
A reverse osmosis system is a point-of-use filter. Installed under the kitchen sink, it connects to your cold water tap and treats small volumes of water for drinking and cooking. RO filtration is effective but slow, so it's uncommon in whole house systems.
The gold standard for hazardous contaminant removal, RO systems render water virtually pure. But are they the best way to get rid of brown well water?
RO filters rely on a delicate reverse osmosis membrane to filter out toxins. Laced with microscopic pores, it removes up to 99.99 percent of hazardous chemicals.
But discolored water may contain substances that can coat the membrane, making it less effective. If you have brown well water, add a sediment prefilter to remove damaging particles.
RO filters are also heat-sensitive, so you can't connect them to a hot tap. Hot brown water is almost impossible to treat without a whole home well water system.
How Long Does It Take for Brown Water to Go Away?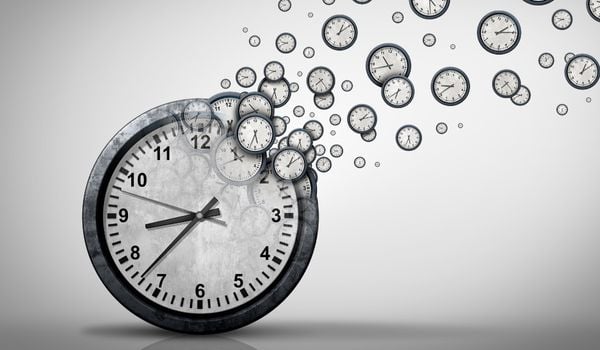 After installing a water filter, all it should take to turn brown well water clear again is to let it run for a few hours. There's probably dirt and rust buildup in your pressure tank and water heater.
And unless you replace rusted pipes, you may continue to see some flakes of rust in your water supply, but the turbidity, or cloudiness, should drastically decrease.
If it doesn't clear within a few days, it may be time to call a professional. Well water can turn brown because of a problem with the pump or casing.
When to Call a Professional?
If you can't eliminate brown water, call a water treatment professional. Even if a prior inspection showed that your equipment is intact and well-maintained, the problem could be the water source.
Most brown well water isn't hazardous, but the risk increases if your well is compromised. Hiring an expert isn't cheap, but your family is worth it. They know how to get rid of brown well water, so it's a good investment.
Final Thoughts
Learning how to get rid of brown well water isn't a glamorous way to spend an afternoon, but it's an important way to safeguard your health and home. Here's to your next glass being clear.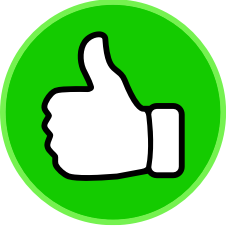 113
people found this helpful. Was this guide helpful to you?