Last Updated on January 13, 2023 by
Ava
If you purchased an under-sink filter system, congratulations — it's a convenient and cost-effective way to improve your drinking water quality.
But like all filters, maintenance is critical for performance. So, how often should you change your under-sink water filter, and how do you know when it's time? Let's find out.
Key Takeaways:
Generally, it is recommended that you change your under-sink water filter every 3 to 6 months.
This depends on the type of filter, as well as its use and capacity.
You may need to replace filters more often if you have hard water or a large family using the filter frequently.
Some filters also come with a reminder light that will indicate when it needs to be changed.
What Are Under-Sink Water Filters?
Under-sink filters purify water for drinking and cooking. Unlike a whole-house water filter, they provide clean water at a single tap, usually in the kitchen where you need it most.
You can choose from simple carbon filters that make water taste better to multi-stage reverse osmosis systems that treat highly contaminated water.
The Benefits of Under-Sink Filtration Systems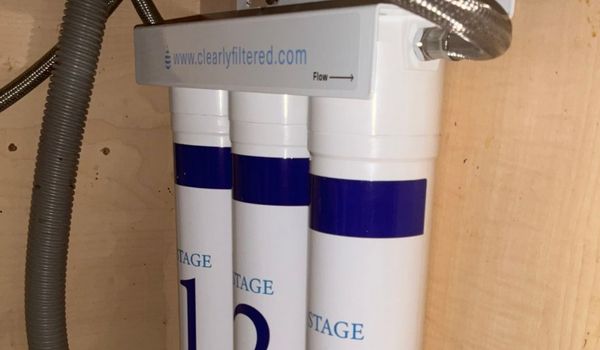 Under-sink water filters have benefits that whole-home filtration systems don't.
#1 Affordability
You can purchase a top-quality under-sink water filter for half the price of a whole-house filtration system. Since most exposure to harmful contaminants comes from what we eat and drink, it's a bargain.
If you're concerned about contaminants in your bathwater, you can purchase a shower head with an integrated filter for under $150 or add a separate shower filter for less than $50. You'll spend a fraction of the money and reap as many health benefits.
#2 Efficiency
Reverse osmosis is the gold standard for water filtration — it makes tap water virtually pure. But since whole-home RO filters are rare, only countertop and under-sink filters achieve that level of purity.
And if the pipes in your home contain lead, no whole-house water filter can remove it. Only under-sink water filter systems can tackle contaminants like heavy metals that come from your interior plumbing.
#3 Sustainability
Bottled water is a nightmare for your budget and the environment. You could spend thousands annually and more in taxes. Fewer than a quarter of single-use water bottles are recycled, meaning that you pay to send them to landfills. Filling reusable containers with filtered water offers huge savings.
#4 Portability
Whole-house systems are plumbed into your home's main supply line, requiring permanent changes to the plumbing. But under-sink water filters don't. They're connected to the cold water line under the sink with a hose — hot water can damage an RO system.
Most people can install an under-sink filter in an hour or two with no special tools or plumbing prowess. You can also purchase an adapter kit to connect it to your refrigerator's water dispenser.
Apartment-friendly, under-sink systems come apart as easily as they're put together, so they can travel with you.
#5 Footprint
Whole-home water filters require at least 12 square feet of basement or garage space. Most are too tall to fit in crawlspaces, and they can't be installed outdoors.
Under-sink tap water filters tuck neatly into a kitchen cabinet and fit almost anywhere. Unlike countertop filters, they're hidden from view and won't ruin the aesthetics of your kitchen.
#6 Maintenance
Because of its size and location, maintaining a whole-home water filtration system takes more time and effort. Under-sink filters are compact and conveniently located. You can change the filter in your pajamas.
How Long Do Under-Sink Water Filters Last?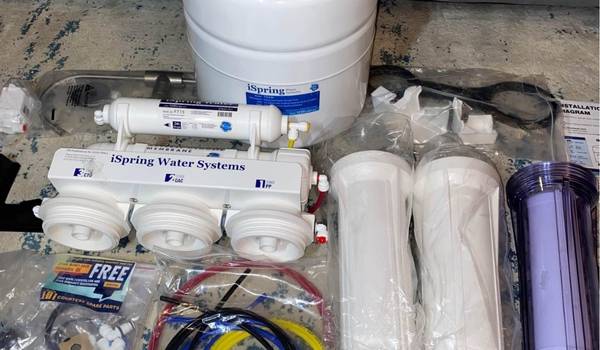 How long an under-sink water filter lasts depends on:
#1 Filter Capacity
Cartridges in a multi-stage water filter system are filled with various types of media for reducing different substances. Combining filters allows you to remove more contaminants, from harsh sediment and disinfectants to chemicals and heavy metals, but type each has a different capacity.
A carbon filter, for example, is ideal for removing chlorine and pesticides, while a reverse osmosis membrane reduces metals, salts and dissolved solids. Under average conditions, sediment and carbon cartridges last 6-9 months while RO membranes last 1-3 years. The maintenance schedule is staggered.
#3 Water Quality
The harder water filters work, the more often you'll have to replace them. If you have poor quality water, you may replace a 6–9-month sediment filter every 2-4 months.
#4 Water Usage
How long a water filter lasts depends in large part on how much water you use. If your average water consumption is high, filter lifespan is typically lower.
The clock starts ticking, however, as soon as filters get wet, so lower-than-average contamination levels may not necessarily help them last longer. Still, a single user can expect to replace them less often.
Further reading: How long do water filters last?
Why Is Changing Filter Cartridges Important?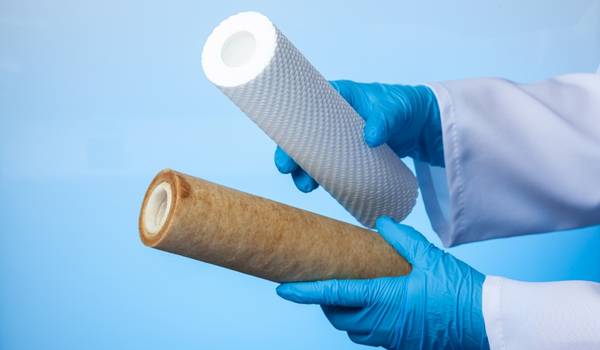 Maintenance is among the most crucial factors for water filter performance. In multi-stage systems, one filter protects the other.
A sediment filter, for example, removes the large particles of dirt and rust that can prematurely clog a carbon cartridge while carbon cartridges remove contaminants like chlorine that can ruin an RO membrane.
Forgetting a filter change affects the efficiency and longevity of the entire filter system, so it's essential to replace them on time.
Signs That You Need to Replace Filters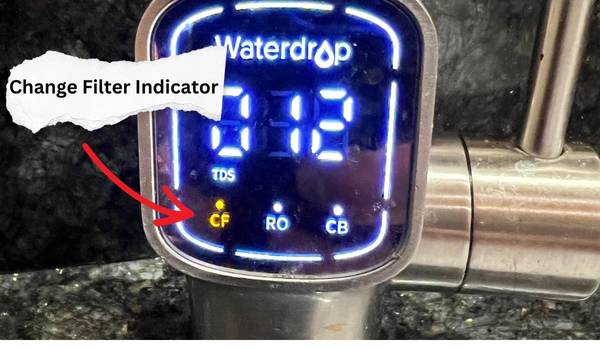 Some filtration systems are equipped with "change water filter" indicators that cue you to replace cartridges on time — usually an LED light or a strip that changes color.
If yours doesn't, signs that your water filter system needs maintenance include:
#1 Low Water Pressure
Clogs impede water passing through filters. If you notice a drop in pressure, changing the filter should improve water flow.
#2 Poor Water Quality
If your water is suddenly cloudy or has an unpleasant taste, you may need a new filter. Turbid or bitter water signals a filter cartridge is spent.
#3 A Dirty Filter
Some water filters are opaque — you can't see through them. But most sediment cartridges can be inspected for build-up. Change the filter if it's visibly dirty.
Are Filter Changes Difficult?
You're more likely to change the filter every time you need to if it's a straightforward process, so manufacturers go out of their way to make it a breeze.
On most models, you'll hand-twist filter cartridges on and off — it's as easy as changing a lightbulb. Mess-free, changing the filter takes seconds.
What Do Replacement Filter Cartridges Cost?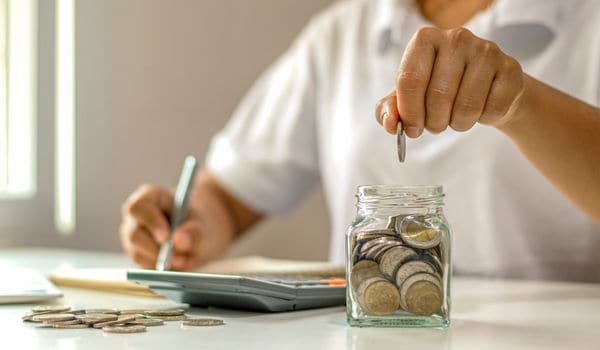 The cost of replacement filters depends on the filter type, quality and quantity. Sediment filters average $5-15. A carbon cartridge will set you back $30-70. Reverse osmosis membranes range from $75 on the low end for models lasting a year to $150 for those last three years or more.
Can you save money on a water filter cartridge without sacrificing quality? You can by buying smart.
Most filters, for example, are compatible with generic cartridges of equal quality. And buying bulk lots of the filters needing replacement most often can reduce the cost of each filter by half.
Whenever possible, choose NSF-certified filters. Independently tested, they're of better quality and may last longer.
Final Thoughts
If your local water quality doesn't measure up, an under-sink water filter may be the solution. Affordable, compact, and best of all, low-maintenance, it delivers clean, healthy water.