Few terms cause as much confusion among the water weary as "filter" and "softener." Two remarkable products, they target entirely different contaminants and are not interchangeable.
With few exceptions — water filters don't soften water and softeners don't filter. So, let's cut through the jargon and figure out which you need. Spoiler alert — sometimes it's both.
[lwptoc]
What's the Difference Between Water Filters and Water Softeners?
Water softeners remove hard minerals — high levels of calcium and magnesium that seep into water supplies from the surrounding rock and soil. Plumbed into your main water line, they're essentially self-cleaning and require limited maintenance. There are two types.
Salt-based softeners work by trapping positively charged minerals in a negatively charged resin tank. Once saturated, a burst of saltwater breaks the bonds, flushing them down the drain and rejuvenating the resin. The science is simple.
Salt-free water softeners use Template Assisted Crystallization (TAC) technology. Instead of removing hard minerals, it changes their molecular structure so that they can't create limescale — the sticky white substance responsible for most hard water woes. Environmentally friendly, they're welcomed in ecologically sensitive areas where salt-based softeners may be banned.
Depending on the resin quality, some models can remove low levels of other contaminants, such as iron and lead, but beware of advertising claims — reduction rates are far too low to be considered "filtration." Don't bet your health on it.
Water filters, by comparison, are engineered to reduce a wide range of toxic chemical, biological, radiological and heavy metal contaminants.
You need a water filter to remove dangerous substances like:
Lead
Arsenic
Mercury
Bacteria
Parasites
Sediment
Chromium
Uranium
Chlorine
Chloramine
Fluoride
Trihalomethane
Bromides
PFAS
Nitrates
Herbicides
Pesticides
Industrial chemicals and more
But no type of filter removes all contaminants, so evaluate performance claims carefully. Are There Any Exceptions to the Rule?
Yes. Reverse osmosis filters remove minerals, so the effect is similar to a softener. But hard water is tough on delicate RO membranes and significantly reduces their ability to eliminate more worrisome contaminants. Practically speaking, if you have hard water, you need a softener.
Is Hard Water Bad for Me?
The EPA classifies hard minerals as secondary contaminants because unlike environmental toxins, such as agricultural chemicals and lead, they can be a nuisance but aren't considered harmful.
Hard water consists of:
Calcium Carbonate
Calcium carbonate is a healthy mineral. The same active ingredient found in over-the-counter heartburn medicine, your body needs it for bone and heart health. It won't hurt you, but the scientific consensus is that we get all we need from our diets. What it does to your home, however, is another story.
Too much calcium creates limescale — a thick residue that can corrode plumbing, ruin appliances and hike your utility bills. Sticky and abrasive, it irritates skin, dulls bright linens and leaves crusty white stains on your shower walls and bathroom fixtures. Yuck.
Magnesium
Magnesium supports more than 300 biochemical reactions in the body. It regulates nerve function and helps keep blood sugar in check. Too much can be toxic, but even the hardest water doesn't contain enough to make you sick.
Magnesium contributes to limescale and prevents soap from lathering effectively. If your skin and hair never feel quite clean after a shower, this humble mineral may be to blame.
Do I Need Softer Water?
Hard minerals can have a serious impact on your home, but softening water remains a matter of personal preference. Measured in grains per gallon (GPG), hardness ranges from slight to extreme, and the effects multiply as the level rises.
You'll start to see signs of hard water at 7 GPG, including:
Itchy skin
Brittle hair
Limescale and soap scum stains
Etched glassware
Dingy clothes
Clogged pipes
Low water pressure
Premature appliance breakdowns
Higher utility bills and more
The harder water is, the more it benefits from softening. A water test will provide answers. If you already know you have hard water and need a softener – see our top rated water softeners.
Testing Your Water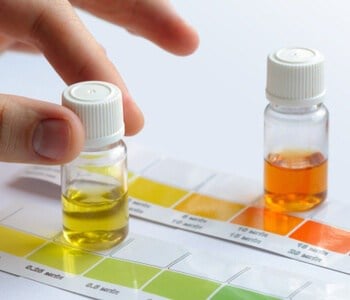 If you have a private well, you're on your own, the government plays no role in testing or monitoring home water quality. The CDC recommends checking your well annually for bacteria and nitrates. States have additional guidelines reflecting the contaminants common in your area.
If you drink city water, the EPA mandates testing for 90-plus contaminants. Treatment authorities provide an annual water quality report that details your source water chemistry and more.
Reports don't, however, account for contamination that occurs after water leaves the treatment plants. Kids in Flint, Michigan drank lead-laden water for nearly a year before officials knew the source was service lines. There's no substitute for testing water at the tap.
The process is as simple as ordering a home test kit. You'll fill a few small containers with water and return them to the lab — results may take a few weeks. You can choose from tests that screen only for hard minerals or a handful of toxins, but we recommend doing a more comprehensive analysis at least once to get a sense of what's in your water. Hundreds of municipalities nationwide have been cited for contaminant levels far above the legal limits, and at least 20 million wells are thought to be at-risk.
A water test is not only good for your health, but it's instrumental when choosing filtration equipment. Iron and chlorine, for example, can ruin water softeners, while hard water and sediment impair filter efficiency. It's critical to know what you're dealing with.
We recommend using certified testing laboratories because they use only proven test methods for guaranteed accuracy. Purchase a test kit directly from a local lab or online from a private company. Some firms, like TapScore, offer detailed reports including guidance on which type of water treatment equipment you need — a plus if chemistry wasn't your A-subject. Armed with knowledge and sound advice, you'll be able to choose the best softener or filter for your needs.
What if I Need a Water Filter and a Softener?
You're not alone. More than 70 percent of Americans have hard water, and unhealthy contaminants are so common that it's not unusual to need a filter and softener. The good news is that they're compatible. The trick is to install them in the right order.
If you have large particles of dirt and rust in your water, plumb in a sediment prefilter before the softener to protect the resin — a carbon filter will remove chlorine. If your water is clean and clear but has an unpleasant odor, a carbon post-filter may remove the smell.
Check out this water filter combo system.
If you already have a water softener and testing reveals other contaminants, you can plumb in additional filters — nothing is set in stone. But if you don't have the space or resources, or the contaminants come from your pipes — lead, for example, in pre-1986 homes — consider an undersink or countertop filter. They're separate from the plumbing system.
We suggest buying only NSF-certified products. Independently tested, they meet minimum quality and performance guidelines.
Final Thoughts
Softeners and filters can both improve your water quality, but their capabilities differ. One protects your home — the other safeguards your health. Be informed and buy wisely.