Last Updated on January 13, 2023 by
Ava

Conventional water softeners use salt to treat hard water, but there shouldn't be enough residual sodium to taste. If your soft water tastes salty, there's a problem with your system. So, let's examine the most common causes of salty water and how to fix them.
Key Takeaways:
The salty taste of softened water can be caused by excessive sodium content in the water.
A high level of magnesium and calcium in the water can also cause a salty taste.
It's possible that the water softener system has not been properly maintained, resulting in an accumulation of minerals in the softened water.
Another possibility is that a malfunctioning water softener is delivering too much salt into the softened water, causing a salty taste.
The best way to identify the issue with your water softener is to have it tested by a professional.
You can also check your water softener's settings to ensure that it is properly calibrated, and if necessary, adjust the salt dosage.
Additionally, you should regularly inspect the water softener system for any signs of corrosion or damage that may be causing excessive salt content in the softened water.
How Do Salt-Based Water Softeners Work?
Conventional water softeners use sodium ions to displace calcium and magnesium, minerals that create limescale. Salt from the brine tank mixes with water to form a brine solution which is drawn into the mineral tank during the regeneration process.
As saltwater passes through the resin bead, the sodium chloride ions break the electrical bonds that bind hardness minerals to the resin beads, rinsing them down the drain.
Further in-depth reading: How do water softeners work
How Much Sodium Does a Water Softener Add to Drinking Water?
The regeneration process adds a small amount of salt to soft water — about 100 mg of sodium per quart. That's less than what's in an 8-ounce glass of milk or a slice of white bread, neither of which taste salty.
The small amount of sodium a water softener adds to your drinking water isn't generally harmful. But if you're trying to reduce sodium consumption as part of a low-sodium diet — typically 2000 mg of sodium daily or less — avoid drinking softened water to be on the safe side until you consult your doctor.
Should My Softened Water Ever Taste Salty?
Soft water should never taste salty. If you have a properly installed, fully functional water softener system, excess sodium should be removed during the rinse cycle. A salty taste points to a malfunction.
Troubleshooting Salty-Tasting Water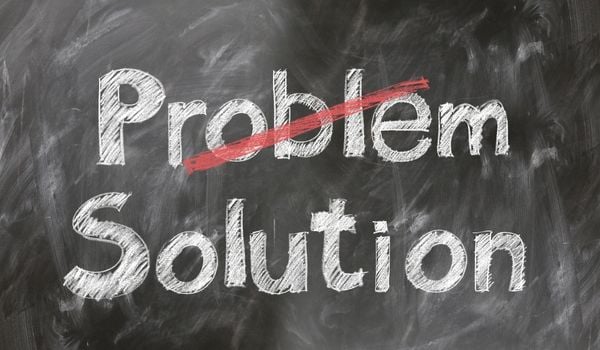 Issues well beyond the brine cycle can impact a water softener's performance, so if you're experiencing a salty taste, one of these common problems is likely to blame.
Clogged or Worn Injector Valve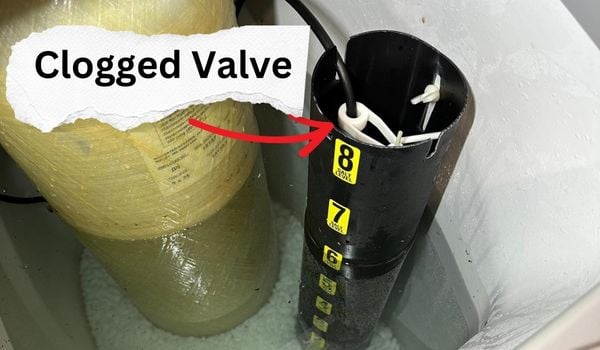 The brine injector, or Venturi valve, regulates the flow of brine solution from the brine tank to the resin tank by creating suction that pulls it from one tank to the other. But over time, it can get clogged with debris from sediment to hardness minerals, partially obstructing the flow of water during the brine cycle.
Check the injector by pulling it out gently with needle-nose pliers. If you can't see light through the nozzle, it's clogged. A simple fix, just push debris through it with a needle, rinse it and reinstall it.
Brine valve components from the brine piston to the seal are also prone to wear and tear over time and could allow salty water to seep into the resin tank. To check the valve, remove the drain line and brine elbow from the valve, initiate a manual regeneration cycle and watch for leaks. If it drips, it should be replaced.
We recommend replacing the entire valve instead of troubleshooting individual components — it's more economical and satisfies the recommended maintenance schedule.
Clogged Drain Line Flow Control
The drain line flow control regulates the amount of water that flows through your system during backwashing. If it gets clogged, it can alter the concentration of salt in the brine solution. Cleaning off any sediment or mineral deposits that may be obstructing control should restore normal water flow.
A Crimped or Clogged Drain Line
The drain line carries away unwanted minerals and extra sodium ions during the regeneration process. If it becomes crimped or clogged with debris, it could cause salty water to backflow into the resin tank. Inspect the line for kinks and clear any clogs — removing obstructions should alleviate the salty water taste.
Clogged Brine Line
Undissolved water softener salt can clog the line that brings brine solution to the mineral tank. It may seem counterintuitive that the absence of brine solution would give water a salty taste, but it can increase the salt-to-water ratio in the brine tank, resulting in a salty taste during subsequent regeneration cycles if a partial clog clears.
Low Water Pressure
A water softener relies on an adequate incoming water pressure of 45-65 PSI to work properly. If your municipal or well water pressure suddenly drops, and your drinking water tastes salty, there may be more sodium ions in the brine water than you bargained for.
If the loss of pressure is due to a water main break or a similar issue with your public water system, the salty water issue should correct itself once the problem is resolved.
Water Use During Regeneration
You can use water while a water softener regenerates, but it may lower water pressure enough to throw off the amount of sodium added to the brine. If this occurs, let the salty water drain out of your plumbing system by letting the water run for a few minutes.
Regeneration Cycle Interruption
If the regeneration process is interrupted at any point by a power outage or malfunction, the resin tank may retain more sodium and leave you tasting salt until the next cycle. If the power goes out, you can avoid this by running a second, manual regeneration cycle.
Faulty Water Softener Programming
A water softener is only as effective as its settings. If the per gallon hardness level is set too high, the system will think your water has more hardness ions than it does and will compensate by amping up the brine. Double-check your water test results and ensure the water softener settings match.
Could Your Water Be to Blame?
The softening process shouldn't make your water taste salty, so the raw water supply going into the system may contain a higher-than-average amount of sodium. Refer to your water test or your most recent municipal water quality report.
Could Your Taste Buds Be the Issue?
If you're the only member of your household experiencing a salty taste, you may simply be more sensitive to salt. Using potassium chloride instead of sodium chloride pellets in your salt tank may help alleviate the taste while still letting you enjoy soft water.
Is It Safe to Drink Softened Water if You Can Taste Salt?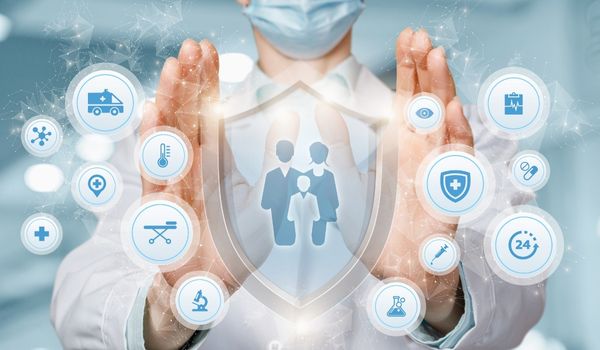 If you're tasting saltwater, chances are it has a very high sodium content — avoid drinking it until the problem is diagnosed. And don't prepare baby formula with it until it's fixed. Some pediatricians recommend using only filtered or bottled water for formula if you have a salt-based water softener.
When To Call a Professional
If you can't find a problem with your water softener but a yucky salty water taste persists, call a water treatment professional. They'll ensure the safety of your system and tell you how to proceed if the salty taste isn't related to your water softener.
Other contaminants, including magnesium, can taste salty to some people. A water test might reveal the problem but rule out issues with your water softener first.
How To Remove Salty Water Taste
If your water softener is functioning properly but it still makes water taste saltier than you'd like, there is a solution. A reverse osmosis water filter will remove the salt taste and more.
Compatible with water softeners, reverse osmosis systems fit under your kitchen sink and remove 99-percent or more of total dissolved solids plus other contaminants, from chemicals to heavy metals, for the cleanest soft water possible.
If you have an old water softener, you could consider replacing it entirely with a reverse osmosis filter if soft drinking water is all you need. If you need limescale control, you could consider switching to a salt-free TAC water conditioner.
Final Thoughts
Soft water is a treat for your skin. It protects your plumbing system, preserves the life of your appliances and generally makes life a little more comfortable and less expensive. The trade-off is a little salt in your water, but it should never be enough to make your water taste salty.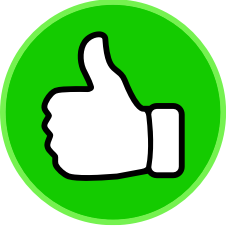 123
people found this helpful. Was this guide helpful to you?