Last Updated on December 10, 2022 by
Ava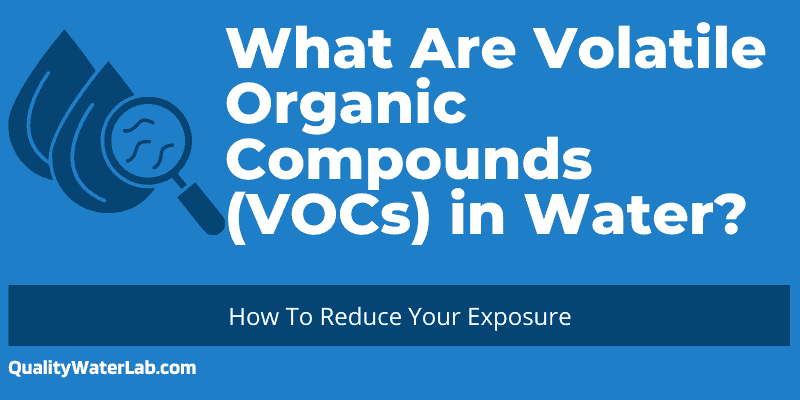 Volatile organic compounds (VOCs) are the latest threat to America's drinking water supply. Like heavy metals, they were used to make a wide array of industrial and household products before we understood the dangers.
A threat to human health, VOCs represent a real but manageable risk to your water quality. Let's take a closer look at these problematic, impossible-to-pronounce chemicals and how to get them out of your drinking water.
Key Takeaways:
Volatile organic compounds (VOCs) are chemicals that evaporate easily and can enter the atmosphere or water.
VOCs are found in many sources such as solvents, cleaning products, paints, and exhaust from motor vehicles.
In water, VOCs can lead to the growth of toxic algae which can harm fish, as well as reduce oxygen levels in the water.
Common VOCs found in water include benzene, toluene, ethylbenzene and xylene.
Treatment systems such as granular activated carbon can be used to reduce the levels of VOCs in drinking water.
It's important to maintain proper monitoring of water sources and treatment systems to ensure the safety of drinking water.
What Are Volatile Organic Compounds?
VOCs are man-made, water-soluble chemicals that are emitted from solids as gas. Because they vaporize easily at normal air temperatures, you may be familiar with their characteristic odors.
New car smell, for example, is the result of chemical gases released from synthetic materials. VOCs are found in:
Petroleum products, like gasoline
Dry cleaning chemicals
Spot removers
Furniture foam
Mattresses
Building materials
Septic system cleaner
Printer inks
Adhesives
Cigarettes
Nail polish remover
Flame retardants
Paint and varnish
Household cleaners
Solvents, like paint thinners
Pesticides
Shoe polish
Air fresheners and more
How Do Volatile Organic Compounds Get into Drinking Water?
Volatile organic compounds, also called volatile organic chemicals, are not naturally occurring. They end up in the environment because of human activity. Improper disposal of VOCs contaminates both groundwater and surface water supplies, while leaks from underground fuel tanks seep into the groundwater that fills private wells.
The use of products with VOCs is ubiquitous in daily life, so they're hard to avoid. But in drinking water, they have health risks you should know about.
Potential Health Effects of Volatile Organic Compounds in Drinking Water
Not all volatile organic chemicals are harmful. Many consumer products contain VOCs, such as essential oils, that are safe and even therapeutic. These, however, are associated with kidney and liver tumors, nervous system disorders, respiratory disease, and more:
Solvents
Solvents, such as the methylene chloride used to decaffeinate coffee, are among the most commonly detected VOCs in drinking water. Trichloroethylene, or TCE, a solvent and dry-cleaning chemical, can cause liver, kidney and blood cancer.
Trihalomethanes
Trihalomethanes (THMs) are byproducts of chlorine disinfection. Elevated levels of THMs are regularly detected in city water systems across the country, but private wells are also at risk because of wastewater contamination. According to the National Toxicology Program, THMs in drinking water are associated with colorectal cancer in animals.
Pesticides and Herbicides
Pesticides from agricultural activities and herbicide use on roadways and golf courses are common sources of VOC contamination. A wide range of cancers has been associated with glyphosate — a bestselling weed killer.
Gasoline and Fuel Additives
Gasoline, a non-aqueous phase liquid, is less soluble than some petroleum products and easier to clean up before it reaches groundwater. Fuel additives, however, are another story.
Among the worst was methyl-tert-butyl-ether (MtBE), a gasoline additive used to replace lead in the late 1970s. Within years of introduction, high concentrations were identified in soil and groundwater supplies, causing immediate concern.
MtBE was phased out of gasoline in 2005, yet levels in major aquifers remained unchanged through 2012. Once in groundwater, methyl-tert-butyl-ether travels. Private wells within a mile of fuel stations or industrial centers are at the greatest risk of drinking water contamination.
Hydrocarbons
Other VOCs, including chloromethane and carbon tetrachloride, once popular in the dry-cleaning industry, were banned along with other hydrocarbons because of their environmental impact. Yet, they're still found in groundwater today because existing soil contamination continues to reach underground aquifers and surface water supplies in rain and runoff. Your next glass of drinking water could contain an industrial solvent produced more than 30 years ago!
Hydrocarbons, when inhaled, are also linked to breathing disorders, including asthma and pneumonitis. Because volatile organic compounds vaporize at normal air temperatures, they pose a risk in shower water.
Are Volatile Organic Compound Levels in Water Regulated?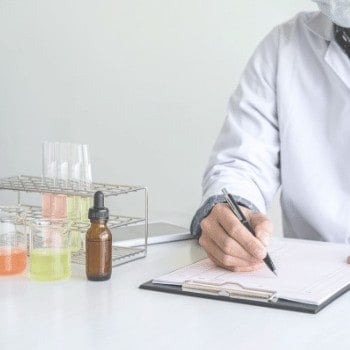 The Environmental Protection Agency (EPA) is the official government organization responsible for drinking water safety. With the help of the Centers for Disease Control and Prevention and the US Geological Survey, they set the maximum contaminant level for VOCs.
Funded by the United States government, they collaborate with states to set VOC reduction goals for public water systems. Drinking water suppliers are required to take action if the concentration of any compound rises above the maximum contaminant level set by the EPA.
Despite their best efforts, however, stubborn VOCs like trihalomethanes are difficult to control while cleanup continues for others. It may be decades before water supplies are free of volatile organic compounds because new technologies for manufacturing are slow to evolve.
How Can I Tell if There are VOCs in My Drinking Water?
VOCs emit odors at room air temperatures, so if your water smells like chemicals, there may be a volatile organic compound present. Low concentrations, however, may be undetectable yet still affect human health.
Official .gov websites have more information. Your local health department is also aware of contamination risks in your watershed. They know where underground fuel tanks are buried, and which area factories use VOCs.
But for real answers, there's no substitute for having your water tested. It's a simple process.
How Do You Test for VOCs in Water?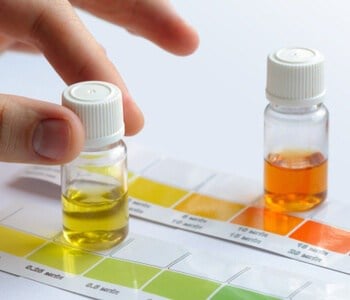 City water is regularly tested for volatile organic compounds, but if your drinking water comes from a private well, VOC testing is your responsibility. Unlike some contaminants, however, home testing options are limited. Only laboratories are equipped to test for VOCs.
If you don't have a certified laboratory in your area, we recommend SimpleLab's Tap Score test kit. Affordable and all-inclusive, it's straightforward to use and accurate. Send them a water sample, and you'll get a report in a week or so with easy-to-understand results and recommendations for water filters that remove problem contaminants.
See our: recommended water testing kits
How Can You Reduce Exposure to VOCs?
VOCs in water pose health risks when ingested or inhaled, so you need to protect yourself on two fronts.
Bath Water
Volatile organic chemicals are more likely to vaporize when you use hot water, so bathe in cooler water and ventilate the bathroom. Tub baths may produce fewer VOC vapors than showers, further reducing your exposure.
Drinking Water
Switching to bottled water is one way to limit exposure to many VOCs. But it's costly for both you and the environment. The bottles end up in the waste stream while you have to buy, lug and store pallets of jugs.
If a water analysis shows VOCs in your drinking water, a home filtration system may be a better option. Let's review your choices.
Which Water Filters Remove VOCs from Water?
The good news about VOCs is that the simplest and most affordable filtration methods are also the most effective.
Carbon Filters
The best defense against chemical contaminants is a carbon filter. Carbon work adsorption, trapping most VOCs in its pores. Removal rates range from 60-percent to 99-percent or more depending on the actual concentration of chemicals in your water. Better quality carbon filters remove more VOCs.
Reverse Osmosis Filters
Reverse osmosis does not remove VOCs, but RO filtration systems do because they include a carbon prefilter. If you need a water treatment option that removes VOCs and other contaminants common in a private well, an RO filter may be your best bet.
Choosing the Best Water Filter for Removing VOCs
There are two types of water filters — whole-house filtration systems that treat water throughout your home and point-of-use filters, such as countertop and undersink filtration systems, that purify small volumes of cooking and drinking water, usually from a single tap. Other examples include refrigerator filters and filtration pitchers like Brita. Which is ideal?
Whole-House Filters
VOCs are a problem home-wide, so whole-house water filters are ideal. Low maintenance and remarkably cost-effective, they're easy to install, and they remove VOCs from your bathing and drinking water.
Wherever you are in your home, a whole-house system has you covered. But installation requires permanent changes to your plumbing. If you rent, your landlord may not be on board. And for the cash-strapped, they may be out of reach financially.
See our: best rated whole house water filters
Point-of-Use Filters
Point-of-use filters are a less expensive alternative. The most popular are undersink filtration systems starting at $200. Countertop filters cost as little as $70, and if you have $30 — you can have clean water today with a filtration pitcher. Add a shower head filter for around $50 and you have the equivalent of whole-house filtration for less. Where there's a will, there's a way.
Whichever type of filter you choose, consider quality first. Beware of performance claims. Filters that reduce" up to" 99 percent of VOCs may remove far less. Request test results and insist on transparency.
And choose only NSF-certified filters — they're independently tested and guaranteed to perform as advertised. Why settle for less?
Final Thoughts
Your water supply is at risk as long as the human activity that causes VOC contamination continues. Until the world becomes more ecologically friendly, safeguard your family's health with a home water filter.