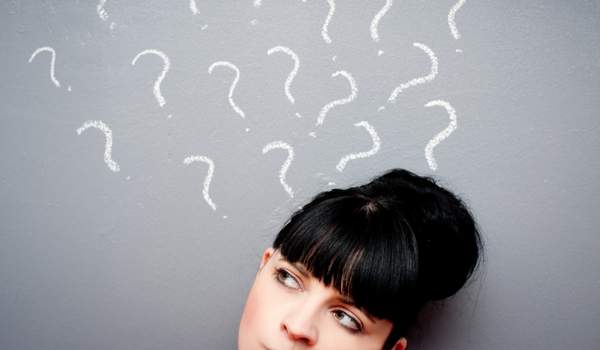 Softened water is one of life's little pleasures. Free of the excess calcium and magnesium that wreak havoc in your home, it's gentle on your clothing, kind to your dishes and silky on your skin.
But plants are sodium-sensitive, and they need those natural minerals. So, is it safe to sprinkle your prized petunias with soft water? It is, but it's not ideal.
Let's take a closer at why and what you can do to keep outdoor gardens and indoor plants happier and healthier.
Key Takeaways:
Soft-water is generally not harmful to plants, but it can affect growth rate and flowering in some instances.
For most plants, it is best to use hard water when watering them, as it contains more minerals that are beneficial for plant growth.
When using soft-water on plants, it is important to monitor the plant's overall condition and adjust the amount of water accordingly.
The Problem with Softened Water & Plants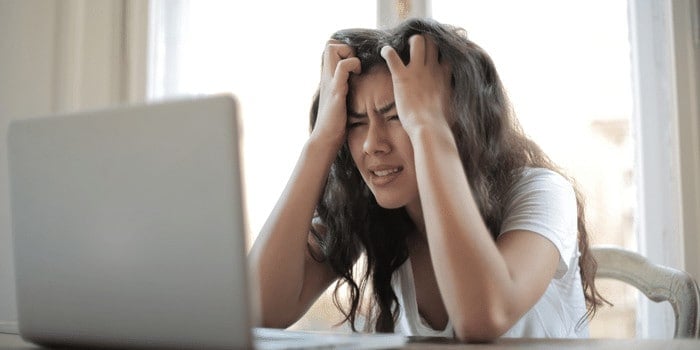 Hard water contains dissolved minerals that form limescale in your plumbing system. A disaster for water heaters and appliances, it's why most homeowners choose to treat hard water with an ion exchange softener.
But softened water is nearly mineral-free. Devoid of beneficial nutrients, it also contains enough residual salt to reduce plants' water and nutrient intake. How? Salt water tricks plants into thinking they've consumed more water than they have, so sensitive species essentially die of thirst.
And watering the same soil over and over with softened water worsens the impact on future plants. Is it enough to kill your garden? Not usually — most plants are resilient. But the combination of low nutrients and high salt content throws off the water balance enough to reduce yields. And sodium builds up readily in potting soil, putting indoor plants at risk.
Does that mean you're stuck with hard water? Never! We'll show you how to water plants safely without sacrificing the benefits of softened water.
Pros & Cons To Watering Plants With Soft Water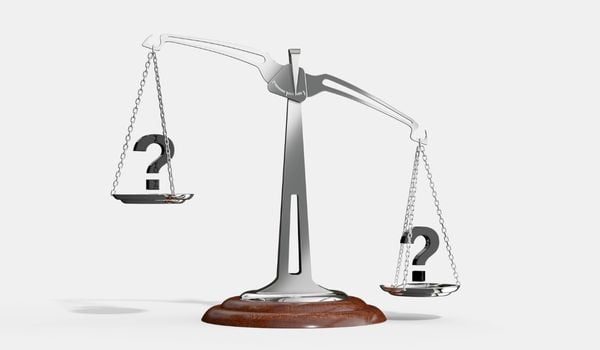 Pros:
Soft water is generally free of minerals, which can be beneficial for plants that are sensitive to mineral buildup in the soil.
Soft water has a lower pH level than hard water, making it more suitable for certain types of plants that prefer acidic soils.
Soft water helps reduce the risk of root rot and other diseases caused by high levels of calcium or magnesium in the soil.
It also helps prevent salt build-up from fertilizers and other chemicals used on plants, which can damage their roots over time if not properly managed.
Cons:
Plants may struggle to absorb essential nutrients from soft water due to its lack of minerals like calcium and magnesium, leading to nutrient deficiencies in some cases.
The low pH level found in soft water can cause problems with certain plant species that require higher alkaline levels for optimal growth conditions (eg., roses).
Soft water may contain chlorine or other contaminants that could be harmful to delicate plant life if not filtered out before use on gardens or lawns.
Soft water can also be more expensive than hard water, depending on the source and treatment process used to make it suitable for plants.
Alternatives to Watering Plants with Softened Water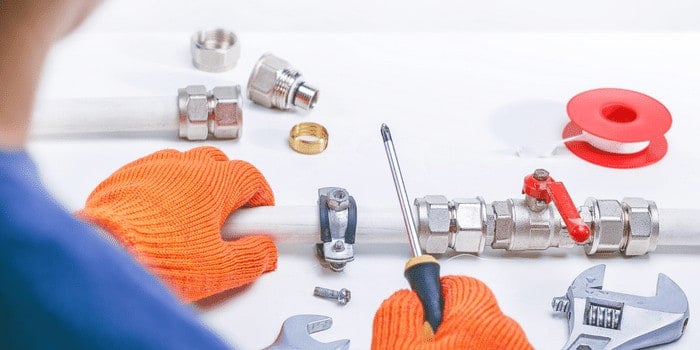 If you have a water softener, these simple strategies will protect your plants.
Bypass the Softener
Most water softeners have a built-in bypass valve. Switching from soft to regular water is as easy as flipping a switch.
Use an Outside Tap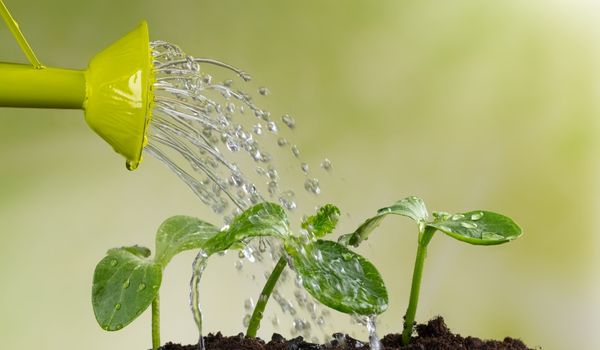 Install a dedicated outdoor spigot for fresh water access anytime. Split from the incoming water line, it provides untreated water for irrigating lawns and gardens without bypassing the softening system.
Plants get what they need without interrupting the flow of soft water inside the house. It also saves wear and tear on your softener while lowering utility bills. Why pay for softened water when you don't have to?
Collect Rainwater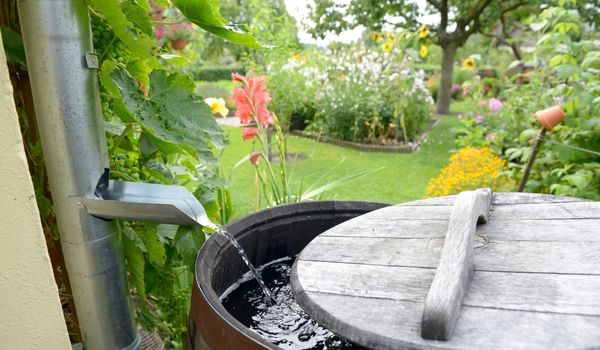 Collecting rainwater doesn't require rain barrels or a fancy catchment system. Set 5-gallon buckets out in your gardening area and let them fill naturally when it rains. It's a safer way to water plants and a great way to conserve groundwater in dry areas.
Rainwater is also beneficial for the soil. When used to water plants, it adds a healthy dose of nitrogen. The pH of rainwater — 6.2 – 6.8 — also helps unlocks nutrients from the soil. Use it to water indoor and outdoor plants.
Soften Water with Potassium Chloride
Sodium chloride is the softening salt of choice for most families. But most softeners are also compatible with potassium chloride, an alternative that people on low-sodium diets use.
Unlike salt, potassium is a vital nutrient for plants, so more is beneficial.
Switch to a Salt-Free Water Softener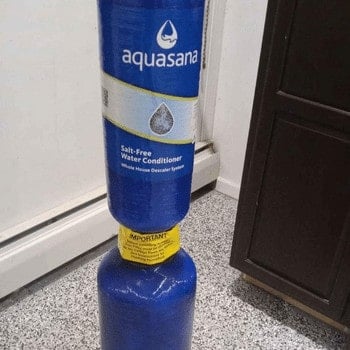 Only salt-based softeners remove hard water minerals. But salt-free water conditioners control limescale almost as well without the added sodium.
Instead of removing minerals, they rely on Template Assisted Crystallization (TAC) technology. TAC changes the molecular structure of calcium and magnesium so that they can't form limescale.
Research proven, saltless conditioners won't control water spots or improve detergent efficiency when you wash clothes. But they will protect your pipes, appliances and garden.
Soften Only Hot Water
Water hardness affects fewer cold-water applications than hot. So, you'll save water and salt by softening only hot water, and you can use the cold water for gardening without worry.
Blend In Bottled or Filtered Water
Cutting softened water with bottled or filtered water reduces its sodium content. Impractical for irrigating your lawn or garden, it's nonetheless an easy way to safeguard houseplants.
Some bottled water, however, contains hardness minerals. We recommend distilled water or water filtered through a reverse osmosis system. RO water is both mineral and sodium-free.
You can save money by making both yourself. Home distillers start at $80. Reverse osmosis filters average $300-500, but they also improve your drinking water quality.
FAQs — Is Softened Water Bad for Plants?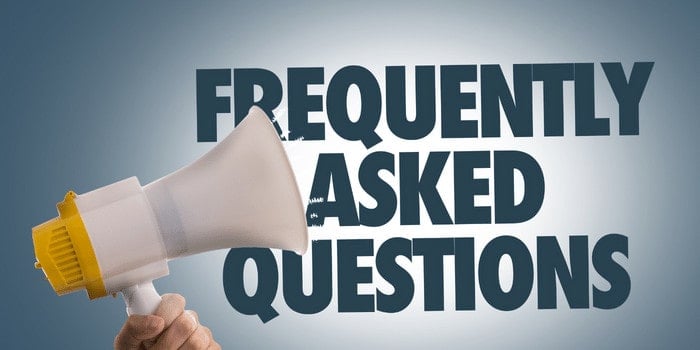 Still have questions? We'll cover them here.
Is hard water better for plants?
In general, most species benefit from hard water minerals. But the difference isn't significant enough to justify suffering with hard water.
Is naturally soft water safe for plants?
If you're one of the lucky Americans with soft water, relax. Unlike softened water, it contains no added salt.
Are some plants more sensitive to salt than others?
Some plants are remarkably salt-tolerant. Landscapers suggest them for roadside areas where salt contamination is tough to avoid.
Among backyard garden species, those that need the most water are the most likely to suffer damage from softened water. Regular tap water is a better choice for watering lawns, vegetables and fruit trees.
Will chlorinated water kill plants?
Chlorinated water from swimming pools can burn plants. But experts agree that if chlorinated tap water is safe for you — it's safe for plants, too.
Are plants watered with softened water safe to eat?
Per the CDC, fruits and vegetables watered with softened water are safe to eat.
Do gardens watered with soft water need more fertilizer?
Watering plants with softened water means they get fewer nutrients. Most experts agree that the deficit isn't enough to kill plants, but it's less nourishing to the soil.
Soil relies on the hydrological cycle, at least in part, to restore nutrient flow in groundwater. The effects of fewer minerals vary depending on factors from plant density to land use. Some pros say that adding fertilizer improves garden soil and vegetable yields.
How much salt does a softener add to water?
The best water softeners add less than 100 mg per day of salt — about as much as two slices of white bread. It doesn't seem like much, but the effects of watering plants with softened water are cumulative.
And most plants can't tolerate high amounts of salt. So, if your water softener uses more than usual because it's undersized or malfunctioning, just a few waterings with softened water could make a difference.
Can I remove the added salt?
Unlike chlorine, salt won't evaporate from water, and it can't be boiled away. But you can remove it with a distiller or a reverse osmosis filter — each has pros and cons.
Distillers are effective, but their capacity is limited. Home versions can produce up to six gallons per day for $0.25 — enough for watering indoor plants but not for drinking, cooking and serious gardening.
RO systems are more popular because they produce and store enough water for on-demand use. They cost more upfront, but they last up to 15 years, so the per gallon cost to produce pure, saltless water is lower.
And unlike distillers, some come with remineralization cartridges that restore water balance by adding small quantities of natural minerals that benefit both people and plants. For gardening, reverse osmosis water is the gold standard.
My soil was ruined by softened water. Can I fix it?
Excessive amounts of softened water can contaminate garden soil with sodium. High levels accumulate over time, especially in drought-prone areas where it's not diluted by rainfall.
But you can fix it by watering exclusively with regular water for a season or two. Called leaching, the process is slow but effective. Once the soil has been restored, cut future softened water use by half.