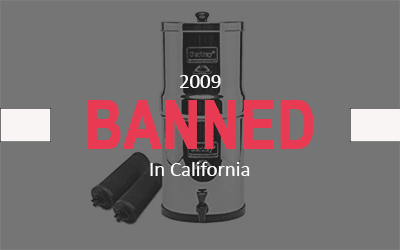 Berkey is a trusted name in the filtration industry — their top-selling Big Berkey is a fixture across the country. But if you live in California, you may be out of luck because of a well-meaning law that may go a little too far.
Here's what you need to know if you want a Berkey water filter in The Golden State.
Why is Berkey not allowed in California?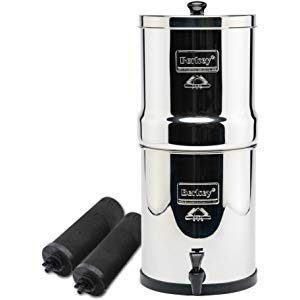 California has the most stringent health regulations in the country. In 2009, their no-lead law effectively quashed Berkey water filters. It states that any "end-use device intended to convey or dispense water for human consumption through drinking or cooking" may not be sold in California unless they're NSF certified to be lead-free. So, when Berkey wouldn't play ball, the noose tightened.
From the public health perspective, the rule makes sense. We don't want a water filter with lead in it, and neither should you. But the law is restrictive and penalizes companies that want to protect their proprietary technology. Berkey won't submit its filters for certification because they believe it puts their trade secrets at risk.
Berkey water filters are sometimes imitated but never duplicated — no company has ever been able to replicate their success. Their patented filtration elements have the highest contaminant reduction rates in the business. It's why more people trust their emergency water needs to Berkey than other brands.
But isn't it suspicious that a well-regarded company won't get its products certified? Perhaps, but according to Berkey, California's rule requires manufacturers to reveal proprietary information relating to their systems, including manufacturing processes and how parts and supplies are sourced. Regulators claim that all data remains confidential, but it's not a chance Berkey was willing to take.
They are nothing, however, if not transparent. Berkey water filters have been tested by several EPA-accredited laboratories, including Spectrum Labs, the Department of Toxicology and Environmental Science at Louisiana University and the University of Phoenix. The University of Phoenix is well-known in scientific circles for the research it did proving the efficacy of salt-free water softeners that use Template Assisted Crystallization technology (TAC).
These analyses confirmed that Berkey's purification elements far exceed EPA and ANSI/NSF42 and 53 standards — yet unless they're "certified," they can't be sold or shipped in-state.
Read our post on: "what is NSF Certified Exactly?"
How Can I Get Berkey Water Filter in California?
The good news for the folks in California is that you can buy Berkey filters without risking prison time, but your choices are limited. Since 2009, the law has been refined and no longer applies to the sale of outdoor water purification systems. The Berkey Light and Travel Berkey water filters can, therefore, be sold in-state.
California-Friendly Berkey Filters
The Berkey Light and Berkey Travel filters have the same build quality and features as their flagship models. They're among the few filters good enough to be called water "purifiers" for their exceptional contamination reduction ability.
Berkey Light — The Berkey water filter Light is marketed as a lightweight, budget-friendly alternative to the larger Big Berkey. Although it's classified as an outdoor filter, it can be set up anywhere. Portable, it has a 2.75 -gallon capacity and weighs less than 6 pounds.
The unit consists of two chambers and comes with a spigot and two Black Berkey water filters. Made of durable, BPA-free plastic, all materials are food-grade. Load water from the top and it drips into the reservoir beneath. Both are transparent, so you can tell when more needs to be added.
Compatible with city or well water, it removes 99.99 percent of viruses and bacteria, including e. Coli, without chemicals. Ideal for travel and emergencies, it virtually eliminates heavy metals plus hundreds of agricultural and industrial chemicals.
Berkey Travel Filter — Berkey's travel filter is the spitting image of its full-sized cousin. If you're avoiding plastics, you'll appreciate the 304 stainless steel construction. Lightweight yet durable for travel, it's guaranteed for a lifetime.
The Berkey Travel filter has a 1.5-gallon capacity and can filter up to 2.75 gallons per hour. It assembles and disassembles in seconds for transport in less than a square foot of space. Ideal for the road, it's a favorite of RVers. It comes with a set of two Black Berkey elements good for 6,000 gallons and a dispensing spigot.
Berkey also sells accessories that help make these portable systems more permanent, including a stand that elevates it off it counter and fluoride removal cartridges for use with city water.
How Much Does NSF Certification Matter?
The National Sanitation Foundation is the leading certification agency for water treatment products. Founded in 1944, they create standards with the help of academia, research scientists and industry professionals.
When you purchase an NSF certified water filter, it means:
The manufacturer used only FDA approved raw materials
The product contains no harmful chemicals
It meets minimum performance guidelines
Advertising claims are accurate
The certification process is lengthy and includes product evaluations, lab testing and ongoing manufacturing facility audits to verify that products continue to meet NSF standards.
A voluntary program, it can cost a company $100,000 or more to have one new product and its associated components tested. And some pay it because certification lends credibility to their products, builds customer trust and opens up the California market. It's a perk multi-national corporations can afford, but what about small, family-owned businesses? Can they afford it? Is the process intrusive?
To skirt the costs, some companies opt to use NSF certified parts but without submitting the entire system for testing. Others claim their products are "certified to NSF standards" — a misleading phrase unless, like Berkey, they pursue testing independently and publish the results.
What Berkey Filters Can Be Shipped To California — A Back Door Method?
Only the Berkey Light and Berkey Travel filters are available for sale in California, but for now, there's no regulation against owning other models or having one shipped to you from a private individual.
Some residents have sent one to family and friends in a neighboring state for reshipment or delivery — and a gift is always nice. Since both California-friendly models use the same filtration cartridges and spigots as the Big Berkey, replacements can be ordered and shipped in-state.
Why are Berkey Filters not Certified? A Matter of Trust
As a business, Berkey decided that customers are the best judge of whether a filter meets their needs. Given the cost of certification — estimated at over $320,000 annually for all of their products — they opted to rely on transparency and their reputation to assure consumers their products are safe. They post test results on their website for everyone to see, something few companies with NSF certified products do.
Should you buy a Berkey? Water filters are a big investment, so we generally suggest purchasing NSF certified products because they've been tested and offer consumers a degree of protection. However, Berkey is known around the world for the quality of their products.
A rare company with a proven track record for performance, we can't withhold our recommendation over the NSF's seal of approval. Ultimately, it's a matter of trust and your call.
Final Thoughts
In mid-2021, Iowa became the second state to limit the sale of water filters to certified products. Though well-intentioned, it's a move that may result in better filters being removed from the market while lesser options remain. Companies like Berkey that appeal directly to consumers to do their own homework and make their own purchasing decisions are increasingly scarce. While you can, consider the Berkey option.