Last Updated on January 13, 2023 by
Ava

Water with a metallic flavor isn't necessarily harmful, but it doesn't taste good. And depending on the cause, it could result in highly toxic contaminants leaching into your drinking water supply.
If your tap water tastes metallic, it's a water quality issue worth investigating. Let's review the most common reasons why water tastes like metal and how you can fix it.
Key Takeaways:
If your water is coming from a private well, it may contain high levels of iron, copper, and other minerals which can give an undesirable metallic taste.
If you're on public tap water that has been treated by a municipality, the metallic flavor could come from old pipes with corrosion or rust buildup inside them.
High levels of chlorine used to treat the water could also give a metallic flavor.
Have a well or municipal water tested to determine the cause of the metallic taste.
Consider installing a water filtration system with carbon filters to remove chemicals, minerals, and bacteria from your water supply.
Install a whole-house filter specifically designed to neutralize the metallic taste in your home.
Why Does My Tap Water Taste Metallic?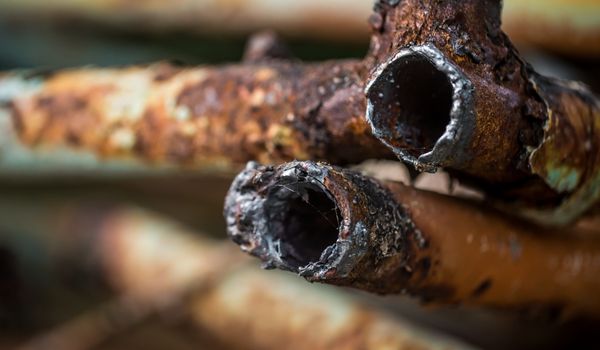 The most likely reason for metallic-tasting water is, not surprisingly, trace metals. High concentrations of naturally occurring metals, including copper, iron, and manganese can give water an unpleasant metal tang.
Acidic water and other common water contaminants, including hard minerals, can also make water taste metallic. How do these substances get into drinking water? Let's examine each.
#1 Copper
Levels of copper in well and city water are generally very low, but there are exceptions. Copper contamination can get into the environment through mining, manufacturing and agricultural operations. But the most common source of copper in drinking water is corroded copper pipes.
#2 Iron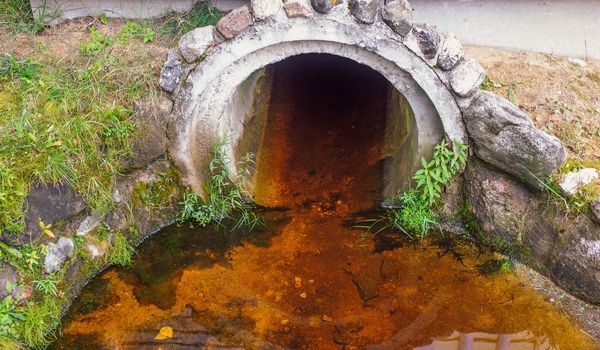 Iron is present in most water supplies at low levels, but a high concentration can make it taste metallic. Iron service lines are another source of iron ions.
#3 Manganese
Manganese is one of the Earth's most abundant metals. Found in groundwater and surface water sources, it's used in batteries, fertilizers, glass, fireworks, cleaning supplies, fungicides and more.
Low levels of manganese are found in most water, but it's more commonly a well water contaminant. Often found in conjunction with iron — manganese has a metallic taste in high concentrations.
#4 Zinc
Zinc is both a naturally occurring mineral and the result of environmental contaminants. It's used to make galvanized plumbing and tires.
#5 Hard Minerals
Hard water minerals, primarily calcium and magnesium, are known to give water a sweet, metallic or medicinal taste. More than 60 percent of the country has hard water, but the higher the level, the more likely it will affect how your tap water tastes.
#6 Low pH
The pH of water averages 6-7.5. Compared to lemon juice as 2-3, it's fairly neutral. But some wells and city water supplies have a low pH that can corrode pipes and lead to elevated levels of copper, iron and lead in your drinking water. A good example was in Flint, Michigan, where thousands of children were poisoned by lead after officials failed to add corrosion inhibitors to the water system.
Factors affecting pH, the potential hydrogen in water, include geological and environmental pollution from mining, agriculture and industry. Water tends to be especially acidic in the Northeast where air pollution from across the country adds acid to rain and snow.
See: How to raise Ph in well water

What Are the Potential Health Risks of Metallic-Tasting Water?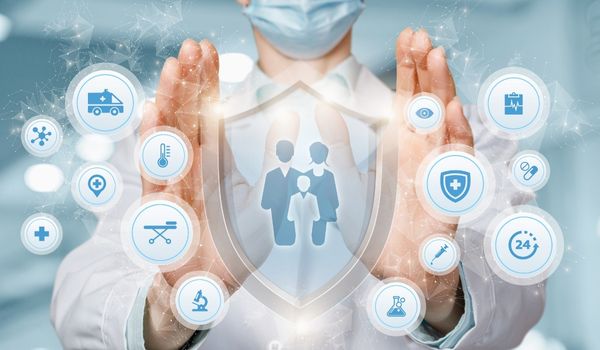 Many contaminants that give water a metallic taste are harmless. Iron, calcium and magnesium, for example, are beneficial minerals that rarely occur in high enough concentrations to cause health issues. But there are exceptions.
High levels of manganese are associated with developmental delays in kids and memory deficits in adults. Copper and zinc are linked to nausea, vomiting, diarrhea and chronic headaches. And water with a low pH is as corrosive to dental enamel as it is to pipes.
But the most toxic contaminant associated with a metal taste is lead. A devastating neurotoxin, it causes serious neurological, developmental and behavioral disorders in children.
In adults, it contributes to hypertension, hearing loss, infertility and miscarriage. Over time, even trace amounts in drinking and cooking water can be hazardous, leading to seizures, coma and death. There is no safe level of lead in water.
While city water systems take every measure possible to ensure your tap water is safe, most lead contamination comes from aging service lines and lead plumbing.
While the pipes in newer homes are made of copper, PVC or galvanized steel, homes built before 1986 may have lead pipes or lead solder in their plumbing systems. If your water is acidic, have your pipes checked for lead because your family may be at risk.
Testing Tap Water with a Metallic Taste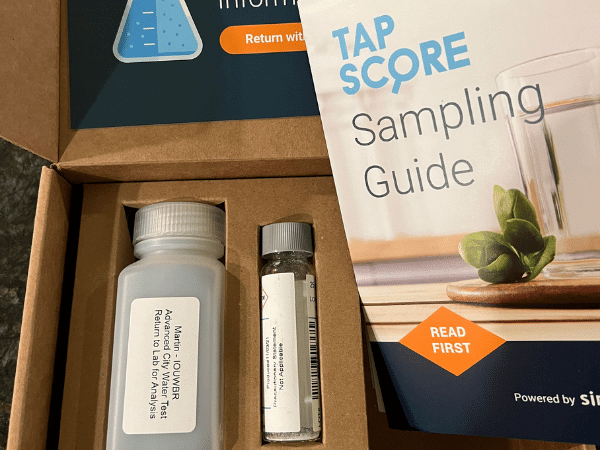 Pinpointing the cause of a metallic taste can be challenging. If you drink city water, your annual consumer confidence report tells you a lot about your water chemistry, including its pH, mineral and metal content. Still, contamination can occur after water leaves the treatment plant, so having metallic water independently tested is never a bad idea.
If you drink well water, having your water tested is your responsibility. The Centers for Disease Control and Prevention recommend testing wells annually for pH, coliform bacteria, nitrate and total dissolved solids, so it's a good time to check for contaminants associated with a metallic taste.
In some cities, you can get a free water test for harmful contaminants, like lead — contact your local health department. But if you can't, getting your water professionally tested is easy.
The simplest way is to order a test kit from the comfort of your own home. We suggest SimpleLab's Tap Score because it's accurate, economical, and user-friendly.
Since there are so many causes for a metal taste, we recommend comprehensive testing for metal content, pH level and other contaminants common in your watershed.
Solutions for Metallic-Tasting Drinking Water?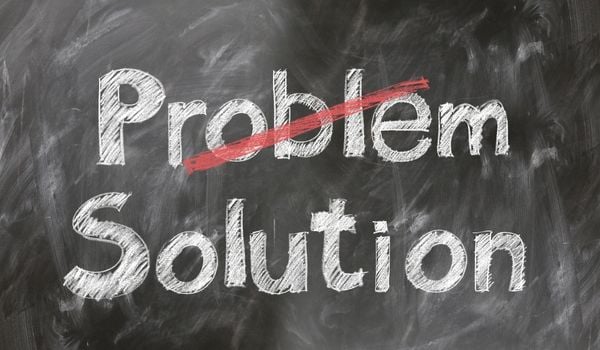 No one wants to drink water that tastes like metal. You could switch to bottled, but it's bad for both the environment and your wallet. In most cases, the most sustainable and budget-friendly solution for option water tasting metallic is a water filter.
Options include:
#1 Water Softeners
If hard minerals are to blame for a metallic taste, installing a salt-based water softener may be the answer.
It removes calcium, magnesium and other minerals responsible for water that tastes metallic, plus it controls the limescale buildup that can damage appliances and water heaters. Soft water is virtually mineral-free.
Salt-free, or TAC water conditioners, offer limescale protection. But they don't remove minerals, so they won't improve your water's taste.
#2 Sediment Filters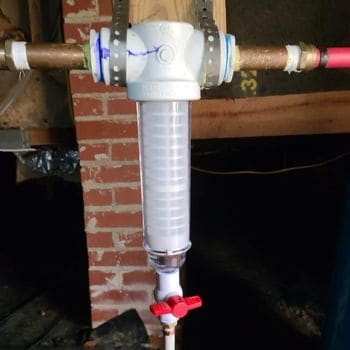 Iron in water comes in two forms — ferrous, or dissolved iron, and ferric iron, solid particles of rust. Ferrous iron is tricky to remove, but all you need to get rid of ferric iron is a simple sediment filter.
---
#4 Reverse Osmosis Filters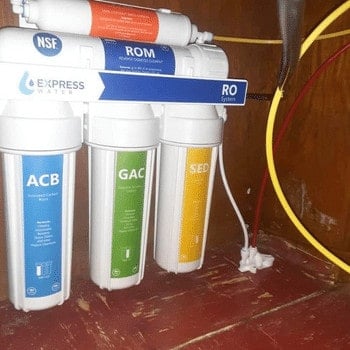 Reverse osmosis systems remove most contaminants associated with a metallic taste plus chemicals and heavy metals, including lead.
Point-of-use filters that treat small volumes of water for drinking and cooking, they also remove hard minerals. But they don't provide home-wide protection from limescale like a water softener.
---
#5 Air or Chemical Injection Filters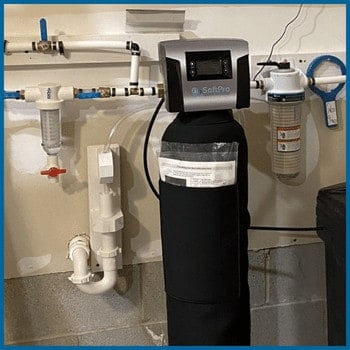 Iron and manganese are stubborn contaminants. A water softener can remove low levels of iron and manganese, but more than 3 parts per million will ruin the resin.
Higher than trace amounts damage reverse osmosis systems. You need a special type of whole-house filter that uses air or chemicals to oxidize and filter iron and manganese.
---
#6 Alkalizing Filters
Alkalizing filters raise low pH by adding small amounts of calcium carbonate to tap water. Once the pH is within normal range, any metal taste should go away.
Final Thoughts
Metallic-tasting water can be safe but still not be good enough to drink. If you're reaching for bottled water instead of your tap, it's time to make a change. Safeguard your health and home with a convenient and affordable water filter.