Last Updated on December 17, 2022 by
Ava
In May of 2014, the residents of Flint, Michigan knew something was wrong with their water.
The color, taste and odor had changed. Ignoring complaints, city leadership asserted it was safe to drink despite the aesthetics until January when locals demanded an investigation.
The following February, EPA officials announced (Environmental protection agency) that dangerous levels of lead were found in one resident's home, yet local bureaucrats continued to insist it was an isolated incident.
It would take the illness of children across the city and further testing before authorities admitted what parents instinctively knew — the city's water was contaminated with lead. How could this happen in the 21st century?
Key Takeaways:
Lead-contaminated water is completely undetectable by taste, sight, or smell.
A water test from a certified laboratory is the only surefire way to detect lead in tap water.
Homes built prior to 1986 are most likely to be equipped with lead plumbing and fixtures.
Symptoms of lead poisoning include headaches, fatigue, abdominal pain, and joint pain.
How Does Lead Contaminate Water?
Municipal water sources rarely contain lead — it's uncommon in the environment. According to the CDC, the most common cause of lead poisoning in children is the ingestion of paint chips. But lead is also present in the aging underground pipes that distribute water from treatment plants to homes and in pre-1986 household plumbing and pre-2014 fixtures.
An estimated 20 million Americans are served by lead service lines. It's relatively safe when the water chemistry is carefully controlled, but errors occur. When the city of Flint changed water sources from Lake Huron to the Flint River, they failed to add a corrosion inhibitor to offset the lower pH. The higher acidity caused the lead in pipes to dissolve and seep into the water. It was an uncommon disaster waiting to happen.
Private wells are also at risk. Brass pump components and well seals may contain lead if they're over 20 years old. Exposure, however, is limited.
Signs of Lead in Your Drinking Water
Of the many lessons learned in Flint, perhaps the most critical is that problems aren't always as they appear. Underground pipes below hundreds of major cities were laid in the 1800s, so it's not unusual for water to turn brown occasionally as they rust. It's unpleasant but typically not dangerous. In the early days of the crisis, water officials in Flint thought they were dealing with a common issue and saw no reason to overreact.
What they didn't suspect was that hidden in that rusty water was a colorless, odorless and tasteless contaminant that was slowly poisoning residents. The fact is — until people get sick, there are no obvious signs of lead in tap water.
If you're having doubts about your drinking water, there's no better way than to have your water tested by a lab professionally to help in identifying lead contamination in your tap water — and this also includes those of you with well water filtration systems. Furthermore, you can also visit your local water supply website and review their annual testing results.
Who Is at Risk of Lead Poisoning?
Lead is a silent killer. A powerful neurotoxin, it affects all age groups, but it's especially hazardous for children under six because their growing bodies absorb it better. Stored in the bones, teeth and organs, including the brain, the effects are insidious and cumulative.
High levels of lead in adults can cause:
Fatigue
Muscle pain
Hypertension
Neuropathy
Weakness
Chronic Headaches
Memory loss
Seizures
Infertility
Miscarriage and more
Symptoms of lead poisoning in children include:
Abdominal pain
Weight loss
Irritability
Kidney damage
Nerve disorders
Hearing loss
Learning disabilities and developmental delays
Many of these effects are irreversible, and in severe cases, death may occur.
Are You and Your Family at Risk?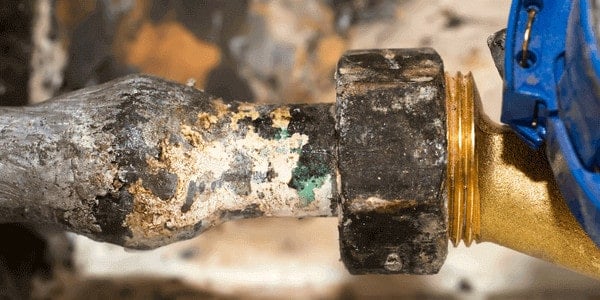 Any home with lead service lines, plumbing or fixtures has a higher-than-average risk of lead contamination. Lead pipes are common in homes constructed before 1976. Houses built from 1976 through 1985 may have copper pipes with lead solder – And faucets could contain up to 8-percent lead by law until it was banned in 2014. Over the previous two decades, efforts to decrease lead exposure in tap water have been made. These actions are part of the Safe Drinking Water Act and EPA's Lead and Copper Rule requirements.
While there's no practical way to tell if your fixtures or well parts are lead-free without knowing when they were manufactured, you can visually assess your service line and plumbing for lead pipes. If the pipes are brown or shiny silver, they're probably copper or steel. Dull gray pipes likely contain lead.
Old patinas can be challenging, so if your pipes are worn, dirty or painted, gently scratch the surface with a sharp edge to reveal the bare metal beneath. Confirm your findings with a household magnet — steel is magnetic but lead is not.
Evaluating your service line is tricky because the visible portion may be different than what's under the road if prior repairs were made. Check the history with your public works department. After a complete assessment, if you can't be sure what your underground service lines or well components are made of, it pays to be proactive and take steps to reduce your potential exposure to lead in your drinking water.
Reducing Lead in Your Drinking Water
No amount of lead is safe to drink — the low levels once thought safe are now considered toxic. Children's health advocates recommend a standard of one part per billion or less, yet the Environmental Protection Agency claims 15 parts per billion is a more practical goal for utilities until underground infrastructure can be replaced. Where does that leave concerned parents?
Steps for reducing lead exposure include:
Testing drinking water regularly for lead — home lead testing kits are inexpensive and accurate enough for monitoring
Switching to bottled water
Using cold water for drinking and cooking — lead dissolves better in warm water
Running faucets for two minutes before use to flush out lead particles in your pipes
Cleaning faucet aerators weekly to remove loose toxic metal particles of lead
Installing a home water filter, however, remains the safest and most cost-effective long-term solution.
Water Filters for Lead
Dozens of affordable filters reliably remove lead. From whole-house systems that treat drinking water as it enters your home to point-of-use filters that purify a limited amount from a single tap, they're surprisingly budget-friendly and simple to install. Which is right for you?
See our top list of water filters for lead.
If you have a lead service line, but your home's plumbing is lead-free, a whole-house filter is an ideal solution. Installed in the basement or garage, it's integrated into the main water line and ensures every gallon your family drinks, showers and cooks with is clean. While researchers agree that contaminated drinking water poses the greatest health risk for children, studies suggest that lead can be absorbed through the skin or inhaled in shower vapor.
If you have lead water pipes in your home, a point-of-use filter is a better solution. Countertop, undersink, and faucet filters purify modest amounts of water for drinking and cooking just before it leaves the kitchen tap. Consider using a filtration pitcher if your space or budget is tight and add a showerhead filter for protection while you bathe.
No water filter removes 100 percent of lead. Carbon, KDF, and ion exchange filters eliminate up to 95 percent — reverse osmosis systems remove 99 percent or more. Better filters combine filtration media to improve removal percentages, so quality counts. We recommend NSF 53 certified filters — they've been independently tested and meet minimum performance guidelines.
Final Thoughts
Upgrading our infrastructure will cost billions and take decades to complete. But meanwhile, lead exposure poses an unacceptable health risk. The good news for families is that there's an answer. Take charge of your water quality with a home filtration system.