Like most home appliances, whole-house water filters are very reliable, but occasionally, they leak. Before calling a plumber, the good news is that most homeowners can diagnose and fix simple problems without professional help.
Sometimes, you might just need an updated water filtration system. However, If you're ready to get your hands dirty, let's take a closer look at why your filter may be leaking and what you can do about it. The answers are often simpler than they seem.
Let's get to it…
[lwptoc skipHeadingLevel="h3,h4″]
Why Do Whole-House Water Filters Leak?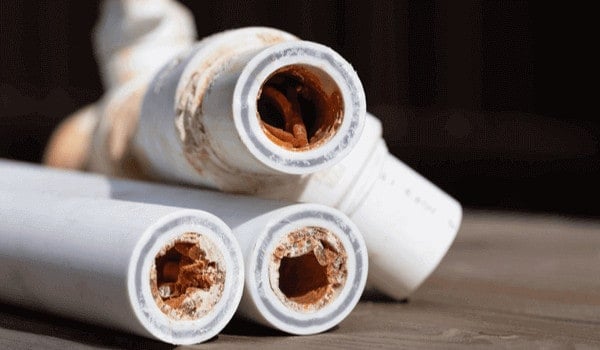 Whole-house filter systems have few moving parts, but the components are vulnerable to deterioration over time. No material lasts forever. Problems typically originate in these parts.
Pipes and Fittings
Leaks can originate in the pipes and fittings within your whole-house filter system, especially if they've been exposed to freezing or fluctuating temperatures. A broken water line or leaky connector is usually visible and easy to identify.
Filter Cartridge
Water passes freely through clean filters. But a clogged cartridge can create excess pressure in the filter housing and cause it to crack.
Filter Housing
A filter housing, or filter sump, is made of durable, high-impact plastic. Threaded, it screws onto the filter bracket where it should stay put until the next round of maintenance.
But a combination of water pressure and road vibration can cause a filter canister to loosen and leak — a twist of the wrist may be all it takes to fix it.
Gaskets and O-Rings
The control heads and bypass valves common in water softeners and select whole-house filters have protective gaskets that occasionally need replacement or relubrication with a light coating of silicone grease.
Each housing sump also has an O-ring that creates a seal between the canister housing and the bracket. Made of rubber or similar synthetic material, they can weaken and warp over time.
Water Supply Lines
Salt-based water softeners have a water line between the brine and softening tanks. Displaced or broken tubing is a recipe for a mess.
Troubleshooting Cartridge-Based Whole-House Water Filter Leaking
If your whole-house water filter setup was properly installed, finding leaks is straightforward by checking each component. Let's go through the process step by step for a multi-stage, cartridge-based filtration system.
Gather Supplies
Be prepared for quick fixes with these simple tools:
Plastic filter wrench
Teflon tape
Food-safe silicone grease
Bucket
Towel
New filter cartridges
New gaskets and O-rings
Step 1: Shut Off the Water
Shut off the water at your main water line or the bypass valve. The bypass valve is a shut-off lever that allows you to turn off water to the filter without cutting off your entire home. Not all whole-house water filters have them. Main shut-off valves are located where water utility lines enter homes, usually in the basement or garage.
Step 2: Check Filter Cartridges
If your water filtration system has pressure gauges for each filter, check the readings. Above-normal pressure means a cartridge is probably clogged, so it's a logical place to start your search for leaks.
Step 3: Relieve The Pressure
If the filter housing is equipped with a pressure release button, you're in luck. Pressing it releases the pressure so that water won't spray out when you remove the canister housing. If the canister doesn't have a pressure release button, you can release pressure by opening a nearby faucet sink valve. Then carefully remove the filter housing and use your bucket to catch drainage.
Step 4: Remove The Filter Housing
Next, use your filter wrench to slowly turn the filter housing counter-clockwise. Remove the old filter and inspect it for damage. Is it visibly dirty? If it is, it's likely clogged.
Step 5: Inspect The Filter Media
Check the center filter ring. If you find flecks of black in a sediment cartridge, it could be coming from a deteriorated charcoal filter. A simple replacement filter might solve the problem.
Repeat the above process for each filter cartridge in your whole house filtration system, replacing any spent filter with a new filter cartridge, and then check each filter canister and O-ring.
Step 6: Inspect the Water Filter Housings
In a well-lit area, examine each filter housing, including the threads. Even hairline cracks are a problem because they expand enough under pressure to cause leaks.
We don't recommend repairing a leaking filter housing because no epoxy or glue can stand up to high water pressure long-term. A leaking water filter canister should always be replaced.
Step 7: Examine the O-Rings
O-rings make a watertight seal between the filter housing and the bracket. But particles of dirt and rusty metal flakes can sometimes infiltrate the seal, damaging the O-ring.
O-rings are also prone to drying out over time if they weren't properly sealed. If an O-ring has visible indentations or is warped or compressed, it should be replaced.
Step 8: Reassemble the Water Filtration System
Once you've swapped out any damaged parts, reassemble the system. Unless the instructions call for using the plastic wrench, hand tighten filter housings to avoid over-torquing delicate threads.
Reestablish the water supply, first at partial pressure and then full water pressure, checking components for leaks.
Troubleshooting a Softener or a Single-Tank Whole-House Water Filter Leaking
If you have a single-tank whole-house water filter leaking, the problem most likely originates in the head at the top of the tank. Resin tanks are so durable that leaks rarely occur at the bottom. Instead, drips from the top flow along the sides of the tank via capillary action, ending up on the floor.
The first step to diagnosing a "leak" is to be sure it's not just condensation. Large volumes of ice-cold water flowing through a single tank in a warm environment create beads of moisture on the surface like dew.
Some water filters come with neoprene tank covers to eliminate this problem. If yours doesn't, familiarize yourself with what normal condensation looks like so that you won't mistake it for a leak.
If there is a genuine leak, turn off the water supply and push the water pressure release button if your model has one. Disassemble the head and check the valve, gasket and O-ring. Replace any necessary parts and reassemble the water filter.
The process is similar for water softeners. First, examine the brine tank for leaks. The venturi valve that feeds saltwater to the softening tank can be clogged with salt or hard minerals and may need cleaning. Also, examine the tube connecting the two tanks. Perhaps a fitting was displaced when it was last maintained.
If the leak isn't in the brine tank, disassemble the softening tank head the same way as you would any whole-house water filter head. In addition to shutting off the water, however, you'll also need to disconnect the power to electronic heads for safety. After making any necessary repairs and reassembling the system, slowly turn the water back on and observe for leaks.
Preventing Whole-House Water Filter Leaks
The best way to prevent whole-house water filter leaks is to install and maintain them by the book. Most homeowners can set up water filters, but if you're not confident, call a pro. There's no point in buying a whole-house water filter if it doesn't adequately treat your drinking water supply without leaking.
Here are a few water filter installation and maintenance tips that make managing leaks easier:
If your whole-house filter doesn't come with a built-in bypass valve, we highly recommend installing one to make maintenance and troubleshooting easier.
Use only the type of filter wrench included with your water filter. Wrenches used for car oil filters may damage a plastic water filter housing.
Purchase spare parts for emergencies. If your whole-house filter is going to leak, Murphy's law says it will be on a major holiday when the big box stores are closed. A spare O-ring costs a few dollars at most.
A whole house filter housing ranges between $40 and $200 depending on the materials — the quality varies. A replacement filter cartridge can be as little as $5 for a sediment filter or much as $100 for a reverse osmosis filter replacement. We suggest keeping one of each disposable filter on your shelves.
While it's true that a filter housing that leaks may be covered by your warranty, it could be a two-week wait for a replacement part. In the meantime, you'll have to buy costly filtered water. We recommend being prepared today by keeping one filter housing on hand and negotiating with the water filter manufacturer for reimbursement tomorrow.
Avoiding Damage from Whole-House Water Filter Leaks
Some homeowners resist installing a whole-house water filter specifically because of leak concerns. It's understandable. An undetected leak can do major structural damage to your home. But there are ways to mitigate the risk, starting with where your filter is installed.
If you have a choice, never set up a whole-house water filter near drywall or wooden floors. Concrete is virtually moisture-proof. Alternatively, you can add a layer of waterproof material to protect the most vulnerable surfaces. And avoid storing household items in the vicinity.
You can also install a water leak detector. Placed on the floor near a whole-house water filter, it's a small electronic device that sounds an alarm if it senses a leak. Popular among homeowners who've had an ice cube maker malfunction, it's a foolproof way to prevent home damage. Better models send a text alert to your phone. And some insurance companies offer premium discounts to water filter owners who install the device.
Finally, pencil in monthly water filter checks on your calendar. Once installed, a whole-house water filter is out of sight and out of mind. If it's in the basement, you may never set eyes on it unless it's to perform maintenance. A quick peek now and then will help you detect a slow drip before it becomes a gushing leak. An ounce of prevention is worth a pound of cure when it comes to owning a water filter.
Final Thoughts
A whole-house water filter is the key to healthier drinking water. But like any appliance, it can break down. Don't throw the baby out with the bathwater. Leaks are manageable if you're well-informed and well-prepared.