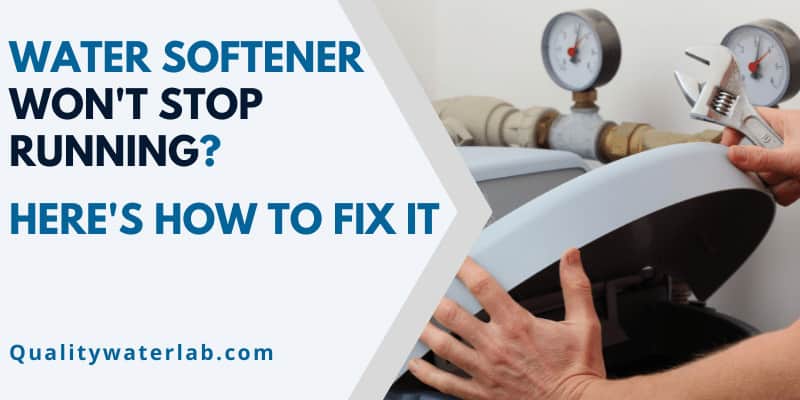 Water softeners should be seen and not heard. If you're hearing water run night and day, chances are your water softener is stuck in the regeneration cycle. Why this happens runs the gamut from a salt bridge to a faulty control valve.
But the good news is that handy homeowners can fix water softener problems with a few basic tools and a little know-how. So, before making a service call, let's examine the most common reasons why water softeners won't stop running and what to do about them.
[lwptoc skipHeadingLevel="h3,h4″]
When Should I Hear Water Running Through My Water Softener?
Your water softener is plumbed into your main water line, so water flows through it like it would through any other pipe. The only time you should hear it is during the regeneration cycle when the water flow is reversed as salt solution from the brine tank is drawn into the resin tank where it works its softening magic.
Depending on how close you are to the unit and how well rooms are insulated, you may hear a swishing or whooshing sound during the regeneration process as the water softener backwashes and drains. Water discharging through the drain pipe may cause a gurgling or slurping sound.
How Often Should My Water Softener Regenerate?
A properly sized water softener should regenerate every three days on average depending on your water usage, usually overnight when it's least likely to be bothersome. Cycles only last 2-3 hours, so if your water softener won't stop running, something has gone awry.
Why Does My Water Softener Keep Running?
Non-stop or frequent regeneration cycles can be a symptom of these common problems:
Improper Settings
If you just installed a new water softener, and it's running more often than expected, check the control head settings. The water softener control valve manages the regeneration schedule, so improper salt dose or hardness settings could cause it to run too often.
Power Outage
If you've recently suffered a power outage, the control valve settings may have reverted to the factory defaults which could initiate more regeneration cycles than necessary. Verify that the control head settings match your input.
Increased Water Usage
Water softeners only regenerate when they're programmed to or when the maximum water capacity has been reached. If you have house guests showering frequently and your washing machines are running double-time, expect more frequent regeneration cycles.
Small leaks in your plumbing system can cause the same problem without you knowing it. Check your toilets, pipes, outdoor spigots and water heaters for leaks.
Clogged Venturi Valve
Problems originating in the brine tank are the most likely cause of excessive regeneration, starting with the Venturi valve. The Venturi valve, or brine injector forces salt water from the brine tank into the resin tank. If it's clogged, the brine can't get through, so the softener thinks it has to keep regenerating.
Cleaning the clogged valve should restore the brine draw and normalize the regen cycle.
Clogged Brine Valve Float Assembly
In a non-electric water softener, the brine valve/float valve regulates the amount of water drawn into the salt tank. Salt mushing, a buildup of undissolved salt that occurs at the bottom of the water softener brine tank, can clog the valve inlet.
To clean it, remove the float, disconnect the valve and brush away any debris. To prevent further salt mushing, avoid using low-quality or dirty salt.
Low Water Pressure
Water softeners rely on brisk incoming water pressure to regenerate effectively. If pressure drops below 40 PSI, your water softener could get stuck in a regeneration cycle.
Municipal water pressure issues are rare. But if you have a well, you could have a leak in the pressure tank — a simple problem to diagnose and fix. If arid conditions have limited your water supply, installing a booster pump may help generate sufficient pressure.
Other causes of reduced water pressure include a clogged resin bed or deteriorating resin beads. Clogs are typically the result of sediment or iron that wasn't adequately prefiltered. Despite a lifespan of 5-15 years, very hard water can cause resin beads to become soft and clump, making it difficult for salty water to move through the resin tank effectively.
Clogged Water Lines
Water softeners depend on two water lines to work — the brine line which draws water into the salt tank and the drain line through which wastewater and unwanted minerals flow out of the mineral tank. If either is clogged, it can throw off the amount of water in the brine solution and force the softener into a continuous regeneration mode.
The solution is simple — checked the lines and remove kinks or obstructions.
Salt Bridges
A salt bridge is a hard crust of salt that forms over the water in your brine tank. The tank looks full, yet under the crust is only air and water. Any time a water softener isn't getting enough salt, it may continually initiate regeneration cycles.
To break up a salt bridge, give it a push until it crumbles. To prevent salt bridges, avoid using inferior quality salt such as rock salt. If that doesn't fix the problem, you may need to reduce the humidity where your water softener system is installed.
Faulty Rotor Position Switch
The rotor position switch tells the timer what position the water softener rotor is in, so it knows when to start the regeneration cycle. If the position switch breaks, the motor might run continually, and you'll hear the sound of constant draining. Similarly, a broken circuit switch could be to blame.
Depending on your softener model, these repairs are of above-average complexity unless you have electrical skills. We suggest consulting a pro.
Control Head Failure
The control head is your water softener's brain and the regeneration timer. If it fails, it could keep your unit in the regeneration phase until it's fixed.
Modern control heads have a reputation for longevity. Most will last as long as your system, but if a failure occurs, the most affordable option is to replace the entire control head.
A Too-Small System
If your household water usage is greater than your system can handle, the result will be frequent regeneration. Upgrading to the proper size softener system is the only real solution.
Troubleshooting A Water Softener Stuck in Regeneration Mode
The hardest part about troubleshooting a water softener stuck in a regeneration cycle is knowing where to start. With so many potential causes, what's the first step?
Roll up your sleeves, and let's work through the process together:
Before you begin, check your last few water bills if you get one. Changes in water consumption are a vital clue to how your water softener is functioning.
If you have a TDS meter, check a water sample. TDS levels in soft water are low. High levels indicate hard water, meaning that your softener isn't working properly.
Get your owner's manual. Each water softener brand is different, so you'll need to refer to it for your model's specification.
Gather a towel and bucket to contain any mess.
Verify that the unit is getting electrical power.
Next, check the control head. If it's working and free of error codes, move on to the brine tank.
Remove the cover. Is there a salt bridge? If not, observe a manual regeneration cycle. If you're getting no brine draw, check the water lines and drain hose for blockages first.
If they're clear, the next step is to put the unit in bypass mode by adjusting the bypass valve — this prevents water from flowing into the brine tank while you're working on it. Empty the salt and inspect the tank. Is there too much salt mushing at the bottom?
If not, remove the brine float and check the valve. Clean it if necessary and replace the unit. If that didn't fix the problem, move onto the brine injector valve.
If it's caked with debris, clean it and run a manual regeneration cycle. If problems persist, turn the unit off or leave it in bypass mode and call a professional.
When To Call a Pro
Ion exchange is simple technology, but modern water softeners can be remarkably complex. And while we encourage people to perform their own maintenance and simple repairs, complicated fixes that require special equipment or skills may not be worth the risk.
Sure, it costs money to call a professional, but the return on investment is high if it gets your equipment in proper working order safely and quickly.
Here are a few situations that warrant expert advice:
Sudden changes in your drinking water quality
Brown water — it could indicate contaminants that need prefiltering
A water softener that still won't draw brine after clogs were cleared
Electrical issues beyond your comfort to diagnose and repair
Ongoing hard water issues after the water softener has stopped running constantly
A softener that stays stuck in the regeneration cycle after obvious problems have been addressed
Final Thoughts
Every day without softened water means an uncomfortable shower, another layer of limescale in your pipes and more stains to clean off your bathroom fixtures. So, whether you do it yourself or call a technician — it pays to repair water softeners promptly.