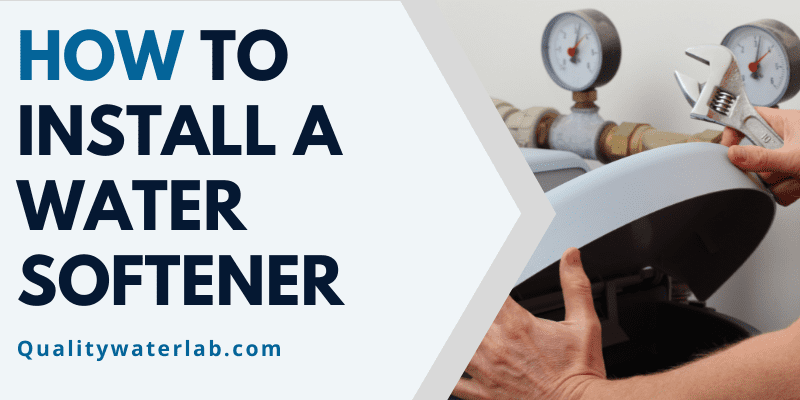 A water softener can protect you and your home against the damaging effects of hard water. Integrated into your main water supply line, it becomes a permanent part of your plumbing system, so advanced planning and proper installation are critical.
But why drive up installation costs by paying a pro when you can do it yourself? We'll walk you through the process from start to soft water.
Key steps to remember:
Turn off the main water supply.
Connect an inlet hose to the cold water line and an outlet hose to the drain pipe.
Secure both hoses with clamps or other connectors, making sure there is no leaks present.
Connect the bypass valve assembly to the existing plumbing system.
Install the water softener unit in a suitable location, taking care to follow any local codes or regulations.
Connect the power supply to the unit and turn it on.
Pour salt into the brine tank and fill it with water according to the manufacturer's instructions.
Program the system settings to meet your specific needs.
Turn on the main water supply and check for any leaks or other issues.
Test the water softener to make sure it is working properly.
Monitor the salt levels in the brine tank and replenish as needed.
Perform regular maintenance on the unit as recommended by the manufacturer.
Contact a qualified technician if you have any issues or concerns with your system.
Where to Install Your Water Softener
The best place to install a water softener is in a heated space in the basement or garage near where the water enters your home. If you drink from a city water supply, that's typically near the meter. If you have a well, the water softening unit goes after the pressure tank.
The ideal location is dry, level and near a floor drain where the drain hose and power cord can reach. Water softeners should be installed before the water heater to prevent damage from accidental backflow.
Choose an accessible location with enough space around it to permit maintenance and repairs. Measure the height, width and length of the space carefully before you begin.
How Long Does It Take to Install a Water Softener?
Installing a water softener takes a day or less. Most homeowners can install do in a morning with basic plumbing skills. Replacing an old water softener with a new unit is even easier. With planning, it takes just an hour or two.
Can I Install a Water Softener Outdoors?
It's not ideal, but water softeners can be installed outdoors in warm climates, out of direct sunlight and where the temperature doesn't drop below freezing. Beware, however, that it may void your warranty if you don't follow the manufacturer's instructions.
Water Softener Installation — Step by Step
Water softeners vary, so these instructions are general guidelines. Review the installation manual before beginning. Now, let's roll up our sleeves and get started.
Gather Tools and Supplies
Water softeners rarely come with everything you need for installation. Plumbing systems vary, so you may need additional parts including flexible tubing, an air gap fitting and additional plumbing accessories. Purchase those before scheduling the installation.
You'll also need:
A tape measure
Sandpaper
Pliers
A screwdriver
A pipe cutter
Plumber's tape
Silicone grease
A propane torch and solder if your system doesn't have push fittings
A bucket and towels for drips
We also recommend having a helper.
#1 Turn Off the Water
Turn off water to the entire house at the main supply line. If you have one, unplug your electric water heater.
#2 Drain the Plumbing System
Drain your water supply system by opening all of the faucets in your home. Don't forget the outdoor spigots.
#3 Cut the Water Line
Cut into the water supply line above the water softener with a pipe cutter, allowing a gap between the cuts for two 90-degree elbow fittings. Deburr the ends of the pipe with sandpaper, steel wool or a deburring tool to remove sharp edges that could damage the gaskets inside push fittings.
Next, apply the push fittings, or if you're using traditional elbow fittings, solder them in place.
#4 Install the Bypass and Control Valve
Most water softener systems come with a built-in bypass valve. To assemble it, lubricate the O-ring with silicone grease and push the bypass onto the softener's inlet as far as it will go, attaching it with the clips or screws provided. Then, attach the control head.
#5 Plumb the Inlet and Outlet Port
Attach flexible piping to the inlet and outlet ports using the push fittings that came with your water softener. If you're using rigid pipe, measure the distance between the cold water line and the ports and cut pieces of copper pipe to that length. Solder the appropriate fittings to the end. Connect the piping to the water line.
#6 Connect the Drain Line
Connect the drain hose to the drain valve on the resin tank and run it to the drain. Attach the air gap valve on the end of the hose to prevent the accidental backflow of contaminated drain water into the mineral tank.
#7 Attach the Overflow Tube
The overflow tube is a safety mechanism that shunts excess water from the brine tank down the drain if it overfills. Attach one end to the softener and an air gap fitting to the other and run it to the drain.
#8 Install the Brine Line
The brine line carries salt solution from the brine tank to the mineral tank. If you have a side-by-side unit, connect them now. This doesn't apply to all-in-one cabinet water softeners.
#9 Load the Brine Tank
Fill the brine tank with your choice of sodium or potassium chloride pellets.
#10 Plug in the Control Head
Plug in the control head and turn on the power to your hot water heater.
#11 Restore the Water Supply
Restore water flow slowly using the bypass valve. Too much immediate pressure could damage the water softener.
You'll hear noise from the drain line as water replaces air in the tank. When it stops and you see a dribble of water at the end, turn the water supply valve on full and check the entire water softener system for leaks.
#12 Program the Control Head
A water softener is only as good as the programming. Done through the control head, accuracy is essential if you want softened water.
Referring to your water test results, you'll program the water hardness (the mineral content) and set the regeneration schedule. Most water softener systems come preprogrammed to regenerate overnight, but you can set the time to suit your schedule.
#13 Run a Regeneration Cycle
Before wrapping up the installation, start a manual regeneration cycle. It's as easy as pushing a button and takes about an hour to run. Check the water softener a final time for leaks and then call it day.
When to Call a Licensed Plumber
Water softeners are straightforward to install in modern homes, but small houses with irregular plumbing pose challenges.
We suggest consulting a professional if:
Space is Limited
Installing a water softener in cramped quarters is tough, even for pros. But they have the tools and expertise necessary to get the job done.
You Need Plumbing Upgrades or a Bypass Valve
If your home's plumbing doesn't meet local plumbing codes or the existing plumbing is smaller than the inlet on the unit, have the water softener installed by a professional.
Softeners need strong incoming water pressure to work and adding step-down adapters can be tricky. And if you don't have a floor drain, you can drain the system to a utility sink or outdoors but only with the right know-how.
Paying for proper installation also beats failing a home inspection when you want to sell your house. In some cases, anything not up to code needs to come out. Ouch.
If your water softener doesn't come with a bypass valve, it may be worth having one installed. A bypass valve saves you money by letting you use unsoftened water for outdoor activities, such as filling swimming pools or washing the car.
You Have or Need a Filtration System
Combining an ion exchange water softener with drinking water filters calls for a professional's touch. You may need a prefilter to prevent sediment buildup or a post-filter to manage taste issues.
Each system has separate pressure and water flow requirements, and getting it right is the key to better water quality.
Installing a Water Softener Gives You Nightmares
Picasso didn't build cars, and Henry Ford didn't paint. Sometimes, there are tasks we're not destined to do. If you don't know the difference between a hammer and wrench or would rather put up with hard water than install a water softener yourself, a modest investment in professional installation is worth every dime.
Top Water Softener Installation FAQ's
1. Is a Salt-Free Water Softener Easier to Install?
A salt-free water softener, or water conditioner, is somewhat easier to install because it only has a single tank. A small unit requires only a few square feet of space, but the installation still requires cutting into the main water line.
And depending on the mineral content in your water supply, a water conditioner may not give you the same results as a water softener. It will lower energy bills by preventing scale buildup in your plumbing, appliances and water heater.
But unlike an ion exchange system, it doesn't remove minerals, so you may still feel the effects of hard minerals on your skin and see them on your clothing and dishes. On the other hand, water conditioners don't add salt to your water supply, a plus if you're on a low-sodium diet.
In general, you need a conventional water softener for high or very high mineral content. Salt-free conditioners are better for moderately hard water.
2. What Does a Water Softener System Cost?
Water softener system cost varies based on size and quality. On the low end, you can purchase a small to medium unit for as little as $400. Better water softener systems can cost up to $1500, but they last longer and require less maintenance.
If you need a water softener, we recommend being investment-minded and buying the best you can afford. Replacing the resin every few years in a lesser model can cost almost as much as the unit itself. Having your own water softener comes at a price, but you can control the long-term cost by buying wisely.
3. What Does Professional Water Softener Installation Cost?
One way to control water softener system costs is to install it yourself. But hiring a pro can be surprisingly affordable — $500 on average. A complex installation could run more, but you could still save money by doing part of the work yourself.
Final Thoughts
Installing a water softener isn't as easy as baking a cake, but it's simpler than many household projects. All you need to enjoy softened water is a little self-confidence and our plan.