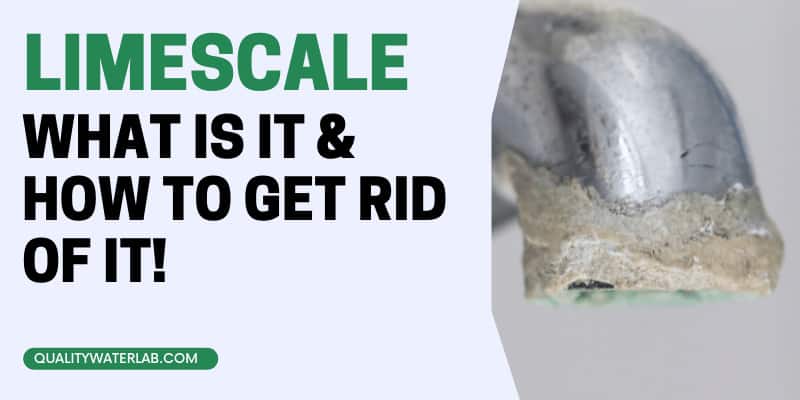 Limescale is an all-too-common problem that often goes unrecognized. Back-breaking to scrub, some people think they're using the wrong cleaning products or have somehow angered the cleaning gods.
But the truth is that limescale is stubborn to get rid of because of what it is and how it forms. So put down your sponge, and let's talk about real solutions for limescale.
Key Takeaways:
Limescale is a hard white deposit that forms when calcium and magnesium deposits build up in areas with hard water.
It can typically be found on fixtures, such as faucets, showerheads, and inside dishwashers, washing machines, and other appliances.
The buildup of limescale can cause an appliance to run less efficiently and can lead to breakdowns if not addressed.
To remove limescale, you should use a specialized cleaning product designed for that purpose or make your own natural cleaner with vinegar and baking soda.
Regularly descaling appliances with the appropriate cleaners will help keep them running smoothly and prevent the buildup of limescale.
The best way to prevent limescale in the future is to install a water softener to remove calcium and magnesium from the water before it enters your home
What Is Limescale?
Limescale is the hard, chalky, or even crusty deposit that forms on shower heads, in toilet bowls, and on tubs and shower doors. It consists of hard minerals that occur naturally in groundwater, primarily calcium carbonate and magnesium — the same active ingredients in chalky over-the-counter heartburn treatments.
Why Does Limescale Form?
Minerals have unique chemical properties. They're heavier than water, yet they glide over it, adhering to the hard surfaces they come in contact with. Hot water magnifies the effect which is why limescale staining is more noticeable on your bathroom fixtures and in appliances that use hot water, such as washing machines and coffee makers.
Is Limescale Dangerous?
Limescale isn't bad for your health, but it spells trouble around the house. What's so bad about mineral deposits?
Common Problems of Limescale
#1 Unsightly Limescale Staining
Limescale build-up on bathroom fixtures tends to accumulate despite regular cleaning. And when it does, it can't be wiped off with ordinary spray cleaners. It takes time, elbow grease and often chemical cleaners to remove heavy buildup.
#2 Poor Water Pressure
Limescale forms in water pipes the same way it sticks to fixtures. Over time, an increasingly thick layer narrows their diameter and decreases water pressure. Limescale deposits also clog shower heads and faucet aerators, worsening the problem.
#4 Skin Irritation
The minerals that cause limescale are abrasive, so showering with hard water is like washing your skin with sandpaper.
Hard minerals also prevent soap from lathering, leaving behind irritating soap scum that just won't rinse clean.
#5 Haystack Hair
Not only do calcium and magnesium stick to your hair shafts, but they also decrease your shampoo's efficacy. The residue they leave behind makes hair dry, brittle and frizzy.
#6 Broken Appliances
Limescale build-up on delicate appliance parts can cause premature breakdowns. Among the most susceptible appliances are dishwashers, coffee machines and water heaters. Professionals say limescale deposits can shave years off your water heater's service life.
#7 Higher Utility Bills
Limescale in your appliances and water heater make them work harder than they have to, diminishing their efficiency while increasing energy demand. Power-hungry appliances, like water heaters, may use up to a third more electricity. Over a year, the costs add up.
How Can I Get Rid of Limescale Deposits?
In most cases, removing limescale doesn't require harsh cleaners if you know what to use. Here are some how-to tips.
How to:
Remove Limescale from Taps
Supplies:
White vinegar or lemon juice
A soft cloth
A small bowl
Warm water
An elastic band
Mix white vinegar or lemon juice in equal parts with warm water in a bowl. Saturate the cloth, wrap it around the faucet and secure it in place with an elastic band. Both vinegar and lemon juice contain acid which will dissolve limescale.
Leave the cloth in place for a few hours, and then scrub the limescale away with a scouring pad. On metal-plated taps, use the type made for glass stovetops or just a clean cloth to avoid marring the finish. Repeat the process if you have a thick limescale deposit.
Clean Limescale Off Shower Walls
Supplies:
Dish soap
White vinegar or citric acid powder
A spray bottle
Plain water
A non-abrasive sponge
Combine one tablespoon of dish soap with one cup each of white vinegar and water in a spray bottle. Two tablespoons of citric acid powder is a cheap alternative to vinegar.
Generously spray the enclosure walls with the vinegar solution, and let it work its magic — it takes about 15 minutes. Rinse the walls thoroughly, removing all the residue. The same process can be used on glass surfaces like shower screens.
Dissolve Limescale in Shower Heads
Supplies:
A fresh lemon
An old toothbrush or damp cloth
A bowl or bucket
A mess-free way to remove limescale from a shower head is to gently rub the surface with a fresh lemon half, letting the juice seep into the holes. Let it sit for 10 minutes and scrub it with an old toothbrush or a damp cloth.
For stubborn limescale, soak the shower head in a 50-50 solution of vinegar or lemon juice and water. The same process works for both a standard and hand-held shower head.
Remove Limescale Stains in Toilet Bowls
Removing limescale from a toilet bowl is tricky.
You'll need:
Undiluted vinegar
Baking soda
A toilet brush
Pour in one cup of vinegar followed by one cup of baking soda, and let it foam. Cover the bowl, let it sit for up to an hour, and then scrub it with a toilet brush. If you see an improvement but the stains aren't gone, repeat the process.
For stubborn stains, turn the water off and remove water from the toilet. Make a thick paste out of vinegar and baking soda and scrub the toilet with a scouring pad or pumice stone. Wear gloves to protect your hands.
Remove Limescale from Coffee Makers and Kettles
Removing limescale from kettles and coffee pots helps keep your brew fresh. For kettles and teapots, vinegar and water are all you need. Boil a 50-50 mix on the stovetop, remove the leftover limescale with a sponge and rinse the pot with fresh water. A glass coffee maker carafe may crack at high temperatures, so just fill it with vinegar and water and let it soak for 30 minutes.
Single-use coffee machines need cleaning inside and out. Most manufacturers recommend using commercial descaling solutions, but most are just citric or acetic acid — the same active ingredients in vinegar solution and lemon juice. Follow the instructions in your owner's manual.
Can I Remove Limescale from Pipes Without Chemicals?
Before resorting to harsh chemicals to remove limescale from slow-draining pipes or toilets, try pouring in two cups of full-strength white vinegar followed by a pot of boiling water. Several applications may be necessary.
If that doesn't work, your refrigerator may hold the key. Phosphoric acid, an ingredient in cola, has long been used to degrease griddles and remove rust from old bolts. Poured down the drain, it can also remove limescale without damaging pipes or delicate toilet bowl finishes.
How Can I Prevent Limescale Buildup?
Preventing limescale takes less effort than removing limescale stains, yet it's easier said than done.
Preventative measures include:
Regular Cleaning
Limescale builds up quickly. You can stay ahead of it with weekly cleaning, but it's a race. If you lose one lap, it's easy to get behind. A better strategy is to prevent limescale build-up by addressing its root cause — hard water.
A Water Softener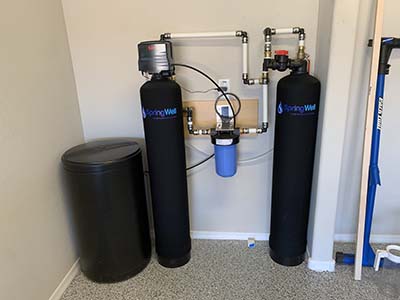 If you have hard water — water with high levels of calcium carbonate and magnesium — the only solution is a water softening system. You can choose a conventional salt-based water softener or a salt-free water conditioner. Each has pros and cons.
Only salt-based softeners remove hard water minerals, but they're maintenance-heavy and hard on the environment. They also waste up to 150 gallons of fresh water weekly, a problem if you live in a drought-prone area or have a low-flow well.
Water conditioners don't remove hard water minerals. Instead, they prevent limescale by changing the molecular structure of calcium so that it stays suspended in water and can't stick to pipes. Called Template Assisted Crystallization (TAC), it's a proven technology.
In the strictest sense, salt-free water softeners don't produce soft water, so you may still feel the effects of hard minerals on your skin and hair. But they're virtually maintenance-free and research shows they reduce limescale by up to 90-percent. That's great news for your home and the planet!
How Do I Know If I Have a Limescale Problem?
The signs of limescale are usually obvious, but cleaning habits and fixture finishes can minimize its appearance. Meanwhile, it collects in your pipes, and the next thing you know — you're spending your vacation fund on a new water heater.
The only way to know with certainty if you have a limescale problem is to test your water for hard minerals. It's so easy that anyone can do it.
How to Test for Hard Water
If you drink for a city water supply, call the supplier. They test the water regularly and can tell you if you have hard water or soft water. If you have a well, testing is up to you.
There are two good ways to test for hard water:
Test Strips
Test strips are made of chemically treated paper that changes color in the presence of calcium carbonate. Dip the strip in a sample of tap water and compare the color change to a chart.
This is not definitive testing, so we don't recommend purchasing a water softener based on these results alone. But test strips allow you to screen for hard water in seconds for just a few dollars.
Laboratory Testing
Laboratory testing is more comprehensive and accurate than test strips. If you don't have a lab nearby, order SimpleLabs's Tap Score test kit. Choose from panels that test for hardness, minerals and more.
The CDC recommends annual well testing for pH, total dissolved solids, nitrate and bacteria. SimpleLab's Essential Well Water Test checks these parameters and hardness plus an extensive list of minerals, heavy metals and other common contaminants.
See: top rated water testing kits
Final Thoughts
Limescale is more than an ugly nuisance. Given time, it can have a serious impact on your home. So, clean it for looks — but prevent it to save.