Last Updated on November 6, 2023 by
Ava
Yellow water can be caused by a variety of reasons, including rust in pipes, high iron or manganese levels, or sediment buildup. It's important to determine the cause to ensure the safety of the water and take necessary steps to resolve the issue.
Water with a yellow tint isn't necessarily dirty water, but it's unappetizing and signals a change in your water quality that should be investigated. We'll help you do that and more by examining why your water may be yellow and how you can make sure it's safe to drink.
Key Takeaways:
High iron content in the water supply.
Accumulated sediment or corrosion in pipes, faucets, and fixtures.
Excessive levels of manganese.
Poor quality piping materials leaching into the water supply.
Burst pipes from anywhere within a public water system can introduce unwanted contaminants into tap water.
Is Drinking Yellow Water Bad for You?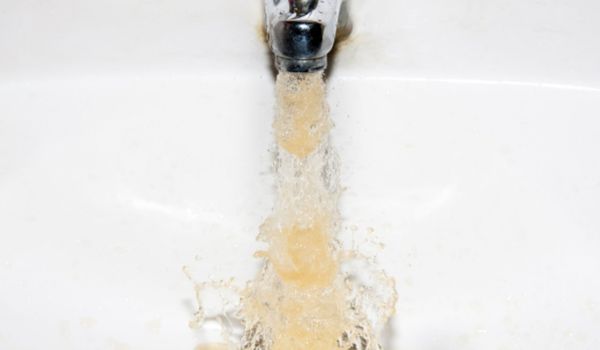 The most common causes of yellow tap water are harmless. But others point to potentially hazardous contamination that could you make you sick.
Sudden changes in water quality are always the most concerning. If your drinking water supply has suddenly turned yellow and it doesn't return to normal, it's time to explore the problem.
Do you have city or well water? Does only your cold water turn yellow or is your hot water affected, too? Let's look at the most scenarios that affect city water, well water or both.
Why Is My City Water Supply Yellow?
Water from public water systems is rarely yellow unless there's a problem in the distribution system, such as:
Burst Pipes
Burst pipes from anywhere within a public water system can introduce unwanted contaminants into tap water. If your is water is yellow, and the water pressure has suddenly dropped, call your local water company. They may be repairing ruptured water lines. Yellow water should return to normal soon after the repairs are completed.
A burst main can introduce bacteria into the water supply, resulting in a boil order. Always continue to boil your water until a local authority tells you it's safe to drink.
Water System Maintenance
Utilities occasionally flush water lines to remove sediment or check water flow on a fire hydrant. The temporary increase in water pressure loosens rust and debris, turning only cold water yellow temporarily.
Why Is My Well Water Yellow?
Wells are vulnerable to several common contaminants that cause yellow water, such as:
Tannins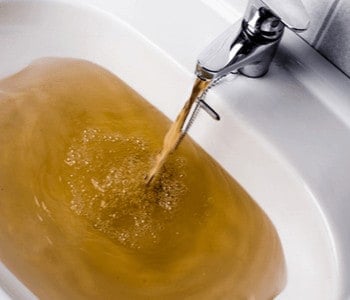 As groundwater seeps deeper into the soil, it can pick up organic material containing tannins. By-products of decaying vegetation, they turn tap water yellow and cause yellow stains on clothing and bathroom fixtures.
Iron and Manganese
Iron and manganese are common minerals in well water. Both can cause discoloration ranging from yellow to brown depending on the concentration.
Iron Bacteria
Iron bacteria feed on iron and manganese, leaving behind a thick, yellow-orange slime that discolors bathroom fixtures and can affect water flow through your entire plumbing system. When the sludge is agitated, it gives off a musty or swampy odor.
The presence of iron in your water supply doesn't necessarily mean you also have iron bacteria, but it sets the stage for trouble. Alone, iron bacteria are rarely harmful, but they're indicator organisms, meaning that they're often found where disease-causing bacteria are present.
Copper and Zinc
Copper and zinc are two other impurities common in wells. Levels high enough to be dangerous are rare, but even small quantities can turn water yellow and give it a metallic taste.
Could My Home's Plumbing Be the Problem?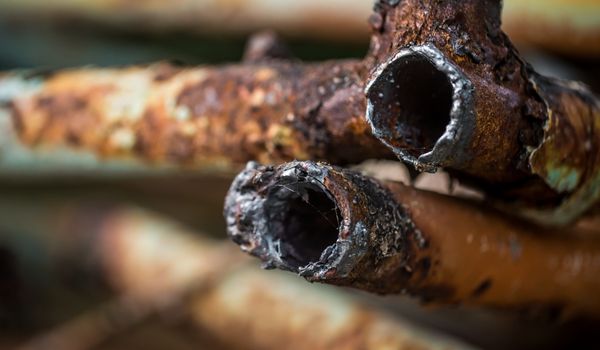 One water quality issue that both well water and city water users share is plumbing problems. No one is immune. These are among the top reasons for yellow water:
Corroded Faucets
If water is yellow at only one tap, a corroded faucet or aerator could be to blame. Older models made from outdated materials tend to rust faster. The faucet can look perfect on the outside but rusted on the inside, so disassemble it and examine it closely for corroded material.
Rusty Household Plumbing
Rusty household plumbing can cause your incoming water supply to turn yellow. If yellow water pours from all taps, chances are an old cast iron main water line is the problem.
If you notice discoloration from a single faucet, check the pipes closest to the tap. Repairs may alleviate the problem temporarily, but replacing older pipes is a better solution.
Rusty Water Heater or Hot Water Tank
If only your hot water supply is yellow, you could have rust or organic matter at the bottom of your hot water tank. Normal, it settles out over time. A good cleaning or replacing a rusty heater element may be all it takes to fix yellow tap water. A professional plumber can provide guidance.
Testing Yellow Water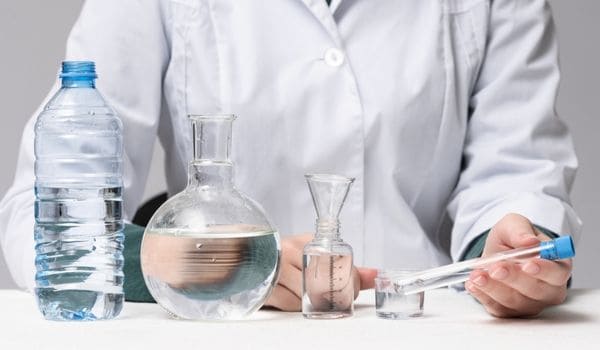 If water system maintenance, your water heater, or your home's pipes aren't the cause of your yellow water, the next step is to do a water test to screen for contaminants.
Public water supplies are routinely checked for more than 90 substances. Sill, an independent water test can be reassuring.
If you drink from a private well, testing is your responsibility, but the process has never been simpler. Once you know exactly what the problem is, you can take action.
We recommend SimpleLab's Tap Score — it's an all-inclusive test kit with everything you need from sample containers to a prepaid return label. Choose from single tests for tannins, iron or manganese or select comprehensive panels that check for dozens of other contaminants in city or private well water from chemicals to heavy metals.
Drinking water contamination is a health and safety issue, so we recommend being investment-minded. The CDC recommends testing wells for pH, nitrates and coliform bacteria annually.
SimpleLab partners with certified drinking water laboratories for accuracy, and if you need one, they offer non-biased recommendations for treatment systems. Clearer water could be just weeks away.
Fixing Yellow Tap Water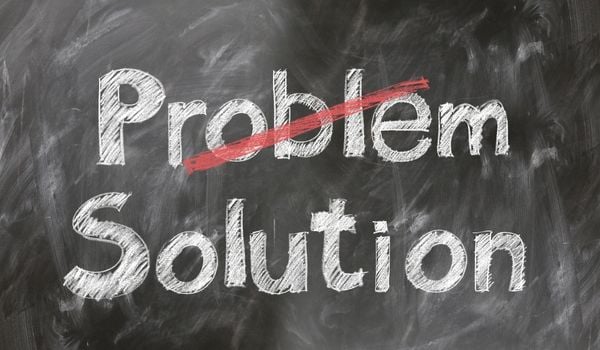 Unless you know the cause of yellow water, it's best to stop drinking and cooking with it. You can drink bottled water temporarily, but it's not an ideal long-term solution. A hassle, it's also costly and bad for the environment. Water filters provide gallons of clean water conveniently and for a fraction of the price.
Water Treatment Systems for Yellow Tap Water
Why avoid drinking yellow water when you can fix it with a water filter? These filtration systems can improve water quality throughout your home by clarifying discolored water and removing unpleasant tastes and odors:
Activated Carbon Filters
An activated carbon filter can remove organic material plus copper, tannins and ferric iron, or rust. Available in a wide range of filters from whole-house systems to undersink filters and filtration pitchers, it's an inexpensive media and a good choice if you also want to remove chlorine. Carbon filters excel at reducing taste impurities.
Ion Exchange Filters
An ion exchange filter, such as a water softener, can remove some contaminants that turn water yellow. Some, but not all, can remove low levels of iron, manganese, copper and zinc. When equipped with a special resin, a water softener can also remove most tannins.
Whole-house ion exchange systems are perfect if you also want to treat hard water. Select filtration pitchers and countertop filters are also equipped with the same technology on a smaller scale.
Oxidizing Filters
Iron comes in two forms — ferric iron, or rust, and ferrous, or dissolved iron. Dissolved iron is clear and difficult to remove. You need a special oxidation filter that uses air or chemicals to turn it into solid particles that can subsequently be filtered out. Oxidizing filters are your best solution for iron.
Reverse Osmosis Filters
Reverse osmosis filters can remove minerals, including iron, and tannins. High levels, however, are tough on RO membranes and can clog them prematurely. Systems equipped with carbon filters help reduce the membrane's workload, but we recommend an ion exchange filter for iron levels above 0.3 parts per million.
Treating Yellow Water from Iron Bacteria
If your water supply contains iron bacteria, no water filter alone can remove it. Solutions include having your well and plumbing system professionally cleaned. It's not a job for the do-it-yourselfer.
Another option is to shock your well with chlorine, but that may not be enough. Continuous disinfection with a home chlorinator combined with a water filtration system may be necessary long-term to control these hardy bacteria.
Final Thoughts
Yellow is a beautiful color for ducklings, sunshine and flowers. But if you have yellow tap water — invest in a water filter.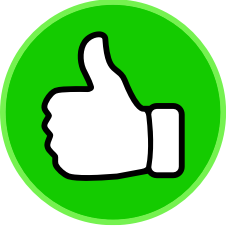 96
people found this helpful. Was this guide helpful to you?