Installing a whole-house water filter isn't rocket science. But what if you don't have plumbing skills? What if the instructions look like hieroglyphs, or worse, you don't have the right tools?
If you don't know the difference between a pipe cutter and a wrench, relax, we wrote this guide for you. Step by step, we'll show you how to install a whole-house water filter from preparation to clean-up. Let's roll.
How to Install a Whole-House Water Filtration System
The installation process for whole-house filtration systems varies slightly between models. But here's the general gist.
Step 1: Choose the Installation Location
Planning is the key to any DIY project, so step one is to choose a location for your filter and measure the space carefully to ensure it fits with room to spare for maintenance.
Whole-house filtration systems should be installed indoors near your incoming water line and within reach of a power source. But if you don't have a basement or garage, some can be installed outdoors with the proper precautions.
Filters should be protected from high heat, direct sunlight and freezing temperatures. Outdoor installation may void some warranties, however, so get the facts before you do it.
Step 2: Unbox the Filter
Before you plug in power tools, unbox the filter and check the parts against the list in the owner's manual. Was everything included? Is anything damaged?
Next, read the manual from front to back. Not only does it include technical specifications, but it may also offer tips and tricks for a successful DIY installation.
Step 3: Gather Parts, Tools and Supplies
Not all filters come with the required components, while others have parts that are not the right size for your plumbing. You'll likely need pipe, flexible tubing, shut-off valves, optional bypass valves and pressure gauges and step-up or step-down fittings to accommodate your pipe size plus the following tools and supplies:
Pipe cutter or hacksaw
Screwdriver
Adjustable wrench
Drill and bits
Teflon tape
Sandpaper
Paper towel
Recommended adhesives and lubricants
Solder and torch for copper pipes
A flashlight, bucket, towel and gloves
If your filter doesn't have a bypass valve, now's the time to install one — we've included the instructions. A bypass gives you access to non-filtered water for outdoor chores and allows you to depressurize the filter for maintenance without turning off your water supply.
Step 4: Turn Off the Water
Turn off your incoming water supply and open your faucets to drain water and air from your pipes.
Step 5: Trim the Main Water Line
Cut a section out of your main line for the filter housing using a pipe cutter or hacksaw — cutters leave a cleaner edge. Put your bucket underneath the pipe to catch drips as you cut and keep your towel handy for spills.
Step 6: Prepare the Pipe
Sand the inner and outer edges of the pipe with sandpaper until they're smooth, and then wipe them clean with a damp paper towel so that the fitting adhesive clings better.
Step 7: Install the Shut-Off Valves
Shutoff valves stop the flow of water in and out of your system. You'll install one on each pipe end using the recommended adhesive for PVC pipe or solder for copper pipe.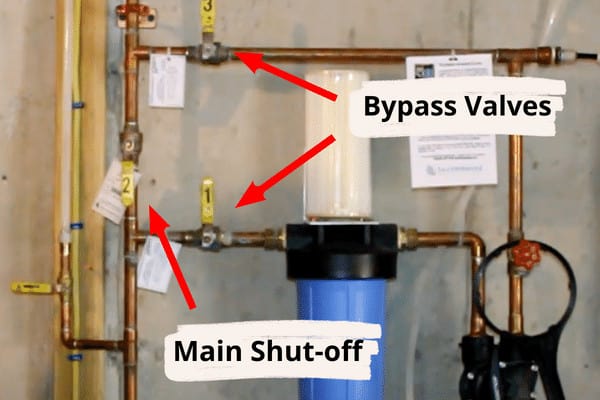 Step 8: Install the Bypass Valve and Pressure Gauge
Unless your filter has a bypass valve, install it now using this guide. We also recommend adding pressure gauges before and after the filter system to take the guesswork out of maintenance. When system pressure hits 16 psi, you'll know it's time for a new filter.
Step 9: Mount the Wall Bracket
If your water filter comes with a wall bracket, mount it to the wall using heavy-duty screws. Once the filter is wet, it will be heavy.
Step 10: Install the Whole-House Filter
Rough in the filter to get the positioning right before making any connections. Make sure inflow and outflow ports are on the correct sides.
Then connect the filter housing to the plumbing pipes using the flexible tubing, adapters and push fittings. Wrap the threads with plumber's tape to prevent leaks. But don't overtighten plastic fittings because they may crack.
Step 11: Prepare the System
Lubricate parts, wipe down the filter housings and soak or rinse sediment filters, carbon filters and granular filter media per the manufacturer's instructions. Finally, install the filter cartridges.
Step 12: Ground the System
Older homes rely on metal pipes to ground the electrical system. If yours does, install a copper wire that stretches from one side of the water filter to the other.
Placing fresh grounding clamps on the water supply pipe will ensure the ground stays intact.
If your filter system has an electronic head or includes a UV disinfection bulb, don't plug them in until the ground wire is attached.
Step 13: Restore Water Flow
With the shutoff valve in the off position, turn on the water supply. Then open the shutoff valve slowly, allowing water into the filter. Inspect pipe and housing seams for leaks.
When water flows out of your faucets without hissing, you know that any air has been expelled, and the filter system is properly pressurized.
Step 14: Test the System
Inspect the unit again for leaks and check your water pressure. If you notice anything but normal operation, shut off the water and troubleshoot the system.
Finally, if you have a separate sediment prefilter or carbon filter, we suggest changing the cartridges to give your system a fresh start.
Whole-House Water Filter Installation — FAQs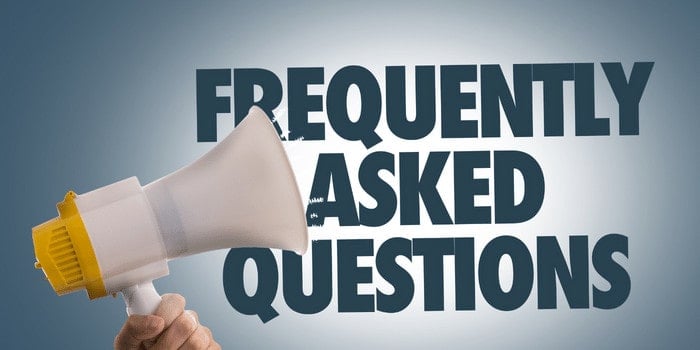 Can I really install a whole-house water filter?
Cutting into your water system can be intimidating, but it's not complex and anyone can learn to do it. Having basic plumbing skills is an advantage. And it's a plus if you're comfortable around tools.
But some people don't have the time, space or tools to do the job. We're confident you can do it. Still, there's no shame in hiring a professional.
Are there advantages to hiring a pro?
Yes. If you don't enjoy the DIY process or doubt your abilities, why worry about it when hiring a pro guarantees proper installation? Most manufacturers honor their warranties regardless of who installs the system, but damage from errors isn't covered. A whole-house water filter system is a significant investment, so there's peace of mind in knowing the job was done right.
Hiring a pro is also a timesaver. Contractors can manage the entire process for you, from securing local permits to cleaning up installation debris and recycling used materials.
You can, however, save money by doing some of these tasks yourself. Some plumbers will even collaborate on installations. You could save hundreds by taking an old system out or handling disposal chores.
How much is professional installation for a whole-house water filter system?
Replacing a whole-house water filter is a quick job. Expect to pay a plumber $400-$1200. A fresh installation including a bypass and shutoff valves could set you back double that. Upgrades to plumbing that doesn't meet building codes will push the tally higher.
How long does it take to install a whole-house water filter?
It depends on the complexity of the project. An average homeowner can replace an existing whole-house filter in a morning. A new filtration system with a bypass could take a day to install, maybe more if you're connecting it to a softener. Plumbers can do it in a few hours.
Are water filters installed before or after the water heater?
Filters are installed before the water heater to keep contaminants out of the tank and give you hot filtered water.
Is water softener set-up similar to filter installation?
Yes, the basic installation steps are the same. But you'll have to connect the brine and mineral tanks and set up a drain line.
Do sediment filters go before or after a whole-house water filter?
Sediment filters are a critical part of a whole-house filter system. Their job is to keep dirt, rust and organic particles out of carbon filter cartridges, so they're placed before the whole-house filter.
Do carbon filters go before or after a whole-house filter?
Both! As in multi-stage systems, carbon filters placed before the unit are used to protect the filter media. Those placed after are called polishing filters.
Polishing filters are commonly placed after chlorine injection filters to eliminate chemical tastes.
Does a whole-house filter go before or after a water softener?
A softener isn't designed to remove contaminants, so filters always go before softening systems. Filters help protect the resin, so it lasts longer.
Should I test my water quality after installing a whole-house filtration system?
It's not a bad idea. Checking for problem contaminants verifies the system is working.
You can use inexpensive test strips to test the filter weekly for a month or two until you're satisfied it's working properly. This is the best strategy when dealing with hazardous contaminants.
Or send a tap water sample to Tap Score for analysis two to four weeks after the installation. Tests are done by certified laboratories, and you'll get a full report in days.