Last Updated on December 3, 2022 by
Ava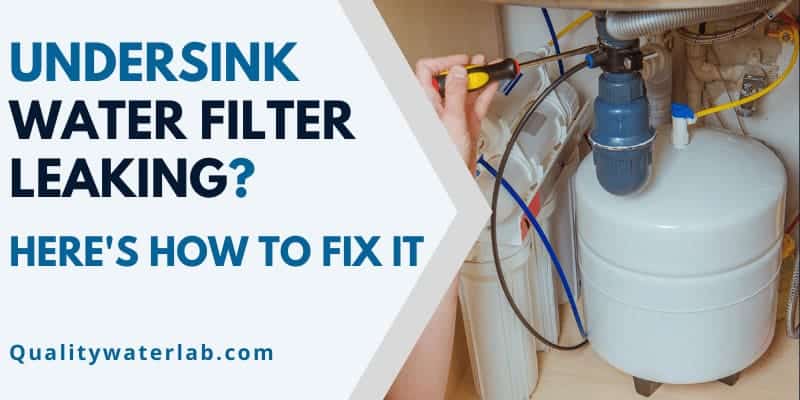 Undersink water filters are very reliable, but occasionally, they leak. The problem usually isn't serious, but it can foul your drinking water and result in flooding and property damage if it's not fixed promptly.
With a little advice, most people can troubleshoot and repair their filter without calling a plumber. Step-by-step, we'll show you what to do if your under-sink water filter has sprung a leak.
If by the end of this guide, you think you might need a new system – check out our best rated undersink filter systems.
Why Do Water Filters Leak?
An under-sink water filter can leak anywhere, but let's explore the most common causes.
#1 Loose Connections
The many adapters, tubes, and housings that connect a filter to the water line and faucet create seams that are vulnerable to leaks. If you also use the cabinet under your kitchen sink for storage, bumping into these parts repeatedly could jar one loose.
#2 Faulty O-Ring
O-rings — the gaskets that create the seal between the filter housing and the cap — flatten over time and should occasionally be replaced. Dirt and hard minerals in your water supply can also get stuck between the O-ring and the cap, causing a tiny gap that allows water to leak. Like all gaskets, if the rubber O-ring is warped, damaged or has developed flat areas, it won't form a watertight seal.
#3 Loose Filter Housing
If you just replaced a cartridge in your system, and it leaks, chances are you didn't tighten the cap enough on the filter housing. The good news is that it's a quick fix.
#4 Incompatible Adapter
If you have irregular plumbing, the adapter valve that connects the water filter to the cold water supply line under the sink may not fit. Kits rarely contain connectors for all possible plumbing sizes, so it's not unusual to have to purchase one separately from the hardware store. An incompatible adapter rarely fits tight enough, even with Teflon tape, to prevent leaks. Installing the correct size is crucial.
#5 Clogged Filters
A clogged filter cartridge can cause leaks anywhere in an under-sink water filter unit. How? By increasing water pressure.
Under-sink filters are closed systems. If water can't flow through a filter cartridge properly, pressure builds up system-wide, exerting more force on components than they were engineered to handle.
The result can be hairline cracks in filter housings, damaged O-rings, and leaks around the faucet, valves and connectors — even a burst storage tank bladder if you have a reverse osmosis system. High water pressure can also cause sealed cartridges to spring leaks.
Troubleshooting Under-sink Water Filter Leaks
Finding the source of a water leak is the first step to fixing it but doing it without taking your entire unit apart is tricky. If you're lucky, the cause of the leak is obvious. But most leaks are slow and may or may not originate where water is dripping. So first, we recommend examining your system by tracing water flow through the filter.
With the water on so that you can see the dripping, begin at the water inlet, checking each component until you reach the faucet. If you can't find the leak, the next step is to check the parts you can't see —the O-rings, filter cartridges and the inside of the filter housings. Let's roll up our sleeves.
Fixing Under-Sink Water Filter Leaks
Most leaks in an under-sink water filter are related to a clogged filter cartridge, a faulty O-ring or a damaged filter housing. Here's how to fix these common issues.
Gather the Necessary Tools and Supplies
Begin by gathering what you may need to make impromptu repairs without making a mess, including:
A filter wrench
A towel to catch drips
New water filters
An empty box or bucket to put old filter cartridges in
A fresh O-ring or two
Silicone-based lubricant
A pail of soapy water and a sponge
Depressurize the System
You need to release the pressure inside the filter before you can safely open the housings.
To depressurize the unit:
Shut off the water to the filter by turning the shut-off lever.
If your system is equipped with a bypass valve, turn it on.
Run the faucet, letting the air and water flow out until the system is empty.
Press the pressure release button to depressurize the sump.
Check The Filter Housings
Using the sump wrench, slowly turn each filter housing. Carefully remove the filter cartridge and the O-ring from inside the cap. Inspect both parts of the housing inside and out for cracks, including among the threads. The water pressure inside a water filter is too high for a cracked sump to be repaired. Order a new housing.
Examine The O-Ring
An O-ring that looks dry, dirty, warped, dented or flat should be replaced. But scrub the inside of the cap with soapy water first and let it dry. Coat the track where the ring goes with silicone-based lubricant to help it adhere and create a good seal. Use only silicone lubricant — petroleum jelly can break down the O-ring, compromise the other parts of your water filter and get into your filtered water.
Examine The Filter Cartridges
You can re-use a clean cartridge, but a clogged or worn-out filter should be changed. Double-check to make sure the filter replacement is seated properly before you re-install the housing. Beware — over-tightening the housing can damage the cartridge and crush the O-ring.
Check For Leaks
Once the water filter is reassembled, turn on the feed water, run the faucet and check for leaks. Some manufacturers recommend flushing the system before drinking filtered water to sweep away any dirt, dust or soap residue from the repair process.
Water Filter Leaks VS Condensation
When cold water meets warm air, it can cause dew-like condensation on pipes and other surfaces beneath your kitchen sink — don't mistake it for a leak. Condensation on a whole-house filter housing can create a puddle, but it's more subtle on an under-sink filter.
If your water filter feels moist on a hot day, but you can't identify an obvious drip, towel-dry the tubing, the filter sump and the water storage tank if you have a reverse osmosis system. If it stays dry, it's likely condensation. If localized moisture reappears quickly, examine that area for a slow leak.
Preventing Leaks in Under-Sink Water Filters
Like the other appliances in your home, most water filters eventually need repair. But there are a few things you can do to prevent leaks, or at least minimize their impact.
The first is to maintain your filter. Clogged cartridges are among the top cause of preventable leaks. Stick with top-quality, NSF-certified filters that won't clog prematurely and take you by surprise.
Avoid storing corrosive chemicals under the sink with your water filter. A small drain cleaner spill, for example, can eat away metal parts.
Finally, put a battery-operated moisture alarm near the filter. For a few dollars, it will sound if it detects a leak, allowing you to address it quickly before it causes property damage.
Final Thoughts
Unlike a whole-house water filter malfunction, an undersink water filter leaking isn't likely to flood your home. But it can ruin your under-sink cabinet and seep into the room beneath it. So, maintain your system regularly, take precautions, and keep this guide handy, so you can fix leaks like a pro.