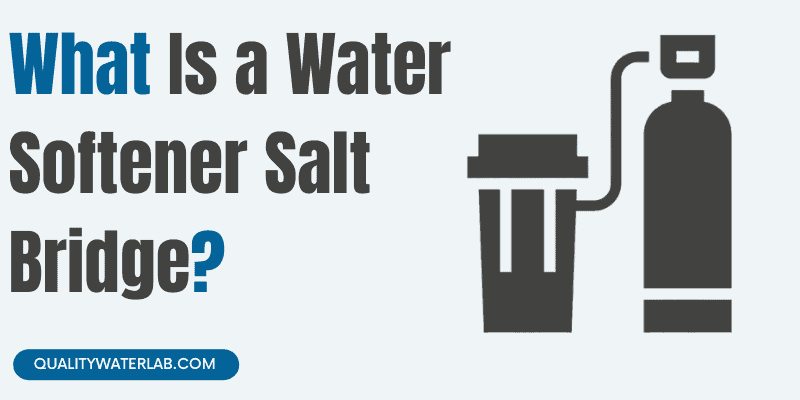 A salt bridge is a dry crust of salt that forms above the brine in your water softener's salt tank. It makes the tank appear full, but beneath the crust is air and water instead of brine solution.
A common problem, why a salt bridge occurs is rarely obvious, but it's a simple fix once you diagnose the cause. We'll show you how.
[lwptoc skipHeadingLevel="h3,h4″]
Signs of Salt Bridging
Salt bridges often go unnoticed until water quality changes. But clues include:
No Soft Water
Water softeners are programmed to regenerate when the resin beads inside the primary media tank are saturated with hardness minerals.
Salt bridging confines salt to the top of the brine tank where it can't mix with water to form the salt solution required for the regeneration process. No brine solution means no softened water.
The Brine Tank Always Seems Full
If you've been checking your brine tank, and it's always full — it's no miracle. It's probably a salt bridge.
At first glance, it's hard to tell the difference between a full brine tank and a salt bridge, especially in the low-light conditions often found in basements and garages. Use a flashlight to reveal the subtle differences in texture or dip your finger in the tank. The hard feel of a salt crust is unmistakable.
What Causes Salt Bridging?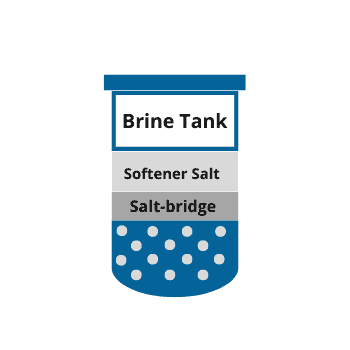 The most common culprits include:
Overfilling the Brine Tank
Overfilling the brine tank makes it harder for salt to dissolve, increasing the potential for crusting. It can also cause salt mushing, a similar and equally problematic buildup of salt at the bottom of your brine tank.
High Humidity
High relative humidity levels cause loose salt pellets in the brine tank to stick together and form a crust. Water softeners installed in damp basements are particularly vulnerable to salt bridges regardless of the climate.
Low-Quality Softening Salt
Not all softening salt is created equal. Some are not compatible with all water softeners or water hardness levels. And bargain brands may contain small rocks and debris that make them less soluble and more likely to form crusts. In general, you get what you pay for.
Wet Brine Tanks Vs Dry Brine Tanks
The cause of salt bridges also varies based on the type of brine tank your water softener uses. Wet brine tanks, the most common, always hold water. Dry brine tanks only contain water during the regeneration cycle. Certain Evolve softener brine tanks are a good example.
Dry tanks are relatively new on the market. Less likely to leak, the dry design also prevents salt mushing. But the salt stored in the brine tank is more vulnerable to humidity, especially if it's overfilled. And if water doesn't completely cover the salt during the regeneration process, crusts may build up near the top of the tank.
Salt bridges in wet tanks are more likely due to overfilling or using the wrong type of softening salt.
How To Fix a Salt Bridge
Salt bridges are a nuisance but fixing them is a breeze.
Here's how:
Turn off the water supply to the water softener at the main or by using the bypass valve.
Tap the salt bridge in the center with a mop or broom handle until it crumbles. Using a sharp object or applying excessive force could damage the brine tank. Splashing may occur when the salt crust collapses, so protect your clothing with an apron and have a towel handy to mop up spills.
Empty the brine tank, removing the salt with a plastic scoop.
Vacuum out any remaining water using a wet/dry vacuum. If you don't have one, a cheap automotive siphon and bucket will do the trick.
Refill the tank to 2/3-full with fresh salt.
Restore the water flow and run a manual regeneration cycle.
If it's been a while since you've cleaned your brine tank, clearing a salt bridge is a good time to perform annual maintenance. Brine tanks should be cleaned annually to prevent salt mushing and clogs in the inlet valve.
How to Prevent Salt Bridges
Why struggle with salt bridges when you can avoid them with these pro tips?
Don't Overfill the Brine Tank
Maintenance takes time, so we know it's tempting to overfill the brine tank. But adding too much salt is like topping off your gas tank — it's asking for trouble.
Two-thirds full is the recommended salt level for most models, but some manufacturers recommend lower levels than others to prevent salt bridges and mushing. Consult your owner's manual for details.
Control Humidity
Water softeners installed in basements or garages are vulnerable to moisture. Without climate control, an occasional salt bridge is inevitable. But there are still measures you can take to alleviate the problem, starting with a dehumidifier.
Dehumidifiers remove moisture from the air without cooling the area, so they're more energy-efficient than air conditioners. But they use electricity, and water collection tanks must be emptied every few days.
Alternatively, moisture-absorbing canisters of dehumidification crystals, such as DampRid, are inexpensive and require less maintenance. Just swap them out every 30 days. Another simple but often overlooked measure is to keep the brine tank lid tightly sealed.
Keeping your stored salt moisture-free is also essential. We recommend dry storage in a plastic container. Buying salt by the pallet may be cheaper, but it's penny-wise and pound-foolish if you can't store it in a cool, dry place. Buy only what you need for the month.
Purchase Top-Quality Water Softener Salt
Water softener salt varies in form and purity, so choosing the right type among the best brands ensures optimal performance. Using manufacturer-approved salt is always the best policy because it's been tested and is verified to work with your system.
But many water softener models are compatible with more than one type, so let's look at your options.
Salt crystals are 99.6 percent sodium chloride. Best suited for homes with average or below-average water usage, it's more prone to bridging than pellets.
Solar salt is made from evaporated seawater. More soluble than other types of salt, it's slightly less pure at 99.5 percent. The higher percentage of impurities makes it less effective in very hard water, however, so it's a better choice for homes with modest softening needs.
Rock salt is irregular and chunky. The cheapest form of softening salt, it doesn't dissolve as well as crystals or pellets because it contains calcium sulfate. It will do in a pinch. But erm, few homeowners are happy with rock salt long-term because of bridging and inlet valve clogs.
Evaporated salt pellets are made by further refining softening salt crystals. Easily dissolved, they leave behind less storage tank residue.
Evaporated salt is the costliest type of softener salt, but it's the purest and most efficient that money can buy. Over twelve months, the difference between the most and least expensive options is less than $100. Only you can decide if the hassle of bad salt is worth the marginal savings.
Test Your Water
Water hardness impacts salt performance, so it pays to understand your water's chemistry. If you installed your water softener, chances are you've done a water test already. But if you've moved into a new home, and the salt in your softener's brine tank has been bridging ever since, your water's hardness level may be the issue. If you're not sure, a five-minute DIY water test could solve your salt bridge problem with no broom or siphon required.
Final Thoughts
Water softeners are reliable but not perfect. Still, dealing with an occasional salt bridge is a bargain compared to the negative effect of hard water — now that you know how to do it.