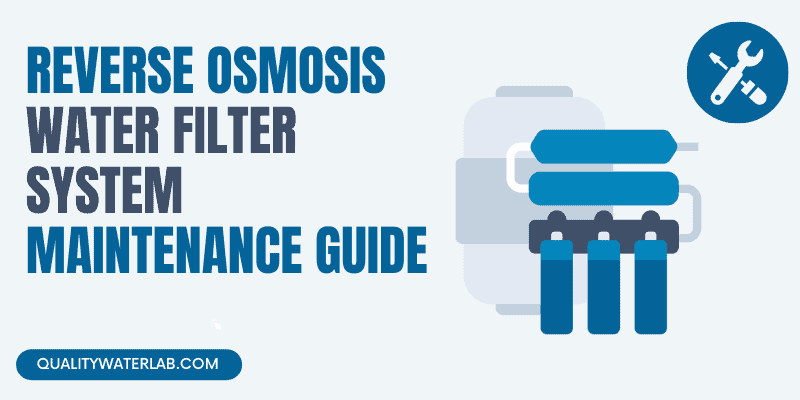 Properly maintained, nothing cleans up dirty tap water faster than reverse osmosis filters. Powerful, multistage filtration systems, they look complex but don't be intimidated.
In this guide, we'll walk you through basic maintenance information and show you just how easy they are to care for. With a little TLC, a reverse osmosis system can give you the pure drinking water you deserve for a decade or longer.
How Does a Reverse Osmosis System Work?
A reverse osmosis system forces water through a series of filters designed to maximize contaminant removal. Purified water is collected in a storage tank while waste is swept away.
The components of an RO system include:
The RO Membrane
Reverse osmosis works by filtering water through a semi-permeable membrane with microscopic pores that remove most contaminants larger than water molecules from dissolved solids to heavy metals.
Pre-Filters
RO systems are equipped with sediment and carbon filters to remove the dirt, rust and chlorine that can the damage the delicate RO membrane. By reducing the contaminant load, they improve the efficiency of the membrane and extend its service life.
The carbon filter also improves chemical reduction percentages, removing the pesticides, herbicides, and VOCs that reverse osmosis membranes alone can't.
Post-Filters
The post-filter, also known as a polishing filter, removes traces of chemicals that RO membranes can leave behind. Because some consumers complain that reverse osmosis water tastes flat, some models may also include an alkalizing post-filter to restore the flavor-enhancing minerals that the reverse osmosis membrane removes.
Together, the pre-filters, post-filters and RO membrane within an RO system produce safe, great-tasting drinking water.
The Storage Tank
Depending on the model, an RO storage tank holds 3-5 gallons of water. When the level drops, the system makes more, ensuring a steady drinking water supply.
Tankless RO units are available, but they're relatively new to the market, and manufacturers are still working out the bugs. So, an RO system with a water tank remains your best bet.
How Do I Know When to Replace the Filters in a Reverse Osmosis System?
Maintenance is critical for the performance of an RO system. But filters cost money, and it's only natural to want to get your money's worth. Manufacturers estimate how long cartridges last, but as long as your water looks, smells, and tastes good, how do you know you're not changing filters too soon?
Some RO system manufacturers recommend filter changes only when the filter's performance declines. Two unmistakable symptoms include:
Low Water Pressure
Water doesn't flow well through clogged filter cartridges. The first sign of overdue maintenance is a reduction in water pressure.
Poor Quality Drinking Water
Water passing through a clogged sediment or carbon filter may contain dirt or chemicals you can see, taste or smell, while an increase in turbidity can signal the RO membrane isn't working. Any noticeable change in water quality means it's time for a filter replacement.
Other RO filters have maintenance reminder systems, such as:
Pressure gauges that show when the filters are full.
Transparent sediment filter housings that let you see when cartridges are clogged.
Indicator lights that turn on at the recommended filter change intervals.
We don't recommend waiting until your water quality diminishes to replace the filters — it's a safety issue. We suggest following the manufacturer's maintenance schedule to keep your RO system in peak condition.
Reverse Osmosis System Maintenance Schedule
Reverse osmosis systems vary, but on average, the recommended maintenance schedule is as follows:
#1 Sediment Filter
Sediment filters are arguably the most important filters in an RO system because they form a protective barrier between large particles of debris and the RO membrane. Under average conditions, a sediment pre-filter cartridge lasts 6-9 months and costs as little as $10 to replace.
#2 Carbon Filter
Carbon pre-filters last 6-12 months. The carbon post-filter has less work to do and may last longer. You'll spend $20-$30 per cartridge depending on the size and quality.
#3 RO Membrane
RO membranes last 1-3 years and cost between $65-$125 to replace.
Some systems have a simplified maintenance schedule in which all the filters are purchased and replaced as a set just once a year.
Factors Affecting the Maintenance Schedule
RO maintenance can be challenging to budget for because filter life isn't completely predictable. What factors affect whether you get six or 12 months out of a 6–12-month filter cartridge?
Water Usage
The more you use a filter, the faster cartridges wear out. Filters that last 12 months for a family of three may only last 6-8 months for a group of five.
Contaminant Concentration
Filters that work harder fade faster. If you drink city water, for example, it's already filtered at the plant and should contain minimal sediment. Well pumps, however, bring up more dirt and debris, so cartridges naturally won't last as long.
Filter Quality
Some replacement filters are of better quality than others. Budget filters aren't necessarily a bad value if the price is right, but you'll need to replace them more often.
Maintenance
Straying from the pre-filter replacement schedule can cut the RO membrane life in half. It doesn't pay to "save" on cheap replacement cartridges at the expense of the system's most expensive component. Replace the filters as directed.
How to Change the Filters in a Reverse Osmosis System
No two reverse osmosis systems are alike, so refer to the owner's manual for instructions. But here's the process in a nutshell:
Turn off the storage tank valve and the water supply.
Depressurize the system.
Remove spent cartridges from their housings. It helps to have a towel handy to catch drips.
Insert the new RO membrane or filters and reassemble the housings.
Turn the water back on and open the tank valve.
Run the RO faucet for two minutes to flush the system.
Check the cartridge housings for leaks.
Turn off the faucet and allow the tank to refill.
Discard at least one full tank of water to remove dust and other residues from the new cartridges.
Cleaning Your Reverse Osmosis System
An RO system benefits from occasional cleaning. While you're replacing filters is a good time to disinfect the housings with a mild solution of warm water and unscented household bleach.
If you're doing some spring cleaning and want to sanitize the system between filter changes, you can remove and replace the same filters, just don't let them dry out.
Checking the Water Tank Pressure
RO water tanks lose a pound or so of pressure every year or two, decreasing water flow over time. So, check the tank pressure annually by connecting a low-pressure gauge like the type you use for tires to the air valve located on the top or side of the tank. Most should read 6- 8 PSI.
If the pressure is low, add air using a bicycle pump, checking regularly to ensure you don't overinflate the bladder and cause it to burst.
TOP FAQ's
#1 How Long Does an RO System Last?
A well-maintained reverse osmosis system should last 10 or more years before components such as gaskets, tubing, and housings begin to fail. But the good news is that better manufacturers make replacement parts, so if a filter housing or the RO faucet fails, getting a new one is no problem.
#2 What Happens I Forget to Replace Filters?
Life happens, and the good news is that you won't ruin an RO system by forgetting to replace the filter cartridges. If you fell behind on prefilter maintenance, but there's been no obvious change in your water quality, perform the maintenance due. If your water smells, tastes or looks bad, however, damage to the RO membrane may have already been done.
But to err is human, and thankfully, reverse osmosis systems are both forgiving and divine. Simply replace all the filters to restore your system to like-new condition or check the system's performance with a TDS meter.
#3 Can I Clean a Reverse Osmosis Membrane?
Membranes in most reverse osmosis systems can be cleaned to increase their lifespan. The process usually consists of soaking the cartridge in recommended solutions to clear the pores. See the owner's manual for details.
#4 How Do I Check the Performance of the Reverse Osmosis Membrane?
The reverse osmosis stage in an RO system removes 99 percent or more of dissolved particles (TDS) in water, so the best measure of filtration performance is a rise in the TDS concentration.
You can check levels at home with an inexpensive TDS meter — a handheld electronic device that measures electrical conductivity in water. Dip the probe in a water sample and if the total TDS level has risen 20 percent or more since the membrane was last replaced, it's time for an upgrade.
Final Thoughts
Even the best water filtration system won't work well if it's not adequately maintained. But if you take good care of your RO unit, it will take good care of you.