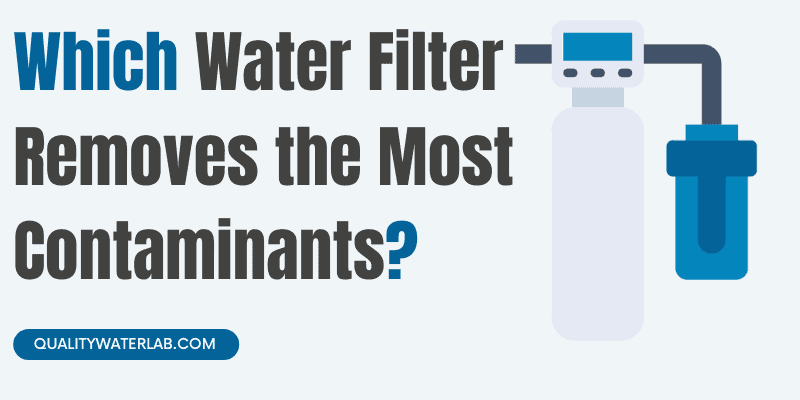 Water filters can remove hundreds of contaminants, but which type removes the most impurities? Can you get a single filtration system that eliminates chemicals and heavy metals, or do you need separate filters?
These are essential questions to ask before buying a water treatment system because not all filters are created equal. So, let's make sure you get your money's worth with our analysis of the most popular filtration systems, how they work, which contaminants they remove and their pros and cons.
Water Filtration Methods For Contaminant Removal
There's a water filter for every contaminant, but no filtration system eliminates them all. Each uses different filtration methods with strengths and weaknesses that determine which substances they remove. Understanding how they work is the key to finding the right filter(s) for your particular needs.
Mechanical Filtration
Mechanical filters physically separate contaminants from water using dense or fibrous material, such as fabric, paper or sand. The density of the material determines what size particles get through. Mechanical filters range in size from 5-100 microns or more.
Sediment filters are the best example. They remove:
Dirt
Sand
Rust
Silt and other organic material
They don't reduce:
Dissolved minerals
Heavy metals
Chemicals
Microorganisms
Adsorption
Adsorption is a filtration process by which contaminants cling to another material with a greater surface area. The larger the surface area, the more contaminants it traps.
Activated carbon has an expansive surface area, so it's the most common filtration media in adsorption filters.
It reduces:
Chlorine
Agricultural chemicals like pesticides
Industrial solvents
Volatile organic compounds
Trihalomethanes
Bromates
PFOS
Pharmaceuticals
Microplastics and more
But not:
Sediment
Radionucleides
Dissolved solids
Hydrogen sulfide
Copper
Iron
Fluoride
Better-quality carbon filters can remove significant amounts of lead — up to 90 percent — but less than 60 percent of other heavy metals, such as arsenic and mercury.
Reverse Osmosis
Reverse osmosis filters force water through a semipermeable membrane along a pressure gradient. Laced with microscopic pores, RO membranes can remove contaminants as small as 0.0001 microns, including:
Total dissolved solids
Heavy metals
Fluoride
Bacteria
Viruses
Parasites and more
Combined with sediment and carbon filters in a multistage filtration system, a reverse osmosis filter also eliminates up to 99.9 percent of:
Chlorine
Chemical contaminants
Dirt
Rust
Drug residue
Microplastics and more
Among the few contaminants reverse osmosis systems can't remove are:
Hydrogen sulfide, the gas that makes water smell like rotten eggs
High levels of iron
Ultrafiltration
Ultrafiltration is similar to reverse osmosis, but the membrane is slightly larger and filters contaminants down to 0.001-0.01 microns.
Ultrafiltration is primarily used to remove microbes, including:
Bacteria
Parasites
Mold and fungi
A multistage ultrafiltration system equipped with a sediment and activated carbon filter is almost as effective as a reverse osmosis system, but it may not remove all viruses.
Oxidation-Reduction
Oxidation-reduction, or redox filters, don't remove contaminants — they neutralize them through a chemical reaction. The most popular oxidation-reduction media is Kinetic Degradation Fluxion, or KDF media.
KDF removes:
Chlorine
Heavy metals
Iron
Copper
Fluoride
Hydrogen sulfide
Bacteriostatic and heat-resistant, KDF can be used in hot water filters.
Oxidation-Filtration
Oxidation-filtration systems are two-stage water filters that use air or chemicals to convert dissolved substances into solids that can be mechanically filtered, such as:
Iron
Manganese
Iron Bacteria
Limited, they remove few other contaminants except sediment.
Ion Exchange
Ion exchange filters trap contaminants in an electrically charged resin bed, rinsing them away when the resin is saturated. The best examples are water softeners and nitrate filters.
Depending on the type of resin, some ion exchange filters may also remove low levels of iron, manganese and lead.
Ultraviolet Light
Ultraviolet light filters neutralize bacteria, viruses and parasites by scrambling their DNA, so they can't reproduce or cause illness. You can add a UV light to any filtration system for added protection against pathogens.
Types of Water Filters
There's a water filtration system for every need and budget. Let's look at the most common types of water filters, the filtration methods they use and their advantages and disadvantages.
Whole-House Water Filters
Plumbed into the main water line, a whole-house water filter distributes clean water to every tap in your home. All of the filtration methods mentioned above are available in whole-house models except two — reverse osmosis and ultrafiltration. Too slow to meet home-wide water demand, they're used mostly in countertop and undersink filters.
You can select from single contaminant filters for minerals, sediment particles or heavy metals, or select a two, three, four or even five-stage filtration system that improves water quality across the board.
Pros
Whole-house filters produce large volumes of filtered water on demand. They treat every drop in your home, so you never have to worry about which faucet the kids are drinking from.
Some contaminants, like sediment and hard minerals, not only affect drinking water, but they also impact your plumbing system, appliances and water heater. Only whole-house filters safeguard your health and home.
Cons
Whole-house filters cost more upfront and are more complex to install. Unless you have plumbing skills, professional installation adds to the cost of your project.
They require permanent alterations to your plumbing system. If you rent, your landlord may object.
Under-sink Filters
Undersink water filtration systems are a low-cost alternative to whole-house water filters. Installed under the kitchen sink, they produce filtered water for drinking and cooking.
The most popular undersink filters are reverse osmosis, ultrafiltration, or a combination of sediment and carbon filters. Flexibility is their strong suit.
Pros
You can purchase a quality under-sink filter for as little as $200.
Ideal for renters, they don't alter the plumbing system, and they're a breeze to install.
Cons
If you have hard water, under-sink filters won't prevent limescale buildup in your pipes.
And although most of your exposure to contaminants occurs through drinking and cooking water, you'll need to install a showerhead filter to get rid of contaminants in your bathwater.
Unlike sediment, ultrafiltration and activated carbon filters, reverse osmosis systems have a limited capacity. Running out of filtered water is rare, but it can occur. Most under-sink filters also require a separate dispensing faucet.
Countertop Filters
If you can't install an under-sink filter because of your garbage disposal, consider a countertop water filtration system. For under $100, you can purchase a model that attaches to your faucet through a tube. Freestanding, top-loading models like Berkey water filters cost more, but they're more attractive aesthetically.
Most countertop filters purify water using carbon, KDF and other mechanical or adsorption media, but reverse osmosis and ultrafiltration units are increasingly available.
Pros
Countertop filters are an excellent option for renters. Affordable, they're also portable and can travel with you. Popular for camps and RVs, they require little space and minimal upfront investment, yet they can provide comprehensive filtration.
Cons
Counter space is already tight in most homes, so an on-counter filter is another small appliance to clean around. They also have an industrial look that doesn't appeal to some people.
The dispensing faucet can be challenging to use for little fingers, so younger children may need help getting a drink. And the flow rate tends to be lower, so filling a glass takes more time.
Faucet-Mounted Filters
A faucet filter is a cheap and easy way to clean up tap water fast. Most use granular activated carbon, a loose type of carbon media that filters water without impeding pressure. Better models incorporate ceramic and other materials that act as a sediment filter.
Pros
Faucet filters start as low as $20, and they install in seconds without breaking out the toolbox. Low-cost models target taste and odor impurities, but higher-end models may remove lead and other heavy metals.
Cons
Faucet filters are notorious for reducing water pressure. If your water is heavily contaminated, it could clog in weeks.
Shower Head Filters
Shower head filters purify hot water, so most rely on KDF — the only filtration media that can purify hot water. Some also contain novel media such as sand, zeolite and ceramic to remove sediment.
Pros
Showerhead filters are as inexpensive and straightforward to install as faucet-mounted filters.
Cons
They may reduce water pressure.
Water Filter Pitchers
Water filter pitchers range in quality from garden-variety, like the original Brita filters, to advanced models that filter contaminants from sediment and chemicals to lead and bacteria. Most rely on carbon and KDF, but there are a few reverse osmosis water pitchers and even special models that remove radiological contaminants.
Pros
Few filtration systems are easier to use than a water filter pitcher. Fill it with dirty tap water and filtered water collects in the reservoir. Keep in the refrigerator for a cold drink anytime.
Cons
If your filter pitcher runs dry, your only option is to drink unfiltered water.
Choosing the Ideal Water Filter
In rare cases, only one type of water filter can remove target contaminants. If you have iron in your water or harmful contaminants like bacteria, your choices are limited. But when you have options, how do you choose?
Your first consideration should always be which contaminants water filters remove, but when all things are equal, consider cost, ease of use and maintenance factors.
If making your water taste better is your top priority, an inexpensive Brita filter may be just as effective as a thousand-dollar whole-house water filtration system.
If you need a filter that eliminates pathogens, but a water test shows no heavy metals or chemical contaminants to worry about, ultrafiltration water filters remove bacteria almost as effectively as an RO system for a fraction of the price.
The best strategy for choosing among water filters is to review their specifications, weigh your options, and choose a purification process that meets your needs without breaking the bank. Filtering water doesn't have to be expensive or a hassle.
The Verdict – Which Water Filter Removes the Most Contaminants?
Not surprisingly, reverse osmosis systems are the winner for best contaminant removal. The same powerful purification process that water treatment plants use, no filtration method produces higher purity water.
At the end of the day, it may be overkill if removing dirt and chlorine are your only needs. All that matters is that the filter you choose removes the unique contaminants present in your water.