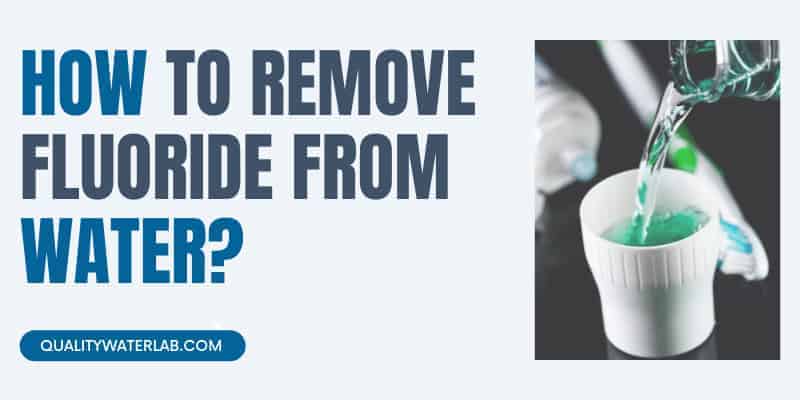 More than 70-percent of Americans drink fluoridated tap water. Whether it's a blessing or curse depends on who you ask, but the latest research suggests it may not be worth the risk.
Excessive fluoride consumption has been linked to health issues, prompting many people to ask how to remove fluoride from water.
If you're on the fence, join us as we take a closer look at the risks versus the benefits of water fluoridation and your options for fluoride removal.
[lwptoc skipHeadingLevel="h3,h4″]
What Exactly Is Fluoride?
Fluoride is the 13th most abundant element in the Earth's crust. Ubiquitous in the environment, it's present in small amounts in most groundwater and surface water supplies.
Why Do We Drink Fluoridated Water?
Fluoridated water was the brainchild of Colorado dentist, Frederick McKay, and H.V. Churchill, ( read the story here) a lead chemist for the Aluminum Mining Company of America (ALCOA). Together, they discovered that it prevented tooth decay and proposed adding it to tap water in the interest of oral health.
In 1945, Grand Rapids, Michigan became the first American city to add fluoride to its public water supply. Today, nearly three-quarters of municipalities put it in their drinking water.
Does Well Water Contain Fluoride?
Natural fluoride is found in most US wells but in negligible amounts. We're lucky. Most of it is bound to calcium fluoride, a naturally occurring compound of fluoride and calcium carbonate.
Calcium fluoride deposits are rare here but so common in South Asia that fluoride levels in wells can be toxic. The highest concentrations of naturally occurring fluoride in the US are in southern California and Arizona.
Can Fluoride in Drinking Water Cause Health Problems?
Fluoride is beneficial for oral health — it remineralizes teeth, strengthens tooth enamel and prevents tooth decay. The American Dental Association estimates that fluoridated water cuts cavities by 25-percent.
But studies show that too much fluoride is associated with a wide range of health problems, including:
#1 Dental Fluorosis
The human body stores fluoride in the teeth and bones. Excessive fluoride exposure in children can cause dental fluorosis, irreversible brown or white staining on teeth. A similar phenomenon, skeletal fluorosis, occurs in adults and causes weak bones.
#2 Thyroid Disease
Cases of thyroid deficiency are markedly higher in areas where the fluoride concentration exceeds 2 mg/L. Scientists believe that fluoride displaces iodine, a nutrient necessary for thyroid hormone production.
#4 Neurological Disorders
A limited study of 200 children showed above-average rates of ADHD among those with higher fluoride levels in utero. Similar studies corroborate the link.
#5 Fluoride Toxicity
Extreme fluoride intake can lead to toxicity over time. Rare in the US, it's common in India and China.
Given the health concerns surrounding fluoride in drinking water, it's not surprising that children's advocates are asking questions. Why do we continue to add fluoride to water when it's now in toothpaste and mouthwash as sodium fluoride, an anion of fluoride?
Why did the US opt for community water fluoridation when much of the world didn't? And have fluoride by-products, such as fluorosilicic acid, been adequately tested?
While most public health service organizations continue to stand by fluoridated drinking water, more parents are wondering how to remove fluoride from water.
How To Remove Fluoride from Water
The best way to remove fluoride from water is with a home filtration system. Unlike bottled water, filtered water is a financial and environmental bargain and a must for sustainable living.
If you already have a water filter, you may be wondering if it removes fluoride. Let's examine the most popular types.
Do Reverse Osmosis Water Filters Remove Fluoride from Water?
Reverse osmosis filters force water through a semi-permeable membrane using an electric or permeate pump. As water passes through it, most contaminants larger than water molecules are eliminated, including 98-percent of fluoride and other contaminants naturally present in drinking water.
Reverse osmosis systems have drawbacks, but they're among the most effective water filters money can buy.
Do Activated Carbon Filters Remove Fluoride from Water?
Carbon filters are excellent for reducing taste impurities and removing chemicals, from chlorine to volatile organic compounds. Found in a wide range of filtration systems, they do not remove fluoride from water.
Boiling water concentrates fluoride. But distillers condense steam from boiling water as it evaporates, removing 98 percent or more of fluoride and other metals. Distilled water is pure enough for use in medical devices.
Do Water Softeners Filter Fluoride from Water?
Neither water softeners nor salt-free water conditioners filter fluoride. They are, however, compatible with water filters that do.
Filter Options for Removing Fluoride from Water
If removing fluoride from your drinking water supply is a priority, but you don't have a water filter, let's review your options.
#1 Reverse Osmosis Filter
Reverse osmosis filters are among the best for removing fluoride, but they have pros and cons. The reverse osmosis process is slow and can't keep up with high demand without reducing water pressure.
Whole-house RO filtration systems are rare. Most are installed under the kitchen sink and purify water only for drinking and cooking. The good news is that the body doesn't absorb fluoride through the skin or lungs as steam evaporates in the shower, so treating your drinking water will drastically limit your exposure.
Reverse osmosis systems are also water hungry. For every gallon of clean water they make, they produce two or more gallons of wastewater. Not only does that impact your utility bills, but in drought-prone areas where potable water is scarce, the massive waste is unsustainable.
#2 Activated Alumina
Activated alumina is made from dehydroxylated aluminum oxide. Not aluminum, it won't release metal ions into your drinking water.
Its high absorption capacity removes up to 95 percent of fluoride from water plus lead, hydrogen sulfide, arsenic and more. Activated alumina filters are available in whole-house and undersink filters.
#4 Bone Char
Bone char filters are made of pulverized charred animal bones. They remove fluoride plus a wide range of potentially hazardous substances from chemicals to lead.
Bone char filters come in under sink and whole-house styles and are among the few water filters that remove radiological contaminants.
Choosing the Right Filter to Remove Fluoride from Water
Reverse osmosis, activated alumina, bone char filters, and distillers all remove fluoride from water, so which filtration system should you choose? The best filter will remove fluoride plus other target contaminants while meeting your family's water needs.
A distiller, for example, reliably removes fluoride and heavy metals but not some chemicals. And it only produces a few gallons of clean water daily — too little to meet most families' needs.
Reverse osmosis filters remove fluoride and other contaminants, but they also waste water and are usually limited to one tap.
Activated alumina and bone char filters may be a better solution if you want a whole-house filtration system, but whole-home filters cost more than countertop or under-sink filters.
Budget and lifestyle considerations are important when choosing a filter, but if you have chlorine, chemicals, heavy metals or other toxins in your water supply, you can't ignore them just to get fluoride-free water.
Ultimately, how to remove fluoride from water depends largely on what else is in it, so the next step is to do a water test.
Testing Your Water Supply for Fluoride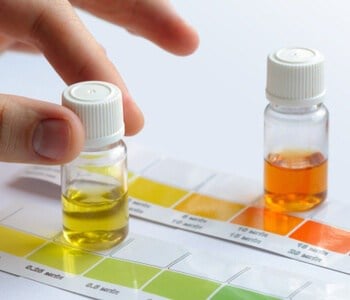 If you drink from a public water supply, ask treatment officials for a copy of your annual consumer confidence report. It tells you everything you need to know about your water chemistry, how much fluoride is added to your tap water and the total fluoride levels.
If you own a well or want to test city water independently, bring a sample to a local lab or purchase a home test kit online. We suggest SimpleLab's Tap Score because it's more affordable than a fluoride meter, more accurate than test strips and easy to use. Results include objective recommendations for a fluoride removal filter if you need one.
Tips for Limiting Fluoride Exposure
If you can't drink fluoride-free water, there are other ways to reduce how much fluoride you consume.
#1 Choose Bottled Water Carefully
Some bottled water is little more than tap water with minerals added for flavor. According to the USDA, the average among all bottle brands in 2005 was 0.11 parts per million, but one popular import contained nearly three times as much.
#2 Opt for Non-Fluoride Toothpaste
Adults rarely swallow toothpaste, so it doesn't contribute to toxicity. But choosing products with low fluoride content is essential for kids.
#3 Think Organic
Fluoride is used as a pesticide for several major crops, including white grapes and raisins. Purchase organic varieties for children.
#4 Limit Coffee and Tea
Coffee and tea plants absorb significant amounts of fluoride from the soil and the water used to irrigate crops. So, limit consumption, select low-fluoride brands or opt for herbal teas — most are fluoride-free.
Further reading:
Final Thoughts
Now that you know how to remove fluoride from water, the rest is easy. Filter fluoride and drink worry-free.