Chlorinated tap water is among the most meaningful public health advances in the last 200 years. Before the late 1800s, waterborne disease was as common in America as it remains in some parts of the world today.
But despite its many benefits, chlorine has a downside. It makes drinking water taste bad, and new research suggests it could have adverse health effects. So, what can you do?
If you're worried about the impact of high chlorine levels, don't be — it's among the easiest water quality problems to address. Keep reading, and we'll show you how to remove chlorine from water and more.
What is Chlorine?
Chlorine is a chemical disinfectant used to kill pathogens in drinking water among other applications. A toxic gas in its natural state, it's extremely volatile.
Chlorine gas is combined with salts to create the more stable form of granular chlorine used to treat the water supply and your swimming pool.
What is Chloramine?
Chloramine is a blend of chlorine and ammonia. As a disinfectant, it's as effective as chlorine alone. But it lasts longer because it doesn't evaporate as quickly.
One-third of municipal water systems nationwide now rely on chloramine as a cost-effective solution to rising chlorine prices.
Is Chlorine Safe to Drink?
Drinking chlorinated water may pose human health risks beyond dry skin. Research is limited, but the data shows troubling links to:
Birth Defects
At least one large-scale study found that children of pregnant women who were exposed to trihalomethanes — one of several hazardous disinfection byproducts — were more likely to have heart or palate defects.
Bladder Cancer
Trihalomethanes were also linked to bladder and rectal cancers. Other research, however, points directly to chlorine as a primary carcinogen.
Food Allergies
Exposure to dichlorophenols, a chlorine-like chemical found in pesticides, is associated with food allergies in children. Though not identical to chlorine, the compounds are similar enough to generate scientific concern.
Respiratory Irritation
In high concentrations, chlorine is a known respiratory irritant. Across several studies, children with asthma reported throat irritation and bronchospasms after showering in chlorinated water.
Should we remove chlorine from public water supplies? No. There's no better way to kill microorganisms. But removing chlorine and chloramine from your tap water after it's been disinfected mitigates the health risk and eliminates chemical aftertastes. It's a win-win.
How Much is Too Much Chlorine in Drinking Water?
The Environmental Protection Agency sets the federal standard for residual chlorine and chloramine in tap water — up to 4 mg/L or 4 parts per million is considered safe to drink. But regulating levels is tricky.
Water treatment facilities try to limit residual while ensuring there's enough disinfectant to kill pathogens throughout the water distribution system. Due to evaporation, chlorine concentrations drop as water moves from the treatment facility to the homes furthest away from it. Did you know that there are more than 2 million miles of underground service lines in the US?
The nearer you live to a water treatment plant, the more likely you'll notice the taste of disinfectant, and the more vulnerable you'll be to its adverse health effects. Only you can decide if the risks are high enough to warrant concern.
Does Evaporation Remove Chlorine from Tap Water?
An old trick for removing chlorine from water is to let it sit on the kitchen counter until the odor and taste dissipate. It works, but it can take 2-24 hours based on the chlorine level and the volume of water. That's a long time to wait when you're thirsty, and a nearly impossible way to remove chlorine from bath water.
Chloramine is even less resistant to evaporation and could take days to vaporize.
Does Boiling Water Remove Chlorine and Chloramine?
Boiling water is an easy way to remove chloramine and chlorine, but it's as limited and time-consuming as waiting for evaporation. A water filter is equally effective but far more practical.
Can Chlorine be Chemically Neutralized?
A lesser-known way to reduce chlorine and chloramine levels in drinking water is with potassium metabisulfite, a chemical winemakers use to neutralize disinfectants that kill the yeast required for fermentation.
Half a gram treats 14 gallons of water for a few pennies a piece. But the average American uses up to 100 gallons of water daily for drinking, cooking and bathing, making it fairly cost-prohibitive to use potassium metabisulfite as a primary treatment method.
Similarly, Vitamin C in the form of ascorbic acid or sodium ascorbate powder can neutralize chlorine and chloramine. It's popular for stabilizing the water in fish tanks, but like potassium metabisulfite, it's costly compared to filtration. The exceptions are Vitamin C showerhead and undersink filters that use solid ascorbic acid cartridges.
What Are the Best Water Filters for Removing Chlorine and Chloramine?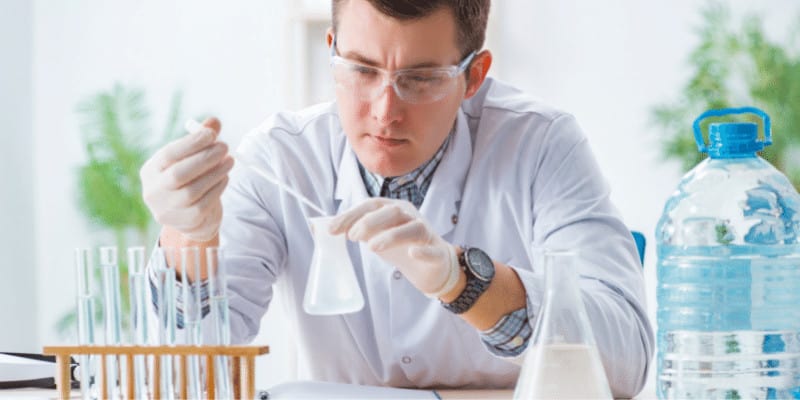 Most water filters you're familiar with remove chlorine and chloramine, but some do a better job than others.
1. Carbon Filters
Activated carbon, also known as activated charcoal, excels at filtering chlorine and other chemicals through adsorption, improving your water's quality across the board. It doesn't, however, remove ammonia, so it struggles with chloramine.
Chloramine removal requires catalytic carbon — a special type of carbon enhanced with iron-hydroxide. Through a combination of adsorption and chemical reactions, it removes both chlorine and chloramine.
2. KDF Filters
KDF, or kinetic degradation fluxion filters, are copper and zinc-based filters that remove contaminants via a redox reaction. More effective than carbon alone, they eliminate up to 99% of chlorine and chloramine.
More expensive than carbon, it's often added to carbon filters in small amounts to improve their performance. KDF is also bacteriostatic and more heat-resistant than activated or catalytic carbon, so it's a good choice for shower filters.
3. Reverse Osmosis Filters
Reverse osmosis works by forcing water through a porous membrane which, ironically, is sensitive to chlorine. A reverse osmosis "system," however, consists of a series of filters including sediment and carbon cartridges that together are among the most effective ways to remove chlorine and chloramine.
The carbon filter removes chlorine and the chlorine part of the chloramine molecule. The reverse osmosis membrane then eliminates the ammonia for more complete filtration.
4. Distillation
Distillation is a process by which steam from boiling water is captured and condensed into clean drinking water. Among the world's oldest water treatment methods, it predates chemical purification by millennia.
5. UV Light Filters
Ultraviolet light filters are used to kill bacteria by scrambling their DNA. But UV lights also produce photochemical reactions that transform up to 5 parts per million of chloramine and 15 parts per million of chlorine into harmless acid.
Do I Need a Whole-House or a Point-of-Use Water Filter to Remove Chlorine?
Whole-house filters give you chlorine-free water throughout your house. Point-of-use filters, such as faucet, countertop, undersink or distillation systems only purify water from one tap.
Since chlorine is a problem for drinking, cooking and bathing, a whole-house filter is the obvious choice — the more problems a water filtration system solves, the better. But if you rent, or you're on a budget, you still have options.
Brita-type pitchers and faucet filters, for example, cost as little as $30, and better models eliminate most chlorine and other contaminants. Reverse osmosis systems fit under the sink and require no permanent changes to the plumbing to install. They offer comprehensive filtration for as little as $400.
Combine a showerhead filter in each bathroom with a point-of-use filter, and you have the equivalent of whole-house water filtration systems for less. Where there's a will, there's a way to get rid of your chlorine problem.
See our: Best whole house water filters of 2022
Should I Test My Water for Chlorine?
Water treatment authorities do their best to maintain proper chlorine levels — enough free chlorine to kill pathogens but less than the 4 mg/L federal limit. Concentrations are monitored continually, so the risk of too little chlorine is very rare. Too much, however, isn't uncommon.
If you drink municipal water, you already know that contains disinfectants. So, is testing for chlorine or chloramine really necessary if you can taste them? We recommend it, and here's why.
The smell and taste of chemical disinfectants are unmistakable, but other contaminants could be responsible for off-flavors and odors. If you blame chlorine, but testing shows low levels, you may be barking up the wrong tree. No filtration system removes all contaminants, so it's always best to know what's in your water before buying equipment. And if you're having any of the health problems associated with disinfectants, verifying the chlorine level will put your mind at ease.
Testing for chlorine can be confusing, so let's clear it up. There are three types of chlorine tests — combined chlorine, free chlorine, and total chlorine. For filtration purposes, residual or free chlorine is the only measurement that matters. You can choose from a wide range of test methods, but test strips or laboratory testing are the simplest and most cost-effective options. Test strips for chlorine work for chloramine.
Laboratory testing is always the most accurate, so if you're concerned about your municipal water quality, we recommend SimpleLab's Tap Score test kits. Their Essential City Water test measures the 47 most common substances in city water, including chlorine. The results may surprise you.
Final Thoughts
As long as the chlorine level in your tap water is below the EPA limit — it's safe to drink. But that doesn't mean it tastes good or that there are no potential health risks with long-term exposure. Why chance it when chlorine is so easy to remove after it's done its job? The healthiest drinking water is both chlorine-treated and chlorine-free.