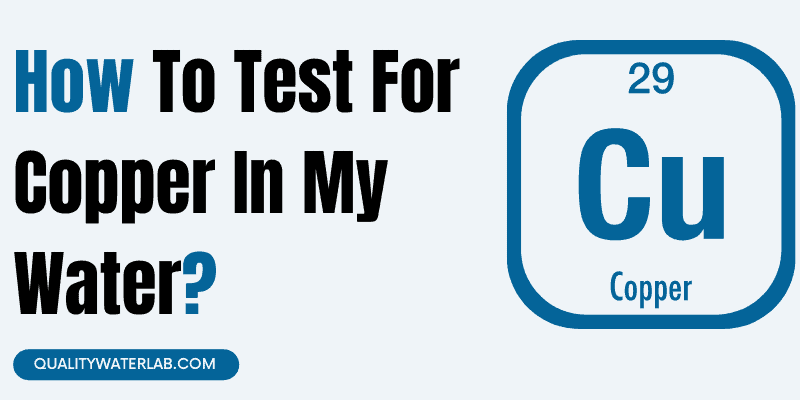 Copper is a naturally occurring mineral and an essential nutrient for human health. We need trace amounts in our daily diet to support nerve function and a healthy immune system.
But too much of a good thing can be harmful — something the Environmental Protection Agency acknowledges when it comes to copper in drinking water supplies. If you haven't tested your water recently, what you don't know can hurt you.
How Does Copper Get into Drinking Water Supplies?
Copper occurs naturally in the environment, but the primary source of high copper levels in drinking water is human activities. Copper compounds are used in electronics manufacturing, agriculture, and to control algae growth in lakes and reservoirs. It's also used to make metal alloys including bronze and brass.
But the most common cause of copper in water is household plumbing. Yes, the very pipes and plumbing fixtures you drink from can release toxic amounts of copper. But the story is complicated.
When water chemistry is balanced, the release of copper ions is minimal. In general, copper pipes are safe unless your water is corrosive.
Public water supplies are treated with anti-corrosive agents specifically to prevent leaching, but no water system can control the many properties of water than can affect the process. Salt and chemical levels, alkalinity, mineral content and most importantly, pH, all play a role.
What Are the Health Effects of Copper in Drinking Water?
High levels of copper in drinking water are relatively rare. There are only a handful of cases of copper poisoning associated with drinking water annually.
The risk varies by age — infants on baby formula, young children, and pregnant women are at the greatest risk. People with Wilson's disease — a copper absorption disorder — are also more vulnerable.
Short-term exposure to high levels of copper can cause gastrointestinal distress — nausea, stomach cramps and diarrhea. Long-term exposure to copper can lead to anemia, kidney disease muscle weakness and a burning sensation in the limbs linked to nerve damage. Other adverse effects include liver damage, depression and impaired memory.
Drinking Water Copper Levels — How Much is Too Much?
The maximum allowable limit of copper in drinking water is 1.3 mg/l. Set by the Environmental Protection Agency, it's the threshold at which a water system must take remedial action.
Nationwide, few public water systems have difficulty meeting this goal. The exceptions are Nebraska and Delaware where the water chemistry is particularly challenging to manage.
The EPA also works to keep copper out of drinking water in other ways, such as ground water regulations and limits on the copper content in new plumbing fixtures.
How Can You Tell if Your Water Contains Copper?
Low concentrations of copper in drinking water tend to go unnoticed. But signs suggest the level may be rising.
#1 Copper Patina
Copper develops a stunning patina when it's exposed to oxygen, acids, carbon dioxide or sulfur compounds. If pipes or service lines develop blue-green stains near fittings where leaks have once occurred, chances are your water contains at least low levels of copper.
#2 Bitter Taste
Elevated levels of copper can give tap water a bitter or metallic taste. But most people don't notice until copper concentrations approach the EPA limit.
#3 Pinhole Leaks
Acidic water causes pitting corrosion — the formation of holes in metal. One sign of advanced copper corrosion is pinhole leaks in plumbing systems. Hard to find, they allow only tiny drops of water to escape.
Should I Test for Copper in My Water?
The best way to improve your water quality is to control it. City water is routinely tested for copper, but officials only check a handful of water samples within the community. The copper level in your water supply is noted on your annual Consumer Confidence Report, but it doesn't include contamination that occurs after the water leaves the treatment plant. If you have copper pipes, you're at risk.
The same goes for well owners. Copper pipes and plumbing fixtures are common in pre-1981 construction. And well pumps over 10 years old could have brass fittings that contain copper. The Environmental Protection Agency already recommends annual well testing for pH, nitrates, coliform bacteria and total dissolved solids, so if you have copper in your plumbing system or any of the numerous symptoms of copper poisoning, tack on a copper test.
Water testing is simple. Send a sample to a certified laboratory or purchase a home water test kit online – see our best water testing kits here.. Test strips are inexpensive and easy to use — dip the test strip in a sample of water and compare the result to a color chart. The results, however, are somewhat less accurate than laboratory water testing.
If it's been a year since your tap water has been analyzed, comprehensive testing is a sound investment. In addition to a copper test, check your water's pH, alkalinity, and mineral content since these factors can cause copper corrosion. We recommend SimpleLab's Tap Score test kit. Affordable, it's a breeze to use. and test results come with water filter recommendations.
How to Reduce Exposure to Copper
Dissolved copper from plumbing corrosion can accumulate overnight when water isn't used. Running taps for 1-2 minutes in the morning reduces excess copper.
And because hot water dissolves more copper than cold water, drinking and cooking with only cold water reduces copper intake. The World Health Organization recommends switching to bottled water for making baby formula.
Bottled water, however, is the most expensive solution to high copper levels. Long-term, a filtration system is better for your wallet and the environment. Filtered water costs a fraction of bottle brands, and it may have fewer toxic substances. Let's explore the most effective filters for removing copper.
How To Remove Copper from Water
Short of buying bottled water or replacing copper piping, installing a home filtration system is the best solution to high copper levels in drinking water.
There are two types of filters — point-of-entry (POE), or whole-house water filters that are plumbed into your main water line and point-of-use (POU) filters that treat small volumes of water for drinking and cooking purposes.
POE filters, such as ion exchange units, remove copper from your incoming water supply but not from your home's pipes. POU filters, such as reverse osmosis systems or (RO System for short), won't take the copper out of your shower water, but they're ideal for purifying drinking water.
Among point-of-entry filters, ion exchange systems such as water softeners, remove most excess copper. Whole-home activated carbon or KDF 55 filters are also a good choice if the source of copper is your water supply and not copper pipes.
But the most effective filtration method for copper in drinking water is reverse osmosis. An RO filter can remove 97-percent of copper plus other metals, dissolved solids and chemical contaminants. If good health is your goal, reverse osmosis is the solution. Systems start at $200.
If you're on a budget, a cheaper alternative is a carbon filtration pitcher or faucet filter. Long-term, they're costly to maintain, but they're more affordable upfront. If you have $35, you can get rid of copper in your drinking water today.
It's also worth mentioning that copper in bathwater strips hair color. Adding a carbon or KDF showerhead filter could save you hundreds at the salon.
As with all water filtration systems, we suggest purchasing only NSF-certified products. Independently tested, they perform as promised.
Final Thoughts
Copper is rarely mentioned as a substance of concern. It's not as common as chemical contaminants or as dangerous as lead. But copper exposure can have devastating health effects and shouldn't be ignored. Appreciate it in your artwork but not in your drinking water.