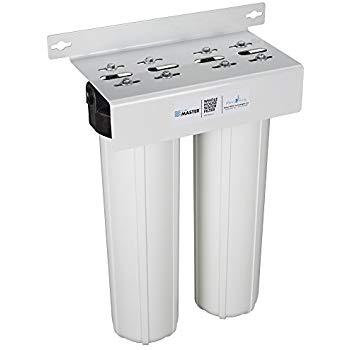 City water is chemically treated to make it safe to drink but at the expense of taste. In most areas, chlorine is the culprit. In others, a popular secondary disinfectant — chloramine — may be to blame.
Chloramine isn't new — it's been used for almost a decade in water treatment facilities throughout the country. But despite its benefits, it comes with warnings. Natural rubber products like toilet flapper valves will deteriorate faster when exposed to chloramine, and it's not safe for use in aquariums. Worse, it can cause corrosion in pipes over time, leading to dangerously high levels of lead and copper in your drinking water.
The good news is that if chloramine is a problem, the best water filter can be the solution. The Home Master HMF2SMGCC Whole House 2-Stage Water Filtration System is one of only a few modestly priced models that reduce chloramine, copper and lead. For homeowners who use chloramine-treated municipal water, here's how it can help.
.
Home Master HMF2SMGCC 2-Stage System

– Best for Tap Water

Some water filters only address taste impurities, but Home Master's two-stage filtration system tackles so much more. Its multi-gradient sediment filter removes suspended particles down to one micron. The special KDF85/catalytic carbon filter eliminates up to 95-percent of both chlorine and chloramine as well as industrial chemicals and heavy metals including lead, copper and mercury.

With a substantial 95,000-gallon capacity, the HMF2SMGCC delivers fresh water to every shower head and faucet in your home without a significant drop in water pressure. Maintenance is minimal — an annual filter change is all it needs under average conditions. It's compact, easy to install with basic plumbing skills, and it arrives at your home fully assembled.

Pros

• Virtually eliminates both chlorine and chloramine
• Advanced filtration media improves overall efficiency
• Low cost to own and operate
• Backed by an industry-leading two-year warranty
• Space-saving design

Cons

• Lower-than-average 10 GPM flow rate
FAQs
Q: Does the HMF2SMGCC remove minerals from water?
      A: No. Calcium, magnesium, and other healthy, taste-enhancing minerals are not impacted. For homeowners with hard water, the HMF2SMGCC can be used with a water softener.
Q: Does it remove fluoride and arsenic?
      A: It reduces modest amounts of fluoride — up to 50-percent. It does not remove arsenic.
Q: Where is this filter manufactured?
      A: Systems are assembled in the United States. Filters are made from carefully sourced global and domestic parts.
My Take
The HMF2SMGCC is constructed of the highest quality materials throughout with two filters that work together for maximum efficiency. Water looks and smells better, and it tastes like it came from a natural spring. Bye-bye bottles.
Short of costly reverse osmosis filters, few whole-home filtration systems effectively remove both chloramine and heavy metals. If improving the taste of water is your goal, other filters can do the job for less, but they don't offer protection from lead. If you have kids in the house — lead can cause irreversible neurological damage, so it's always a concern.
For a few dollars more, this filtration system removes many more contaminants than similar models. It's easy to use, and annual filter changes are stress-free. If you're handy with plumbing, you can install it yourself, or take the day off and let a professional do it for you. You won't be sorry either way. It's a high-quality system at a value price and in my opinion, the best whole house water filter system for the money.
.
Home Masters's

Whole House Water Filter Performance Features

• Contaminants Filtered

eliminates up to 95-percent of these potentially harmful contaminants:
 Chlorine
Chloramine
Rust
Sand
Herbicides
Pesticides
Industrial chemicals
Lead
Copper
Aluminum
Mercury and more
With a one micron rating, it can reduce select pathogens, but it can't eliminate them. This system is ideal for use with municipal water. Use it with a well only if it's been tested and is bacteria-free.
Flow Rate
A filter's flow rate reflects how many gallons of water it can process per minute. It's expressed as a maximum, and it can be less if water quality is particularly poor. The HMF2SMGCC's flow rate is 10 gallons per minutes — more than enough to run a load of laundry and take a shower simultaneously without reducing water pressure. But it's less than similar models because it filters out more contaminants. Most homeowners experience little to no change, but large families should consider their needs before buying.
Micron Rating
A water filter's micron rating reflects the largest size particle it can exclude. For cartridge-style models, a lower rating means it reduces more total contaminants.
The HMF2SMGCC has a micron rating of one. That's small enough to remove most fine sediment but too large to make water biologically safe to drink. Low micron filters like the HMF2SMGCC tend to have slower flow rates because the filtration process takes longer. The trade-off is better contaminant removal.
Service Life
The HMF2SMGCC processes to 95,000 gallons of water before filters need to be replaced. That's a generous supply for four for up to a year. Filtration systems equipped with permanent filters are thrown out once they reach capacity. Units that use replaceable cartridges like the HMF2SMGCC are more convenient, cost-effective and environmentally friendly. Change them as needed for optimal performance and with care, the other system components can last a lifetime.
Design and Installation
Home Master's HMF2SMGCC is dual-stage, whole-home filter consisting of a metal frame and two filter cartridges in food-safe plastic housings. Installed, it weighs less than 40 pounds, and its 9 x 18 x 25-inch size makes it a top choice for small spaces. Allow six inches in all directions for installation and maintenance.
Homeowners with plumbing skills report they can install it in a morning, but as an inline filter, it's integrated into your main water line. Cutting pipe and soldering fittings is part of the job, so consider hiring a professional if you're not comfortable with that.
Help & Support
Home Master is a leading name in water filtration technology, and they stand by their products with service after the sale. Their customer care team is both knowledgeable and responsive, and finding replacement filters and parts is never a hassle. The HMF2SMGCC comes with a two-year warranty — twice that of similar models. Technical support from a water purification specialist is available by phone and via e-mail.
Final Thoughts
Not everyone needs a whole home water filtration system this powerful. But if your chloramine-treated water smells and tastes like it comes from a swimming pool, it solves more than one problem. You'll save thousands in bottled water costs over the life of the filter while being kinder to the environment. And if lead is leaching from your pipes, you'll know that it won't end up in your cup. Safe water is something you deserve — have it with Home Master's HMF2SMGCC.
.