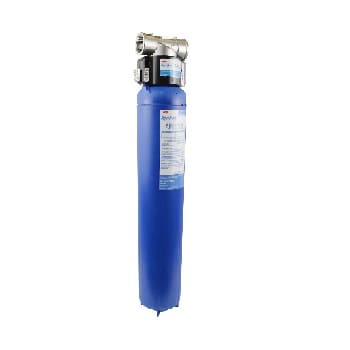 Your body likes mineral water, but your pipes and appliances don't. Over time, too many minerals lead to limescale — deposits of calcium that can clog plumbing and damage your appliances. Traditionally, the solution to hard water problems has been to install a water softener. But salt-based softeners are expensive and require continuous maintenance — and they offer no filtration benefits beyond mineral reduction. Is there an easier, more cost-effective approach? There is!
If your water has both taste impurities and high levels of minerals, the answer could be the Aqua-Pure AP904 Whole House Water Filtration System. Made by the water treatment experts at 3M, its advanced advanced carbon filtration reduces chemical contaminants. Plus, it's equipped with a salt-free, polyphosphate-based mineral control system that prevents the build up of minerals in pipes. Here's a closer look at it's features and how it can work for you.
.
3M Aqua-Pure

  — Best Inline Whole House Water Filter

The Aqua-Pure AP904 is a whole house water filtration system. Installed at the point of entry, it treats every gallon entering your home and improves water quality at every tap. It traps particles down to five microns — one-tenth the width of a human hair — effectively reducing sediment and eliminating most chemical tastes and odors. The scale inhibition system keeps minerals suspended in water, so they don't collect in fixtures.

The unit is made of a durable stainless steel head and one replaceable activated charcoal filter. It has a 100,000-gallon capacity, so the cartridge is replaced just once a year. Changes are sanitary and tool-free, and a handy countdown timer is included. Install it yourself or hire a plumber. The AP904 is an all-in-one solution to a complex problem, and it's an excellent overall value and considered the best water filter system on today's market.

Pros

• Robust flow rate with negligible impact on water pressure
• Mineral inhibition system reduces scale buildup in plumbing and appliances without salt
• Requires minimal maintenance
• Quick, tool-free filter changes
• Lightweight, low profile design fits in tight spaces

Cons

• Scale inhibition system is not as effective as a softener for unusually hard water
Top Aqua-pure 3M Water Filter Q & A
Q: Is the filter challenging to change?
      A: Not at all! Filter changes are tool-less and among the easiest in the industry. Just a quarter-turn is all it takes. No hand contact with messy used cartridges is required.
Q: How is the scale inhibition feature different from a water softener?
      A: Water softeners use salt and resin beads to trap minerals in water and flush them away. The AP904 doesn't remove minerals. It uses polyphosphate in small quantities to bind hardness minerals, preventing them from sticking to metal surfaces.
Q: Can the average homeowner install the AP904?
      A: Yes, but because it's an inline filter that connects to your main water line, cutting pipe is required. The system is otherwise easy to install with a few household tools. For a professional plumber, it's a cinch.
My Take
The best words to describe this filter are "rugged simplicity." The head is made of corrosion-resistant stainless steel while the heavy-duty housing feels thick and durable. Installation is straightforward, and it's nearly maintenance-free. You get both filtration and softener-like capability from a single 100,000-gallon cartridge.
The AP904 is not a water softener. For very hard water, the scale inhibition system may not stop all mineral buildup and staining. And if you have exceptionally heavy sediment, it can clog the carbon cartridge prematurely if you don't install a prefilter to remove large particles. For most circumstances in between, the AP904 protects appliances and produces clean, crisp water for a fraction of the price of a filter and softener installed separately. It's a win-win.

.
Aqua Pure 3M

Filter Performance Features

Contaminants Filtered

The Aqua-Pure AP904 reduces undissolved solids such as rust and dirt down to five microns. It removes up to 90-percent of residual chlorine and other chemicals that impact the look and taste of water. You're going to love drinking tap water again.

Flow Rate

Filtering water takes time, and that can result in lower pressure at the tap. To meet the needs of a medium-sized household, flow rate — measured in gallons per minute — should be enough to handle several applications at once. If taking a shower and filling a coffee maker at the kitchen sink each takes 3 gallons per minute, the AP904's vigorous 10–20 gallon per minute flow rate should be plenty to meet everyone's needs.

Micron Rating

Pores — measured in microns — determine the largest size particle that can pass through a water filter. Filters with micron ratings of less than five remove more contaminants including bacteria, but the flow rate is slower, and cartridges can clog quickly. Unless you have well water and need the extra filtration capability, this type of filter may not offer the brisk flow you need for water-hungry applications.

Large micron filters, however, don't make water potable because they don't capture harmful microorganism, but they do allow a vigorous flow. The AP904 is a happy medium. It removes particles down to five microns, so it's best to use with biologically safe water. But no one will have to wait for their fair share when they need it.

Scale Inhibition System

Minerals in water are beneficial for the body, but they can wreak havoc on your clothing, dishes and bathroom fixtures. Worse, they can buildup over time — clinging to pipes and reducing vital water flow to washing machines, ice makers and dishwashers. If enough water backs up, it can ruin expensive appliances like water heaters permanently — costing you money. Unlike a water softener, the AP904's scale inhibition system doesn't remove healthy minerals, and it uses no salt. It prevents most limescale by preventing minerals from sticking to metal pipes. In ecologically sensitive areas where salt-based softeners are not allowed, the AP904 is the perfect alternative.

Life Span

The AP904's steel head and sturdy housing could last forever if the cartridge is changed as recommended. Because replacement filters are a significant part of the long-term cost of maintaining a water filter, it's essential to consider how much they cost and how often they need to be changed when buying. With a low up-front price and only one cartridge to replace annually, the Aqua-Pure has one of the lowest long-term costs of ownership in its class.

Design and Installation

Even a small water softener can take up to 16 square feet of floor space. The AP904 uses less than twelve square inches — an ideal footprint for small areas. With the necessary plumbing skills, homeowners can install it in a few hours. For a pro, it's a quick and inexpensive job.
Help & Support
The AP904 is covered by a comprehensive warranty for a worry-free purchase. The steel head is guaranteed for 25 years, and the rest of the unit is covered for twelve months. 3M has been around since 1902, and they've been producing innovative home water filters for decades. Their customer service team is knowledgeable and responsive, and technical support is available weekdays by phone or online chat. Replacement parts are readily available and affordably priced.
Final Thoughts
Solving water quality issues in your home is a simple problem that deserves a painless solution. Protect your appliances and drink better-tasting water now with a single turn-key system — Aqua-Pure's AP904.
.