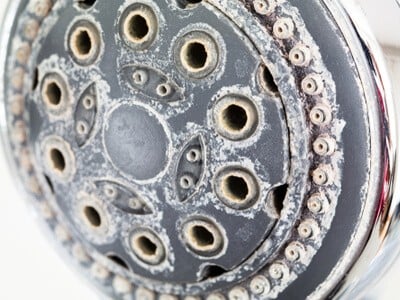 Few products are as intimidating to first-time buyers as water softeners. Deciphering the terminology and making sense of advertising claims is no small challenge.
A water softener is an investment, so you want to spend your money wisely, and we're here to help with a closer look at one premium model made by the appliance experts at GE.
Built for today's smart home — the GXSHC40N 40,000 Grain SMART softener can handle the hardest water and is packed with features we know you'll love. Let's explore what makes it a top pick.
GE SMART

40,000 Grain Water Softener Review
Engineered for busy lifestyles, GE's 40,000-grain SMART softener gives you maximum control over softening levels. Ideal for families of four or more, it removes a maximum of 125 grains of hardness and 8 ppm of iron — you decide how much using GE's exclusive custom blending valve.
Perfect for both city and well water, it's NSF certified, user-friendly and a breeze to maintain. Features include a low-salt reminder and SmartSoft technology that monitors water usage. It regenerates only on demand, saving salt and lowering your utility bills.
Real-time alerts notify you via app if there's a leak in the system, or the kids left a faucet running — you can turn it off from anywhere.
How's that for safety? Competitively priced and backed by 1-year warranty, the GXSHC40N is the advanced solution to your hard water problems and it's why we have it ranked in our top recommend list here.
.
Pros
Cons

Customizable softness
Days-to-empty salt reminder
Remote shut-off
Salt-saving on-demand regeneration
Self-cleaning sediment filter protects resin

Short warranty
Higher initial price than similar models
Top GE Smart

Water softener Q&A

#1 Are GE water softeners any good?

A: GE water softeners are NSF certified and meet the highest industry standards. Founded in 1892, the company supports a full range of replacement parts and has a proven reliability record. In 2020, they won the IoT Breakthrough award for appliance innovations incorporating Wi-Fi technology.

#2 What does "40,000 grain water softener" mean?

A: Hardness is measured in grains per gallon. The 40,000-gallon designation reflects how many grains a water softener can remove between regeneration cycles. The GXSHC40N is perfect for large homes with multiple bathrooms and serves six or more people.

#3 Who manufactures GE water softeners?

A: GE water softeners are made by GE Appliances, a Kentucky-based subsidiary of the Haier Group.
My Take
Some water softeners are smart, but the GXSHC40N is brilliant. From customizable settings to remote control, it offers convenience and safety features other models lack. The low-salt indicator light reminds you days in advance when a refill is due, eliminating last minute trips to the big-box store.And if you spend a lot of time away, having remote control means you never have to worry about overflows damaging your home. You'll pay a little extra for the added security, but you get what you pay for — the GE GXSHC40N is a bargain for the price.
.
GE Smart GXSHC40N In-depth Features
All salt-based water softeners use similar technology — it's their features that determine how good a fit they'll be for your home. Let's see how GE's GXSHC40N stacks up.
Contaminants Filtered
The GXSHC40N removes hard water minerals including:
Calcium
Magnesium
Iron up to 8 ppm
It also has a self-cleaning sediment screen that removes large particles of dirt and rust. Reducing fine sediment requires a separate pre-filter.
GE Smart Water Softener

Performance Features
Flow rate
A softener's flow rate determines how fast water pours from the tap. It's not unusual for lesser models to reduce water pressure, but who wants to lose flow in the shower if the kids get a drink from the kitchen faucet.
The average water softener has a reasonable 6–7 GPM flow rate — enough to keep pressure steady when two taps are open. But GE engineered the GXSHC40N with a 9.5 GPM flow rate, so you'll never run out of soft water.
Regeneration Efficiency
A water softener uses salt to regenerate resin, but models that run on preset schedules are inefficient — no family uses the same amount of water every week. If the system regenerates too early, it will waste pounds of salt — too late, and your water won't be as soft as it should.
GE's on-demand salt-saving technology monitors how much water you use and regenerates only as needed. You'll spend less time maintaining the system while saving on salt and utilities.
Certifications
The National Sanitation Foundation (NSF) creates voluntary standards for water softeners with the help of industry experts. Manufacturers choosing to participate fund independent testing to show their products perform as claimed.
Fees are significant and one way that better manufacturers demonstrate their commitment to quality. Consumers can be confident they're getting what they pay for when purchasing an NSF certified GE water softener.
Safety Features
Water softeners aren't complicated, but like any equipment, parts wear out and eventually fail. But overflows can cause significant damage from soaked carpets to ruined sub-floors, just to name a few.
GE's solved this problem with a remote control app that warns you if something goes wrong so you can shut the system down from anywhere. It's compatible with Android and iPhone operating systems — all you need is home Wi-Fi, and you're connected.
Design
The GXSHC40N is a two-tank system contained in a single attractive cabinet. It has a space-saving 22- by 14-inch footprint and measures just under 48 inches from the top of the control panel to the floor. The salt reservoir is a comfortable height at 39 inches, and the front is angled to make pouring easier. The digital display is uncluttered, and functions are smartly labeled.
GE softeners are easy to install with a few basic plumbing skills — instructions are clearly written, and technical support is available by phone. Everything required for set-up is in the kit, including quick-fit connectors for a 3/4-inch water line. Pipes up to 1-1/4 inches are no problem with additional fittings.
Help & Support
GE backs the GXSHC40N with a tiered warranty — one year on parts and labor for the entire system, three years on the electronics and ten years on the tank.
A well-established company, GE's knowledgeable customer care team is ready to answer water softening questions and assist with installation.
Final Thoughts
Technology becomes obsolete in the blink of an eye. So whether you're buying your first water softener or considering an upgrade, purchasing an advanced model at today's prices makes financial sense. GE's GXSHC40N will add value to your home and keep pace with your changing needs.
.