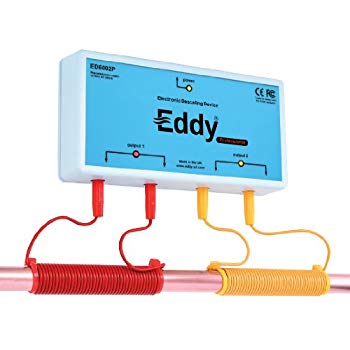 Salt-based water softeners have long been the gold standard for removing minerals from hard water. Their ion-exchange process reduces the calcium and magnesium responsible for limescale. Appliances run more efficiently, and bathroom fixtures stay clean.
But salt-based softeners aren't for everyone. They're costly, and they take significant space to install. Maintenance requires lifting heavy bags of salt, and in some areas, salt-based softeners are restricted because of their impact on the environment. So, if you're struggling with hard water, is there an alternative?
Yes, there is! It's the Eddy Electronic Descaler. Utilizing only electromagnetic waves, it has a similar effect to a water softener, but at a fraction of the cost. It takes virtually no space, requires no maintenance, and it's eco-friendly. Let's take a closer look at how the technology works and what Eddy's water softener alternative can do for you.
.
Eddy Electronic Water Descaler

and Water Softener Alternative

The Eddy Electronic Water Descaler is an advanced water softener alternative that uses zero salt. Instead, two small coils of wire wrapped around your home's water supply line create a magnetic wave that changes how minerals behave in fluid. The chemical composition of your water doesn't change. Unlike salt-based softeners that remove calcium and magnesium, the Eddy Electronic Descaler suspends them, so they don't stick to pipes. Your body benefits, but your plumbing and appliances breathe a sigh of relief.

Any homeowner can install it in a matter of minutes. It's designed for use with all types of metal and PVC pipes except those made of iron or lead — and it treats every drop of water that flows through your home. Power usage is minimal — the standard 110-volt electrical supply is all you need. You'll enjoy a one-year satisfaction guarantee, and if it ever fails, Eddy will repair or replace it for free — yes, free.
Top Eddy Electronic Water Descaler & Softener
Q & A
Q: Does the Eddy affect water pressure?
      A: It has absolutely no effect on pressure. Enjoy your brisk shower!
Q: Can it be installed outdoors?
      A: No, it's electronic and not waterproof, so it should be used only indoors.
Q: How many grains of hardness is the system designed to treat?
      A: It's most effective for levels up to 20 grains per gallon.
.
Best Electronic Descaler & Softener
Performance Features
Hard water affects nearly home in America, and its effects can be costly. Excesses of calcium and magnesium form limescale that accumulates in pipes. Over time, the flow of water to appliances like dishwashers and water heaters reduced, compromising their performance. They compensate by running harder than they have to, and the next thing you know — there's a repair bill to pay.
Does an electronic descaler work as well as a salt-based water softener? Yes and no. The system has limitations, but it also has benefits. It's a trade-off, but one that is well-suited to a surprisingly large number of homes. Let's examine its features.
Softening Capability
Removing calcium and magnesium from hard water requires a conventional salt-based softener. Because the Eddy doesn't reduce minerals, it's best referred to as a water conditioner or descaler. The technology is proven, but skeptics don't agree — and they have a point.
For homes plagued with hard minerals above 20 grains per gallon, a descaler is unlikely to be as effective as a softener — yet, most homeowners report a significant reduction in limescale. It's not as complete a solution as a salt-based softener, but for most homes, it can effectively control limescale without the hassles of maintenance or breaking the bank. Wrap the coils around your pipes, plug it in and forget about it.
Benefits and Limitations
Compared to a traditional water softener, the Eddy has several distinct benefits:
• The initial price is up to 75-percent less than a softener.
• There are no costs associated with buying salt or discharging wastewater.
• It uses less electricity than a softener.
• Homeowner installation is a cinch.
• It fits in less than 28-square inches of space.
• No salt in the system means no salt in your water if you're on a sodium-restricted diet.
• Healthy calcium and magnesium are retained.
• Soft water feels slick; conditioned water feels more natural.
• Users with physical challenges can use it — there are no hefty bags of salt to lift.
• And it's welcomed in areas where salt-based softeners are restricted because of their environmental impact.
Limitations include:
• It can't be used on lead or iron pipes because they interfere with the electromagnetic waves.
• Because mineral are not removed, there's less effect on hard water issues that impact skin, hair and clothes.
It's also worth noting two things here. First, contrary to information presented in other reviews, electronic descalers like the Eddy do not remove iron. Iron can interfere with their performance. If a water test shows your levels are high, an inexpensive iron prefilter can help.
Second, descalers do not remove minerals; therefore they don't affect the percentage of dissolved solids in your water. TDS (Total Dissolved Solids) meter readings should not be used to evaluate the performance of this system.
Help & Support
There are other electronic descalers on the market, but no one backs their products as enthusiastically as Eddy. Each unit comes with a no-quibble money-back guarantee for a full year, plus a lifetime repair or replacement guarantee. Eddy is UK-based, but their US customer support agents are product experts. Installation is so easy, it's not likely you'll need much technical support, but if you do, it's first-rate.
My Take
Cynics say there's little scientific evidence to suggest descalers work. That's technically true. But while the actual devices lack testing, they're based on sound scientific principles that have been both analyzed and proven. That's good enough for me.
Homeowners who expect performance similar to salt-based water softeners may be disappointed a little, but for me, the benefits far outweigh the sacrifices. The Eddy Electronic Descaler is affordable, maintenance-free, gentle on the environment and even easier on my bad back. And the manufacturer is so convinced it will work that it backs it without reservation. I wish my car's maker had that much confidence! If you're ready to try a descaler, the Eddy is my pick.
Final Thoughts
If you're struggling with hard water, but remain reluctant to commit to a water softener, consider the Eddy alternative. The worst that could happen is that you won't be delighted, and you'll get your money back. Take the chance — you won't be sorry.
.