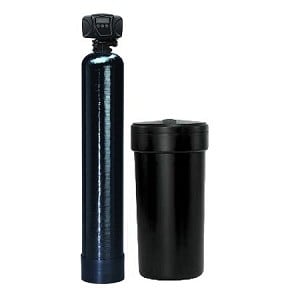 Conventional water softeners do an excellent job of treating hard water. They effectively reduce the calcium and magnesium responsible for limescale buildup in your pipes. And they help you enjoy softer skin, brighter clothes and sparkling clean dishes. But they have an Achilles heel — iron.
High levels of iron can irreversibly damage the typical 8-percent cation resin used in most water softeners. So if you've done a water test and gotten some bad news, what can you do? The answer is AFWFilter's 48,000-grain water softener made with upgraded resin that can handle twice as much iron than conventional models.
.
AFWFilters

WS48-56sxt10 Fleck 48,000-Grain Water Softener

AFWFilter's 48,000-grain water softener is made of parts sourced from the top names in the water softening business — Fleck and Pentair. It's a complete system consisting of a corrosion-resistant polyglass tank, a durable brine tank and a Fleck WS48-56sxt10 control head — one of the most advanced on the market. The backlit user interface is a breeze to use, and unlike lesser digital heads, an internal power back up protects your settings for 48 hours in the event of a power outage.

The resin tank comes preloaded with 1.5 cubic feet of top-quality ten-percent crosslink resin to tackle tough iron problems. The brine tank holds double of salt of similar models for lower maintenance, and it contains a safety float that prevents overfilling in the event of a rare malfunction. It's thoughtfully engineered, competitively priced and back by a comprehensive warranty.

Pros

• Proven Fleck WS48-56sxt10 control head with automatic bypass valve
• No iron prefilter required
• High-capacity brine tank requires less maintenance
• Overflow system protects floors from accidental spills
• 100-percent polyglass tank offers superior corrosion resistance

Cons

• Installation instructions need polishing
Top Flex Water Softener
FAQs
Q: Does this system have a low-salt indicator?
A: No. Check the tank once a week and replenish salt when there are less than 3 inches left.
Q: How many parts per million of iron can this system reliably handle?
A: Up to 4ppm
Q: What's the warranty?
A: Ten years on the tank, five years on the control valve
My Take
It's tough for consumers who are familiar with water softeners to judge the quality of systems assembled under an unfamiliar vendor's label. But make no mistake, this system is Fleck and Pentair all the way.
It monitors water use and regenerates the tank automatically as needed without disruption to your water supply. Just set it and forget it. The ten-percent crosslink resin handles most iron without a prefilter, and the huge-capacity brine tank means you'll need to refill it with salt less often. High-end convenience features like the overflow control system and internal backup power aren't a must to get beautifully soft water. But as part of a system in which quality components rule, they're icing on the cake.
Remarkably, this softener costs only a few dollars more than other comparable water softeners with half these features — and installation is DIY-friendly. If you're looking for a great value, buy it — it's like getting a Cadillac for the price of a Ford.
.
Performance Features
When shopping for a water softener, it's essential to choose a model with the performance features that best fit your lifestyle. Here's what the WS48-56sxt10 offers.
Capacity
Water's hardness is measured in grains. When the resin in a water softener has captured as many hard minerals as it can — known as grain capacity — it stops softening until the system regenerates. Choose a softener that's too small, and it will need to regenerate too often to be efficient. Use one that's too large, and it may not soften properly. To treat average hardness, AFWFilters' WS48-56sxt10 48,000-grain capacity should be more than enough for a family of four.
Flow Rate
A water softener's flow rate reflects the maximum number of gallons it can process in a minute, but it's less a reflection of its softening capability as it is a measure of whether it can produce soft water fast enough to meet your family's needs. Unlike water filters, there is less variability in flow rates among softeners. And they're less likely to impact your water pressure, so there's no need to oversize. This model has a flow rate of 12 gallons per minutes — enough to meet average water usage needs for four.
Resin
Most water softeners come equipped with 8-percent resin. But for water with high iron, upgraded ten-percent crosslink resin is necessary unless you opt to install an additional iron prefilter. Ten-percent crosslink doesn't soften any better than 8-percent resin, but it lasts a little longer. It's somewhat more expensive, but its capabilities offset its costs in the long run.
Footprint
Water softeners are installed near your home's main water line. Access to a power outlet and a drain is a must. Plan to leave at least ten feet of pipe between a softener and your water heater — it prevents damage to the heater in the event the softener malfunctions, and backflow of water occurs.
This system is a little larger than most with a total footprint of about four square feet. How much space it uses depends in part on the configuration of your plumbing and where you plan to install it. Be sure to leave yourself enough room to move around the system to add salt and perform maintenance. Measure carefully before purchasing.
Regeneration Control
Older water softeners that regenerate at timed intervals whether they need it or not waste salt. This system monitors your water usage and recharges only when necessary. It's called meter-based regeneration, and it saves you both money and time.
It also features an automatic bypass valve that allows the system to regenerate without turning off water to your taps. The water you get during this time won't be soft, but on average, it's only for an hour or two once a week.
Design and Installation
For your convenience, this water softener includes everything required for installation including lubricant, a sanitizer pack and a complimentary bottle of hardness test strips. Instructions come on a USB drive, but a print manual is available on the AFWFilter website.
Most homeowners can install it with basic plumbing skills, but check local building codes and ask about necessary permits before you do. Salt-based water softeners are regulated in some areas. AFWFilters recommends professional installation for optimal performance.
Help & Support
For long-term peace of mind, the polyglass tank is warrantied for ten full years, and the control valve is covered for five. In testing, the valve was shown to run flawlessly for up to 27 years!
The AFWFilter website features troubleshooting instructions and comprehensive how-to videos. Technical support is responsive and available weekdays by phone or via e-mail.
Final Thoughts
If hard minerals are staining your bathroom fixtures, ruining your appliances or making your whites look battleship gray, there's no need to delay installing a water softener — even if you have high levels of iron. Enjoy the benefits of softer water throughout your home with AFWFilters worry-free WS48-56sxt10 Fleck 48,000-Grain Water Softener.
.