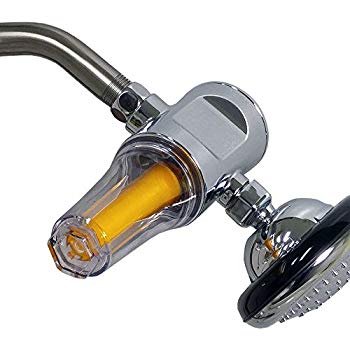 Most municipalities in the US rely on chlorine to sanitize water. But the use of chloramine — a combination of chlorine and ammonia — as a secondary disinfectant is growing. It's less expensive and more stable than chlorine, and it contributes to water's biological safety. But it also has a distinct odor that's unpleasant to shower with, and there are concerns about its potential health effects.
For homes with chlorine in their water, using a shower head filter is the most affordable solution. But for the one in five American households affected by chloramine, it's not so simple. The conventional carbon filters that make quick work of chlorine are proving to be less effective against chloramine than once thought. And whole home reverse osmosis systems can cost thousands. Is there a better option?
There is! It's a unique Vitamin C filter made by Sonaki. It eliminates most chlorine, and it's perhaps the best Vitamin C shower filter on the market for neutralizing chloramine. Water smells pure, and it's gentle on your hair. Plus it can firm and soften your skin. Get ready to love showering again!
.
Vitamin C Filter

Inline Shower Assembly by Sonaki

Vitamin C seems like an unusual solution to the problem of chloramine, but it works. Install this filter behind your existing shower head and get up to a 99.9-percent reduction in chlorine and chloramine with spa-like benefits for your skin and hair. Made of durable, high-density resin with an attractive chrome finish, it comes with a set of three all-natural, food-grade Vitamin C filters that treat up to 2000 gallons of water each.

Installation is straightforward, and the filter doesn't change the height of your shower head. No special tools are required — a small filter wrench comes with the kit. Finally, you can enjoy relief from eye and skin irritation caused by both chlorine and chloramine. If it doesn't work for you, return and it within 30 days for your money back.

Pros

• Uses only all-natural, food-grade Vitamin C
• Superior chlorine and chloramine removal
• Transparent filter housing for easy maintenance
• Neutral finish matches any décor
• Preserves hair color and may improve the firmness and texture of skin

Cons

• Low total capacity compared to similar models

Top FAQ's

Q: Does this filter lower water pressure?
A: Most filters can, but users report little to no impact.

Q: Does it work with handheld shower head?
A: Yes. It works with the head of your choice.

Q: Does this filter remove water-soluble heavy metals like lead?
A: No, this model is strictly for removing chlorine and chloramine.
Is this The Best Vitamin C Shower Filter — My Take:
This is a simple Vitamin C filter designed to reduce residual disinfectants in water, so your shower doesn't smell like a swimming pool. If you're sensitive to chlorine, that means no more red-eye. And it's a treat for your skin and hair — alleviating dryness, preserving color and using the antioxidant power of Vitamin C to enhance skin tone.
It doesn't remove sediment, heavy metals, fluoride or any other potentially worrisome contaminants. But it's among the most effective at eliminating chloramine, so that alone makes it worth purchase price. Does it perform as expected? Most users report impressive results.
A few are disappointed with filter life. The kit comes with three 2000-gallon cartridges, for a total capacity of 6000 gallons — that's a fraction of similar models without a corresponding decrease in price. Still, it's durable, easy to use, and cartridges are made of all-natural ingredients that are gentle on the body and the environment. Reuse the housing indefinitely.
Is it the best shower filter? Probably not if you're looking for a model that can remove a broad range of contaminants. Is it the best Vitamin C shower filter? If the sound of a spa-quality shower every day is music to your ears, it could be.

Sonaki Shower Filter

Performance Features

Contaminants Removed

No single shower head filter addresses every possible water quality problem. Each model has advantages and disadvantages. Is the Sonaki the best shower filter for your home? Compared to similar filters, it removes far fewer contaminants. If your water has potentially dangerous toxins in it like lead, consider other models.

But if your problem is related specifically to disinfectants, there are few better options. The Sonaki reliably removes up to 99.9-percent of both chlorine and chloramine.
Capacity
The term "capacity" refers to the maximum number of gallons a shower head filter can effectively treat before it needs replacement. The Sonaki's exterior housing can last a lifetime, but individual cartridges filter only 2000 gallons each at most. With an average of two showers per day, expect to burn through a cartridge once per month. The complete kit is pricey because you're paying for the whole unit plus three filters, but cartridge replacement multi-packs are affordably priced.
Flow Rate
Since 1994, federal law has limited shower head filters to a maximum flow rate of 2.5 gallons per minute. States impacted by drought have reduced that to as little as 1.8 gallons.
The Sonaki allows up to 2.5 gallons per minute, but when installed with a low-flow shower head, you'll only get as many per gallons per minute as the head allows. However, unlike filters with granular media that can clog and tamp down water pressure, the Sonaki has little to no impact on flow rate.
Installation
Installing the Sonaki is a simple three-step process. Remove your existing shower head and screw the filter in its place. Wrapping the threads with Teflon tape is recommended to prevent leaks. Reinstall the shower head, and then use the included filter wench to tighten see-through plastic housing that holds the filter.
Changing the filter is as easy as using the wrench to remove the housing. Since the filter media is consumed as you shower, there are no messy cartridges to remove. Just pop the new filter in, replace the housing, and you're ready for your next shower. It's quick and environmentally-friendly.
Help & Support
Sonaki is a leading global producer of Vitamin C shower head filters. Write to them at their offices in Austin, Texas, or call or e-mail with questions or for technical support.
Final Thoughts
Few water filter makers have a fan base like Sonaki. Try their Vitamin C shower head filter and find out why.
.