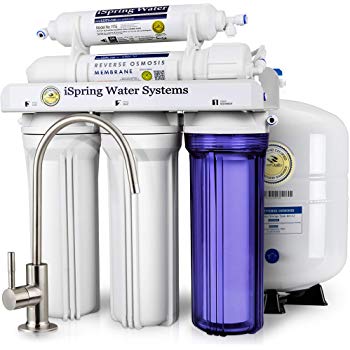 City water may not taste great, but it's chemically-treated for disease-causing pathogens, so you know it's safe to drink. Well water has additional challenges. There is no safety net. The only thing that stands between you and contaminants are the ground it's filtered through — and that contain any number of chemicals, heavy metals and other pollutants including bacteria. How can you be confident your water is as clean as it should be? With the iSpring Deluxe 7-Stage Reverse Osmosis Drinking Water Filtration System with Alkaline Remineralization and UV Sterilizer.
In addition to multi-stage filtration, it takes water purification a step further than similar models with a UV light that kills bacteria, viruses and parasites. It also raises the pH of water, giving you the health benefits of alkalinity.
Forget the bottled water! If you're ready to celebrate tap water again, here's how the top-quality iSpring filtration system can help.
iSpring Deluxe 7-Stage

Reverse Osmosis Drinking Water Filtration System

The iSpring undersink water filter is perfect for anyone, but it's ideal for well owners. It's compact and fits under your kitchen sink. Seven stages of filtration reliably remove up to 99-percent of more of a 1,000 contaminants including heavy metals, chemicals and fluoride. And the UV-light kills tiny pathogens that can slip through even the best reverse osmosis membrane.

This system creates plenty of drinking water for a large family — up to 75 gallons per day. Patented remineralization technology returns the beneficial minerals to water that filtration removes. Enjoy alkaline water for pennies versus bottled and keep plastic waste out of the environment.

DIY installation is painless. The system has no moving parts and is virtually maintenance-free. Kits come complete with a lead-free dispensing faucet, storage tank and filter set. iSpring, a leader in water filtration technology, backs this filter with a one-year warranty and offers free lifetime technical support.

Pros

• Reduces more than 1000 potentially harmful contaminants including lead
• Stress-free installation and maintenance
• Low-cost replacement filters
• Sensor turns UV-bulb off when not in use
• Low 2:1 wastewater ratio

Cons

• Possibly a tight fit for sinks with garbage disposals
• Installation is easy but more challenging than similar models
Top Q & A

on Ispring 7 Stage Reverse Osmosis System:

Q: How often do filters need to be replaced?
A: Stage 1, 2 and 3 prefilters should be changed every six months. The fifth stage carbon filters are changed annually. Replace the RO membrane every 2–3 years and the UV bulb once a year for optimal efficiency.

Q: Are filter changes easy?
A: Absolutely. A quick twist with the included filter wrench is all it takes to remove them. Replace the cartridges, tighten the housings and you're done.

Q: Is it loud when it operates?
A: When the storage tank refills, it make sound equivalent to a running the tap.
My Take
Reverse osmosis systems are the gold standard for water filtration, but they have a reputation for being complicated to install and maintain. It's not true! This system isn't quite as easy to work with as its competitors, and the instructions could be more precise. But DIY installation is well within the ability of the most tech-challenged homeowners like me.
Plastic components are food-grade, and they feel durable. Filter changes are simple, and the replacement schedule isn't overly complicated. High-efficiency, multi-stage filtration tackles both taste impurities and toxins, and the pathogen killing UV- light is the safety net well users need.
iSpring is a fixture in the water filtration market, and I'm comfortable recommending their products knowing they support their customers after the sale. I'd like to see them fine-tune this system to make it just a little more user-friendly. But as a water filter, it's like having a drinking water treatment plant under your sink. You can't go wrong with that.

Ispring Deluxe Reverse Osmosis Performance Features
Homeowners' water filtration needs vary. Is the iSpring Deluxe right for you? Let's take a closer look.
Contaminants Filtered
No water filter can remove every contaminant, but it's important to choose a model that addresses those of most concern to you. The iSpring Deluxe model removes up to 99-percent these and more:
Dirt
Rust
Chlorine
Chloramines
Arsenic
Fluoride
Lead
Asbestos
Hormones
Agricultural chemicals
Nitrates
Industrial solvents
Drug residue
Large bacteria and parasitic cysts are also removed. And the UV-light kills any remaining microorganisms, so you know your water is safe to drink.
Capacity
A water filter's capacity reflects how many gallons it can process between filter changes. For systems with storage tanks like the iSpring, it also refers to the maximum number of gallons it can filter in 24-hours.
RO filters seem sluggish compared to carbon filters because removing high levels of contaminants takes extra time. To compensate, most systems store clean water in storage tanks, so at least a few gallons are accessible at all times. When water is used, more is generated. The iSpring can filter up to 75 gallons per day. Families of seven report a steady supply. Filter replacements are required twice annually, but it could be a little more or less depending on your water quality.
Micron Rating
Reverse osmosis systems remove contaminants by filtering them through microscopic pores. The prefilters in this system capture contaminants like dirt and rust down to two microns. The high-efficiency RO membrane removes contaminants too small for the prefilters to catch.
Good quality prefilters are critical in a system like the iSpring. They not only reduce taste impurities, but they also preserve the life of the delicate RO membrane by removing particles that could clog it prematurely. Since the membrane is the most expensive component in the system to replace, that saves you money in the long run.
Flow Rate
Flow rate tells you how long it takes for water to move through a filtration system. The iSpring Deluxe produces about half a gallon of water per minute. You won't notice a big difference in water pressure at the tap until most of the water in the storage tank is exhausted. Tanks have a capacity of 3.2 gallons, but they only hold 2.5. You can fill two large pasta pots before seeing a change. Tank upgrades in 5.5- and 11-gallon sizes are available.
Design and Installation
iSpring engineered this filter for easy DIY installation with basic household tools. It can be installed anywhere in a few hours, but it's designed to fit under your sink for optimal efficiency. Connecting it to your ice maker or a refrigerator water dispenser is easy with optional fittings.
The brushed nickel dispensing faucet is attractive and lead-free. All plastic components, including the cartridge housings and tubing, are food-grade and free from BPA. The bladder in the storage tank is made of food-grade butyl for safety.
Help and Support
The iSpring Deluxe is covered with a worry-free one-year warranty. Their friendly customer care team is knowledgeable and friendly. Enjoy lifetime technical support.
Final Thoughts
Make your health a priority starting with your water. Try the iSpring Deluxe 7-Stage Reverse Osmosis Drinking Water Filtration System with Alkaline Remineralization and UV Sterilizer and drink confidently from every cup.