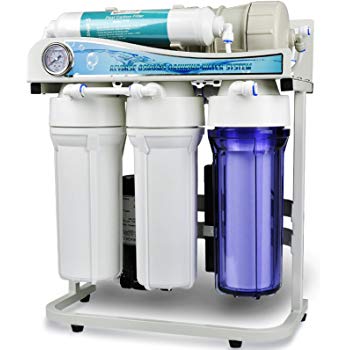 Reverse osmosis water filters make ultra-pure water. They remove many more harmful contaminants than typical carbon-only filters, and they're the only water filtration systems that reliably remove disease-causing pathogens. But for all their capability, they have challenges.
If carbon filters are hares, RO systems are tortoises. Models designed for home use are so slow that they depend on storage tanks to provide water on demand. And their daily maximum production capacity is highly limited.
If you have a large family or need filtered water for your small business, how can you enjoy superior RO filtration without running dry? It's easy with iSpring's RCS5T 500 GPD High Flow Residential and Light Commercial Tankless Reverse Osmosis Water Filter System.
.
iSpring RCS5T 500

GPD High Flow  Tankless Reverse Osmosis Water Filter System

This tankless unit is one of the first of its kind to offer true on-demand RO filtration. The five-stage process begins with a powerful sediment filter that removes large particles like dirt and rust. A second-stage activated carbon filter tames turbidity and unpleasant tastes and odors.

Powered by a booster pump, iSpring's patented dual-flow membrane then removes up to 99-percent of pollutants including herbicides, perfluorinated chemicals, arsenic and lead. All while producing extraordinary volumes of clean water with little impact on water pressure and an unheard of 1:1 wastewater ratio. A final post-carbon filter removes any residual taste impurities.

Designed for DIY installation, you can have it up and running in a few hours without a plumber. Every drop you drink and cook with will be as clean and refreshing as possible. If you own a small business, your customers will notice.

Pros

• 500 gallon per day capacity
• Exceptional 1:1 wastewater ratio
• Superior contaminant reduction
• Integrated pressure gauge
• Whisper-quiet operation

Cons

• The booster pump requires a power source, limiting installation options.
Top Q & A on Ispring Tankless Water Filter System:
Q: Does this system backwash automatically?
A: Yes! To keep the RO membrane clean and working efficiently, it backwashes automatically. There's nothing for you to do.
Q: Can I use this system to filter hot water?
A: iSpring recommends connecting it only to your cold water line. Water above 100 degrees Fahrenheit compromises system efficiency and could damage the filters.
Q: Are filter changes complicated?
A: No! Use the filter wrench included with the kit to twist off the cartridge housings. Change the filters, replace the housings, and you're done. It takes just a few minutes.
My Take
The days of waiting for an undersized RO filter to produce clean water are over. For a few dollars more than systems half it's size, large families can enjoy on-demand filtration and water that tastes like top-tier bottled. The RCS5T is an absolute joy. I can't say this loudly enough — for home use, just do it. There's no better value.
For light commercial applications, it's exceptionally capable, but I suspect you'll have better results if you pair it with an optional storage tank. Many variables affect flow rate and capacity. At home, there's room for error, but for businesses with a thirsty staff and a steady flow of customers, a holding tank guarantees a reserve, plus it's gentler on the filters. Overall, this is a stellar filtration system at a price that's far too good to pass up.
.
iSpring RCS5T RO

Performance Features:

Contaminants Filtered

Contaminants are no match for the RCS5T. It reduces up to 99-percent of these and more:
Dirt
Rust
Silt
Iron
Copper
Chlorine
Sulfur
Arsenic
Lead
Chromium
Fluoride
Pesticides
Industrial chemicals
VOCs
PFOA
Pharmaceuticals
Pathogens
Can this filter alone be used to make water safe to drink? While it can remove the vast majority of bacteria, parasites and viruses, tiny pathogens can occasionally slip through, especially if your water has high levels of silt. Reverse osmosis systems offer the highest level of protection again microorganisms short of chemical treatment, but if biological contamination is a significant concern, add a UV-light for optimal safety.
Capacity
This system has a total capacity of up to 500 gallons per day, however water quality and system maintenance impact results. High contaminant levels, for example, means the system has to work harder, so you can expect fewer gallons per day. And as individual filters reach their capacity, production may slow until they're replaced. At 500 gallons, the size is so large that even a large family is unlikely to notice minor variations. For commercial applications, adding an optimal storage tank offers reserve capacity.
Micron Rating
The RCS5T's sediment prefilter removes debris down to five microns. The semi-permeable RO membrane is capable of removing contaminants down to 0.0001 microns. Reverse osmosis technology is the same used to filter bottled water, so you can be sure that claims are accurate.
Flow Rate
Most water filters reduce water pressure to some degree. With conventional RO systems, flow rate can be slow. Because the RCS5T is tankless, it takes a few seconds for pressure to build up at the tap, but once water is moving, it's brisk.
Be aware that temperature affects the flow rate with this system. It's designed to work with water between 40 and 70 degrees Fahrenheit, but the optimal flow is at 77 degrees. For each degree water temperature decreases, expect a 3-percent reduction in flow rate. Similarly, when water temperature rises a degree, flow increases.
Design and Installation
The RCS5T can be wall-mounted, but it comes with a free-standing metal frame. At 15 x 8 x 18 inches, it tucks in neatly under a standard kitchen cabinet. Or install it anywhere you need filtered water as long as it's within reach of a power supply.
Kits come complete with everything needed for installation including the frame, cartridge set, hardware and printed instructions. Plastic components are BPA-free. A lead-free dispensing faucet with a chrome finish comes with each filter. The angled spout is handy for filling pots of water at the sink. DIY is a breeze for even the least tech-savvy homeowner.
Help and Support
iSpring is a leader in water filtration technology, and they back the RCS5T with a 30-day satisfaction guarantee, a one-year warranty and free lifetime technical support. Whether you need a hand with installation or assistance finding replacement parts, their friendly customer support team is just a phone call away.
Final Thoughts
If you need a better a solution to bad water than buying high-priced bottles, consider the iSpring RCS5T 500 GPD High Flow Residential and Light Commercial Tankless Reverse Osmosis Water Filter System. Whether it's for your home or small business, it has you covered.
.