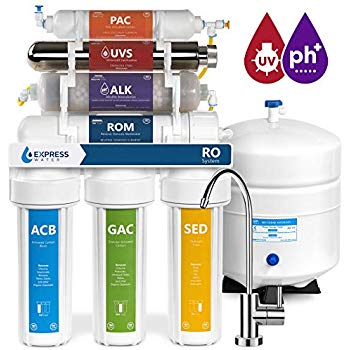 If the human body is up to 60-percent water, and your water contains potentially harmful contaminants, what does that mean for your health? The water you drink should be pure, but in too many cases, it's a witch's brew of toxic substances that have no place in your home.
You could resort to bottled water — but that's expensive, it uses valuable storage space, and it's unfriendly to an already fragile environment. What can you do? Consider installing a high-efficiency water filtration system.
Undersink reverse osmosis filters are easy to use, a breeze to install, and they give you gallons of the highest water quality on Earth for a fraction of the cost of bottled. If you're ready to love your water again, here's a model that not only filters but also alkalizes. Here's what the Express Water Alkaline Reverse Osmosis Filtration System can do for you – but, is it the best Reverse Osmosis water filter system?
Express Water

Alkaline Reverse Osmosis Filtration System Review

Express Water's Alkaline Reverse Osmosis Filtration System lets you enjoy healthy mineral water without the fancy French price. It fits under your kitchen sink, and its ten stages of filtration remove up to 99.99-percent of heavy metals, fluoride, chlorine, industrial chemicals and more. The post-filtration remineralization system adds beneficial minerals other filters strip away. You'll get a boost of oxygen and antioxidants, plus the clean, fresh taste you expect.

This system creates plenty of drinking water for a family — up to 50 gallons per day. Color-coded, double-sealed, independently-tested filters come as sets. They're cost-effective, and the replacement schedule is straightforward and easy to understand. Install it yourself — there's no plumber necessary! Express Water preassembles what other companies don't, so when your kit arrives, you're just a few hours away from better water.

Pros

• Removes up to 108 harmful contaminants found in well and city water
• Backwashes automatically
• No complicated installation or maintenance
• Produces delicious, mineral-rich alkaline water
• Comes complete kit with a metal storage tank, filter set and stylish brushed nickel faucet

Cons

• Noisy during filling and automatic backwashing
Top Q & A

on Express Reverse Osmosis Filter System:

Q: How often do individual filter cartridges need to be replaced?
      A: Sediment, carbon block and granular activated filters are changed every six months. The RO membrane, post-carbon alkaline filter is replaced once annually.

Q: Does this model have a safety shut-off feature?
      A: It does! If a leak is detected, the system turns off automatically.

Q: Can this system be connected to the water dispenser in my refrigerator?
      A: Absolutely. Extra fittings may be required, but they're inexpensive and available at any hardware store.
My Take
Reverse osmosis systems were initially designed for use in submarines. The technology seems complicated, but it's not. The kit comes complete, and it gets rave reviews from both homeowners and plumbing professionals for ease of installation and maintenance.
If you've ever felt intimidated by a multi-stage filtration system like this one, don't be. It requires no electricity. Filters are color-coded, and labels tell you what each cartridge is doing. The system fits readily under the kitchen sink — but it can also be wall-mounted, and it will stand on its own. Buy one for an upstairs kitchen and for a sink downstairs for convenience — it's more than economical enough to own two.
What I like about this particular model are the durable construction and safety features. Double-sealed filters are exceptionally efficient and leak-resistant. If it does leak, it shuts off automatically — not every system offers that. Overall, this is a practical, sturdy, simple-to-use system that produces top-quality alkaline water at an affordable price. It's a steal.
Top Express Water Filtration
Performance Features
Everyone's water filtration needs are a little different. Will the Express Water Alkaline Reverse Osmosis Filtration System meet yours? Let's find out.
Contaminants Filtered
A water filter is only as good as the contaminants it removes. This model reduces most of the taste impurities and toxins found in both well and city water, including:
Sediment
Chlorine
Fluoride
Lead
Arsenic
Sulfates
Chromium
Pesticides
Herbicides
Industrial chemicals
Pharmaceutical residue
Pathogens and more
A water test can confirm the presence of potentially harmful toxins in your water. If you use city water, ask your local treatment authority for a water quality report.
Capacity
A reverse osmosis water filter's capacity reflects two things — how many gallons the system can filter before cartridges need to be replaced. And how many gallons of filtered water it can produce in a day.
RO systems are comparatively slow — that level of filtration takes time. The system produces clean water which is kept in a storage tank for immediate use. When water is withdrawn, it goes back to work to refill the tank, ensuring you have a ready supply whenever you turn on the tap. Express Water's Alkaline Reverse Osmosis Filtration System can filter up to 50 gallons per day — that's plenty of drinking and cooking water for a large family.
Under average conditions, filter replacements are necessary only twice per year. Gallon estimates are tricky because they depend in large part on water quality. Most users report no concerns between scheduled changes.
Micron Rating
RO filters work like sieves. They strain particles through microscopic pores in both the prefilters and the RO membrane. Prefilters on this system remove contaminants like sediment down to 5 microns — about ten times smaller than the width of a human hair. That's important because it reduces the number of particles that reach the RO membrane, improving its efficiency, and decreasing the need for backwashing.
The RO membrane then removes the remaining contaminants down to 1/10,000th of a micron. Express Water makes no claims that this filter can make water biologically-safe because of variables like water quality, but that's ten times smaller than most bacteria and parasites.
Flow Rate
A filtration system's flow rate refers to how fast water moves through it. No one wants to wait too long for water to fill a pot. The Express Water Alkaline Reverse Osmosis Filtration System has a negligible impact on water pressure and a brisk flow rate of 0.8 gallons per minute.
Design and Installation
Express Water designed this filter with your health in mind using BPA-free materials and a certified lead-free dispensing faucet. Installation couldn't be easier with flexible mounting options, quick-connect adapters and color-coded, food-grade tubing. First-time users report installing it in two hours or less.
Help and Support
Express Water backs this filter with a one-year warranty. Technical support is available to assist with installation, and their experienced customer service team will take care of you after the sale. Buy with confidence.
Final Thoughts
Taking control of your water quality is easy with Express Water's Alkaline Reverse Osmosis Filtration System. Install it today, and savor healthy, delicious and sparkling clear water tomorrow.