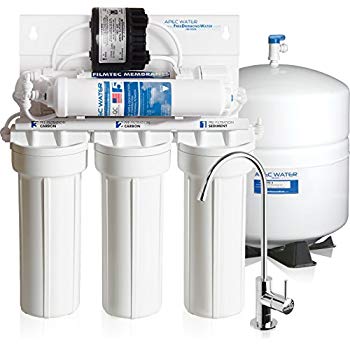 For drinking water that isn't as good as it should be, a home filtration system is usually a simple fix. But today's best reverse osmosis filters — the benchmark for filtration — require at least 50 PSI of water pressure to work effectively. That is until now.
If you're a homeowner struggling with low pressure, APEC Water Systems has the answer — the ULTIMATE RO-PERM Reverse Osmosis Water Filter for Low-Pressure Homes. Equipped with an ingenious permeate pump, it boosts flow through the filter without electricity and improves pressure at the tap. It wastes less water than conventional filters — a critical feature in areas affected by drought. And it's no more complicated or expensive than other models in its class. Learn more about it here.
APEC Reverse Osmosis Water Filter System for
Low Pressure Homes
Unlike whole home water filters, the ULTIMATE RO-PERM is designed to improve the purity of up to 45 gallons of drinking and cooking water per day. Five stages of filtration remove sediment, chlorine, and more than a thousand toxic substances including lead, chromium and industrial chemicals. Made by a company that knows water, it's engineered for homes with pressure between 30–50 PSI. Water taste crisp and clean.
APEC's premium super-capacity filters are made in the US and third-party tested for quality assurance. Extra-large cartridges mean you'll spend less time maintaining your system, yet replacement filters cost about the same as smaller models. Systems are compact, easy to use, and do-it-yourself installation takes only a few hours. APEC stands by this filter with a one-year warranty and free technical support for life.
Pros
• Permeate pump comes pre-installed
• Reduces wastewater up to 80-percent
• Crystal clear DIY installation instructions
• Superior contaminant reduction capability
• Low-maintenance
Cons
• System is noisy when the pump is operating
Top Q & A on APEC RO System:
Q: How long do the filter cartridges last?
A: Filters should be replaced annually. The RO membrane lasts up to three years.
Q: Can I connect this system to an ice maker?
A: Absolutely, but because the system has a limited total capacity, it could affect water pressure. As long as the freezer isn't too far away from where the filter is installed, most users report positive experiences. An optional fitting and additional tubing are required.
Q: Can I use this filter with a standard kitchen faucet?
A: No, RO systems require special air gap faucets that prevent the backflow of contaminated drain water into the clean water holding tank. But don't worry! APEC includes a beautiful brushed nickel faucet with every filter.
My Take
Until now, homeowners with low water pressure had few options to improve their water quality without spending an arm and a leg. Costly whole-home systems requiring professional installation were the norm. Now, there's a budget-friendly DIY alternative.
This system performs remarkably well under tough circumstances, and the water it makes tastes phenomenal. There are a few minor drawbacks. The filter has a small capacity. The 36 to 45 gallons it produces per day are enough for 2-4 people depending on usage, but it's not enough for a large family. And while it claims to reduce wastewater up to 80-percent, that depends on water quality which is notoriously poor in drought areas. Expect waste comparable to similar models — an average of three gallons to one.
If you expect the system to perform as well as filters that operate on standard pressure, you may be disappointed. Otherwise, cancel the bottled water deliveries because you're going to be pleasantly surprised.

APEC RO-PERM

Performance Features
Contaminants Filtered
The ULTIMATE RO-PERM excels at removing taste impurities, but because it also removes bacteria, it's ideal for treating well water. It reduces up to 99-percent of these contaminants and more:
Dirt
Rust
Chlorine
Sodium
Arsenic
Lead
Fluoride
Chromium
Agricultural chemicals
Solvents and VOCs
Perfluorinated chemicals
Trace pharmaceuticals
Bacteria, parasites and more
Can this system be trusted to make water biologically safe to drink? In most cases, yes, but it depends on your water source and its quality. Even the most foolproof system can't remove every contaminant. Before buying, have your water tested. For the ultimate protection, add a secondary UV filter.
Capacity
With an RO system, the term "capacity" refers to two different things. First, it reflects how much water the filter can process between cartridge changes. It also refers to the maximum number of gallons it can filter daily.
Accurate gallon estimates for filters are nearly impossible because efficacy varies significantly based on water quality. Most systems require filter changes every few months. APEC recommends replacing their cartridges only once per year.
RO systems produce water at a slower rate than carbon filters, so for water on demand, several gallons of clean water are held in a 4-gallon storage tank. As it's withdrawn, the system makes more. Under normal conditions, the ULTIMATE RO-PERM can process up to 45 gallons per day.
Micron Rating
Think of a water filter as a strainer. It removes contaminants by forcing water through tiny pores measured in millionths of a meter — or microns. The prefilters in the ULTIMATE RO-PERM remove chemicals and impurities, but they also capture sediment down to 5 microns. Why is that important when the RO membrane can eliminate contaminants down to 0.0001 microns? It's because RO membranes are prone to clogging. Bombard them with large undissolved particles like dirt and rust, and they become less efficient.
Flow Rate
The APEC's flow rate is only a half-gallon per minute. That's slow compared to carbon-only filters, but comparable to similar RO systems. While most filters reduce water pressure at the tap, the permeate pump on the ULTIMATE RO-PERM boosts flow, so get your bottles ready!
Design and Installation
APEC engineered the ULTIMATE RO-PERM to be the ideal DIY filtration alternative for homes with low water pressure. At 15 x 7 x 20 inches, it can be installed anywhere you need clean water. The closer it is to the point of use, the better flow rate and pressure will be. Remember that it uses no electricity, so it's perfect for off-grid living.
Kits come complete with everything needed for standard installation including a wall-mountable frame, holding tank, filter set and hardware. The permeate pump is pre-installed. Enjoy a modern look with the attractive, lead-free dispensing faucet. It's neutral brushed nickel finish matches every décor.
For your health, all plastic components including cartridge housings are BPA-free. And the storage tank bladder is made of butyl — the only food-grade rubber that can withstand contaminants without degrading.
Help and Support
APEC backs its low-pressure water filters with a one-year warranty and free lifetime technical support from specialists certified by the Water Quality Association. Whether you need a helping hand choosing the correct replacement filters or need additional parts, their expert customer care team is ready to help.
Final Thoughts
It's hard to thrive with dirty water, but the good news is you don't have to — even if you're living with low water pressure. Let the APEC's Water Systems ULTIMATE RO-PERM Reverse Osmosis Drinking Water Filter System for Low-Pressure Homes be your solution.