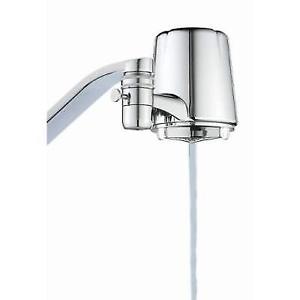 Turning your faucet into a water filtration system is as simple as installing a faucet-mounted filter. If you want clearer, safer, better-tasting water without the hassle of refilling pitchers or the expense of under-sink models, the Culligan FM-25 Advanced Faucet Filter might be just what you're looking for.
It's a painless solution to most common water problems, and it pays for itself ten times in savings over the cost of bottles. Let's review the features that make the Culligan FM-25 our winner for best faucet filter and how it can work for you.
Culligan FM-25

Faucet Mount Filter – Best Faucet Filter
Faucet-mounted filters don't have the capacity of large filtration systems, but they're perfect for improving the quality of the water you drink and cook with for the lowest possible price. The FM-25 is NSF-certified to remove lead — a safety issue for kids — plus chlorine and large particles that make water cloudy. Attach it to your faucet in minutes without tools. The chrome finish matches any décor, and the low-profile design doesn't interfere with the normal use of your sink. Each filter makes 200 gallons of clear, crisp water — that's enough water to keep 1500 individual-size plastic bottles out of the landfill.
.
Pros
Cons

Quick, stress-free installation
Has a minimal impact on water pressure
Diverter tab changes water from filtered to tap to preserve filter life
backed by a two-year warranty
Complete kit comes with everything you need

For use with standard faucets only
.
FAQs
Q: Does the FM-25 have a filter change indicator?
      A: No. For optimal performance, change it after two months, 200 gallons or when the water flow slows down to a trickle.
Q: Can this be used on a bathroom sink?
      A: The kit comes with adapters for most faucets, and while the cartridge is smaller than most, it's still too large for standard bathroom sinks.
Q: Does hard water affect the cartridge?
      A: No. Minerals won't affect its performance or longevity.
Our Thoughts:
The criteria used to evaluate models for our best water faucet review include material quality, aesthetic appeal, performance and value. Culligan's FM-25 topped every category starting with its effortless installation and sturdy construction. The housing is made of plastic to be lightweight, but it doesn't feel cheap. The actual filter virtually eliminates the smell and taste of chlorine, and it reduces some of the same contaminants as large systems including sediment and lead. Across the board, every component is surprisingly well-made for its low cost, and it looks as good as most faucets. With double the filtering capability of similar models, it's a top filter and the best value.
Best Faucet Mount Water Filter

Buying Guide
Faucet-mount filters are a convenient and effective way to feel better about your drinking water without breaking the bank. They don't remove every contaminant, but they do reduce those most responsible for making it cloudy and affecting its taste.
Which model is right for you? Here are a few essential features to consider when you're narrowing down your options.
Contaminants Filtered
The FM-25 reduces:
Sediment down to five microns
Up to 98.8-percent of lead
More than 97-percent of chlorine
Select herbicides and insecticides like atrazine and lindane
Cryptosporidium and Giardia cysts
For quality assurance, the filter was independently tested and is both NSF and ANSI certified.
Performance Features
• Flow Rate
Filters are like an obstacle course for water. That's good for removing contaminants, but it tends to slow water flow. If you don't like the idea of waiting minutes to fill a cup of water — relax — the half-gallon per minute flow rate from the Culligan FM-35 fills an eight-ounce glass in about seven seconds. Most user report no significant drop in water pressure.
• Filter Micron Size
Filters remove contaminants from water the same way colanders get the water out of your pasta — it's only the size of the holes that are different. The holes in water filters, called pores, are so small they're measured in microns — millionths of a meter. This micron rating reflects the smallest size contaminant a filter will allow through. The FM-35's micron rating is five, and that's highly competitive among similar styles.
• Filter Life
The FM-35's exterior housing is reusable — only the cartridge is replaced, and that saves you money. Each can filter up to 200 gallons based on your water quality. The diverter tab on this model enhances filter life by letting you to bypass it when you want to use regular tap water to do something like clean paintbrushes.
• Design
The biggest complaint about faucet-mount filters is the space they use. They don't look big when they're in the box, but when you have to angle large pots under them to fill them with water, an inch or two can be an issue. Among competitors, the Culligan FM-25 is one of the smallest.
The second most common complaint is appearance. Some models look more like a plastic toy than a legitimate fixture, but both the shape and the chrome finish on the FM-25 have eye appeal.
Installation
It takes longer to read this best water faucet review than it does to hook up the filter. Screw it in, and then go make yourself a cup of better-tasting coffee. It will probably be the easiest thing you do all do all week.
• Help & Support
Culligan is a big name in water filtration, so the two-year warranty they offer is no surprise. Technical support is available by phone, and their customer care team is positively amazing.
Final Thoughts
Clean water doesn't have to be bad for your wallet or the environment. Make the water from your tap worth drinking again with the Culligan FM-25 Advanced Faucet Filter.
.
Compare other faucet filter models:
Sorry, this has just one page and you just read it!