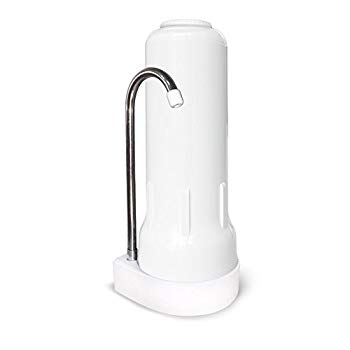 Of the many toxins that can sneak into your water, some are more dangerous than others. Arsenic, an element that occurs naturally in the Earth's crust, is among the top concerns because like lead, its health effects can be devastating. Arsenic in groundwater is thought to affect more than two million Americans from coast to coast. Are you one of them?
Whether you're at home or on the road, if you want an affordable option that reliably removes arsenic as well as taste impurities and other contaminants, it's time to consider the New Wave Enviro 10-Stage Plus Water Filter System.
Its unique multi-stage filtration media removes arsenic, chlorine, chemicals and more. And it makes ordinary tap water taste as good as bottled for a whole lot less money. Let's take a closer look at why it could be the best countertop water filter for your home.
New Wave Enviro 10-Stage Plus Water Filter System and Cartridge
The New Wave Enviro 10-Stage Plus Water Filter System is a low-profile countertop filter that attaches directly to your faucet with a hose. Installation takes minutes, and unlike whole-home and undersink filters, there's no plumbing or technical expertise required.
Ten distinct stages of filtration remove heavy metals, chemicals and impurities that make water look and taste bad. Let your kids fill their cups from the easy-to-reach dispensing faucet knowing its clean. With a 1500-gallon capacity, there will always be a steady supply.
This filter is ideal for small spaces. It uses only inches of counter space. And at under 3.5 pounds, it's easy to take with you to the office, the campground or anywhere you want the purest water possible without the personal and environmental cost of buying bottles. New Wave Enviro backs this filter with a one year warranty. If you're not happy with it for any reason, return it within 30 days for your money back.
.
Pros
Cons

Large capacity cartridge
Compact for travel
Highly effective against arsenic
Does not remove healthy minerals
Includes an unconditional money-back guarantee

New Wave Enviro claims this filter is independently-tested and NSF certified, but it doesn't publish test results.
Top Q & A
Q: Are all plastic components BPA-free?
A: Absolutely! Filter housings and cartridges are made only with BPA- and phthalate-free polypropylene.
Q: Can this filter treat hot water?
A: It's designed for use with cold water only. Exposure to hot water can damage the cartridge and dramatically decrease its life span.
Q: Is this filter compatible with all faucets?
A: No. Like most filters in its class, it's engineered to fit standard faucets with removable aerators. There is no adapter available to make it work with pull-down spray styles.
My Take
The thought of heavy metals in my water gives me nightmares. Arsenic, lead and mercury are all hazardous neurotoxins that are increasingly recognized as more harmful in lower concentrations than once thought. What's worse, is that consumers unwittingly purchase filtration systems that claim to make water safer but don't remove contaminants like these.
This filter performs as promised. My only quibble with it is that the company claims it's NSF-certified, but they haven't published third-party test results. NSF-certification isn't always what it's cracked up to be, but seeing proof of performance on paper is a confidence booster. I understand that proprietary technology is something companies like to keep to themselves, but with a product this capable, why not brag about it?
Here's the bottom line. Why bother buying a filtration system that removes only taste impurities when you have that plus heavy metal reduction for the same price with the New Wave Enviro? It's a no-brainer, and it's my pick for the best countertop water filter for arsenic removal.
.
Best Countertop Performance Features
Water quality issues vary, so before buying a filter, it's essential to better understand its features including which contaminants it removes.
Contaminants Filtered
The New Wave Enviro has only a single cartridge, but within it are ten distinct layers of filtration media that combined, remove dozens of contaminants including:
Chlorine
Arsenic
Mercury
Lead
Sediment
PCB
Trihalomethanes
Asbestos
Pesticides
Herbicides
Parasitic cysts and more
While this filter does remove select microorganisms, it can't make water potable. It's best used with chemically-treated municipal water or with well water that has been tested and is bacteria-free.
Capacity
The New Wave Enviro cartridge has a capacity of up to 1500 gallons — that's clean drinking water for a family of four for more than a year. Performance is based on water quality — the more work you ask a filter to do, the faster it wears out. If your water is heavily contaminated, the cartridge may need to be changed sooner.
Flow Rate
Flow rate is the speed at which water flows through a filter. It's not quite the same as water pressure, but the effect is similar. Since it takes a few seconds for water to flow through any filtration system, you can expect it will take longer to dispense from a filter than the tap.
New Wave Enviro doesn't publish a maximum gallon per minute flow rate for this model because the figure is contingent on the water quality and pressure in your home. Users across the board report it takes a little longer to fill your glass, but the results are well worth it. For non-drinking needs, use the included diverter valve to use water straight from the tap.
Micron Rating
Some filters work by exclusion — they keep particles above a specific size out of your water. Others use granular media that captures contaminants through adsorption — a process by which toxins are bound to a surface. The New Wave Enviro 10-Stage Plus uses both.
Within its layers of high-quality activated carbon and KDF 55 media, it has a 30-micron sponge filter to remove sediment, plus a 1-micron absolute depth filter that further removes particles and protozoa.
For removing pathogens, the micron rating matters because it reflect the smallest size organism a filter can exclude. This model makes water biologically safer, but it can't remove most bacteria and viruses.
Design and Installation
Unlike whole-home and undersink filters, the New Wave Enviro 10-Stage Plus requires no costly changes to your plumbing to install. Have it up and running in minutes with no tools or mechanical ability. It takes less than five inches of counter space, and kits come with every you need for installation including adapters for compatible faucets.
Help & Support
New Wave Enviro is an American company based in Colorado. Their filters are made in the US and backed with a one-year warranty plus a no-hassle, money-back satisfaction promise. It's risk-free. Contact their dedicated support team weekdays by phone or email for technical support or general questions.
Final Thoughts
Clean water is the foundation for better health. Let New Wave Enviro help you strengthen yours with their 10-Stage Plus Water Filter System.
.