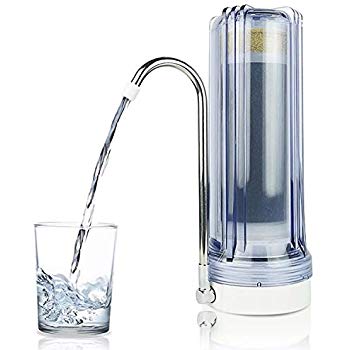 Alkaline water is making a splash. Packed with beneficial minerals, it not only tastes better than ordinary tap water, it's being hailed for its many health benefits. So if you're in the market for a filtration system to make your water cleaner, why not choose one that also boosts it's pH? Consider the APEX Countertop Alkaline Drinking Water Filter.
Made in the US with NSF-certified filtration media, the APEX removes a broad range of worrisome contaminants while adding in calcium, magnesium and potassium to raise pH. It's affordable, painless to install, and each cartridge makes up to 750 gallons of high-quality, alkaline water. You'll save money and keep more than 5000 plastic bottles out of the landfill.
Is the best countertop water filter for your family? Learn more about it here.
APEX Countertop Alkaline Drinking Water Filter
This APEX water filtration system is a compact countertop filter that connects directly to your faucet. Install it in minutes — everything you need including a filter wrench comes with the kit. A combination of activated charcoal and KDF 55 media combine to provide comprehensive filtration, removing contaminants from chlorine and chloramine to mercury and lead. Mineral beads raise alkalinity— a difference you can feel and taste.
With a 750-gallon capacity, you'll have plenty of clean water for a family between filter changes. The unit takes minimal counter space. It's lightweight so you can take it on the road. And it looks great, too! Forget black and white; the APEX is one of the few countertop filters that come in a choice of exciting colors to match any décor. APEX is a California-based company that backs its products with superior customer support. This model comes with a limited one-year warranty and a no-questions-asked 30-day satisfaction guarantee.
.
Pros
Cons

Alkalizes water
Enhances taste
Removes common contaminants
Comes in a choice of six colors
Made in America

Cartridge housing can be tough to open by hand
Top Q & A
Q: How high does this raise water's pH?
A: It depends on your water's acidity. A pH greater than seven is considered alkaline. Mos users report results between 8 and 10.
Q: Does it work with pull-out faucets?
A: No, it works only with standard faucets equipped with removable aerators. The most popular adapters are included in the kit.
Q: Does this filter remove fluoride?
A: No, it does not.
Q: Does this filter remove lead?
A: Yes, APEX countertop water filters reliably reduce lead and increase alkalinity. See our best water filters for lead.
My Take
Health enthusiasts give alkaline water a big thumbs up. I'm no expert, but I've read up on the benefits, and they're hard to ignore. Of course, my first requirement for a water filter is that it effectively removes the contaminants it promises to. Does the Apex? It does.
Claims are made based on testing and NSF certification for its granular activated carbon and KDF 55 filtration media. It's worth noting that only the media has been tested, not the filter. For some models, that's an important distinction because other components in the unit can affect their performance. But since countertop filters are nothing more than cartridges in simple plastic housings, I'm satisfied the media testing is enough.
It's hard to believe that a compact, affordable filter can remove such a broad range of contaminants plus offer the benefits of alkalinity. If you're spending hundreds a month on bottled mineral water, stop what you're doing and order this right now. The APEX is my blue-ribbon winner for the best countertop water filter for taste, performance and alkalinity.
Performance Features
Does the APEX Countertop Alkaline Drinking Water Filter have the right blend of performance features for your lifestyle? Let's find out.
Contaminants Filtered
The most important feature of any water filter is the number of contaminants it removes. The APEX reduces these contaminants and more:
Chlorine
Chloramine
Sediment
Arsenic
Mercury
Lead
Cadmium
Chromium
Copper
Iron
Benzene
Radon
Hydrogen sulfide
Organic chemicals
Plus, its alkaline beads add three healthy minerals — calcium, magnesium and potassium. Please remember that adding minerals increases the concentration of Total Dissolved Solids in water. TDS meter readings are not an accurate measure of this model's filtration efficacy.
This filter is made with KDF 55 media that naturally inhibits the growth of bacteria and algae within the filter. It does not, however, remove bacteria, so it can't make pathogen-contaminated well water safe to drink.
Capacity
The APEX has a total capacity of 750 gallons — that's a steady supply of clean, alkaline water for a family of four for about twelve months. As a rule, filters are tested under average conditions. The cartridge may need to be changed more often if your water is heavily contaminated — especially with sediment. APEX users report estimates are accurate.
Flow Rate
A filtration system's flow rate reflects how quickly water moves through it. It's not technically the same as water pressure, but practically speaking, the effect is similar — it takes more time to fill your cup.
The APEX has a maximum flow rate of 2 gallons per minute — that's just under the average for an American home. But beware, the filter can't produce water any faster than it comes from your faucet, so not all users will get the maximum rate. For non-drinking applications like washing dishes, pull the tab on the included diverter valve to bypass the filter.
Micron Rating
Filters remove contaminants in different ways. Some use materials with microscopic pores — measured in microns — to sift particles out. Others use adsorptive media like carbon. Contaminants stick to its large surface as they pass over it — staying safely out of your water. The APEX utilizes both methods.
Within its single multilayered cartridge are microfelt pads that remove large particles like dirt and rust while the granular activated carbon and KDF 55 media do the rest through adsorption.
If you have a well, knowing a filter's micron rating is critical because it tells you if can remove bacteria and viruses. The APEX has a micron rating of five — that's perfect for reducing sediment but not for eliminating pathogens.
Design and Installation
The best part about countertop water filtration systems is that you can install them yourself with no changes to your plumbing or drilling holes in your sink. With the included quick-start guide, the APEX takes less time to set up than brewing a pot of coffee.
A small-diameter hose connects the filter to your faucet. The unit is designed to sit on the counter beside the sink, and it takes only 4.5 inches of space. Everything needed for installation comes with the kit including the first cartridge and faucet adapters.
Help & Support
APEX filters are made in America and backed by a one-year warranty plus a risk-free 30-day satisfaction guarantee. You have nothing to lose. Contact their knowledgeable customer care team by phone or email for questions or technical support.
Final Thoughts
Your body is more 50-percent water, so the quality of what you drink matters. Make the most of it with the APEX Countertop Alkaline Drinking Water Filter. If you need something more than a countertop filter, check our best water filter systems.
.